4 Reasons to Love Our Enclosed Chicken Coop
by Dakota Storage Buildings, on July 19, 2021

The best way to start raising chickens is to invest in a quality coop that provides protection.
If you're a chicken owner in need of a coop upgrade or if you're just getting started and need to buy your first hen home, you need a structure that will keep your chickens safe, make cleaning and egg collection easy, and last for years.
If you live in North Dakota, South Dakota, Minnesota, western Wisconsin, northeast Nebraska, or north-central Iowa, no need to look any further for a coop that meets all of these needs. Our Enclosed Chicken Coop is constructed with quality materials, has a fenced-in run for safety, is easy to clean, and comes with a 5-year warranty. Plus, it's available in eight sizes. The largest has six built-in nesting boxes, making it ideal for as many as 24 hens.
1. Quality Construction
From roofing to flooring, our Enclosed Chicken Coops are constructed with the highest quality components. Only choice materials are used by our skilled builders because we believe the coops we sell are a representation of our integrity and our commitment to customers.
With quality construction and premium materials, you can expect product longevity and minimal maintenance.
Here are a few of the quality components we use:
LP® ProStruct® Flooring.

This flooring from a trusted brand has an epoxy finish, making it durable and resistant to decay, warping, rot, and mold.





LP® Tech Shield® Roofing Sheathing with Radiant Barrier.

This sheathing is designed to block radiant heat and help maintain a comfortable interior temperature.





LP® Wood Panel Siding.

This paneling looks like traditional wood siding but has the advantages of treated wood technology, making it more durable and dimensionally stable.





Sherwin-Williams SuperPaint®.

This exterior acrylic latex paint can hold up against the sun's bleaching and winter's freezing, making it equally durable as the building materials we use.

2. Easy to Clean
Coops need to be cleaned regularly, so look for one that's easy to clean. Because our Enclosed Chicken Coops have durable flooring, they can handle everyday wear, hold up against pecking and scratching, resist decay and warping, prevent health-hazard moisture buildup, and provide rodent and insect control. There isn't much that your chickens can do to ruin or permanently damage the flooring we use inside our coops.
3. Fenced-in Run
Protecting your flock from predators is a crucial aspect of owning and raising chickens. Whether you choose to raise free-range chickens or not, you'll still need to provide a safe place for your chicken to sleep at night with access to outdoor space and fresh air. Providing a coop with a fenced-in run will keep your flock protected when you're not around and provide the highest safety level.
4. 5-Year Warranty
While we do a quality inspection of all the coops we sell, occasionally, things happen. And every once in a while, a problem goes undiscovered until a coop's in use. We understand these things can happen, and we know it's not your fault. To give you full confidence in your purchase, we'll take care of any manufacturer-related deficiencies. Our coop's 5-year Top-to-Bottom Limited Warranty covers all of the things you definitely shouldn't have to worry about.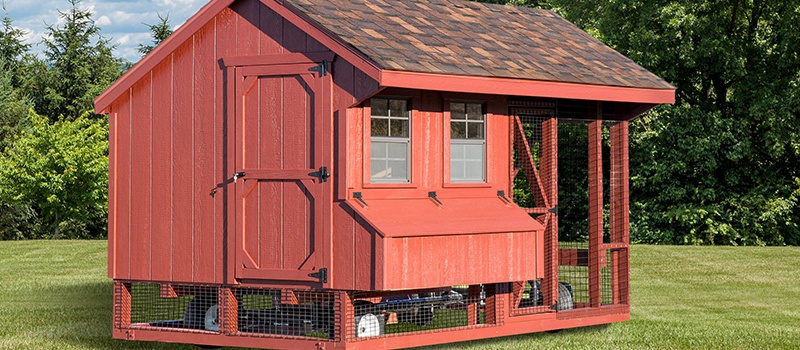 Shop Enclosed Chicken Coops Now
We know chickens are an investment, and we want to help you keep them secure and happy. That's why we sell coops that will keep your chickens safe, make cleaning and egg collection easy, and last for years. That's also why in addition to fenced-in runs and durable flooring, our coops include:
Built-in Nesting Boxes.

Give your hens a clean, dedicated space to build a proper nest, and you'll get good eggs that are well protected. Each nesting box is measured precisely —all you need to do is fill them with soft bedding like straw or cedar shavings.





Built-in Roost.

Chickens like to sleep up off the ground at night. Our roosts give them the space they need to perch for a good night's sleep.
Explore our Enclosed Chicken Coops online or, if you want to see our coops in person, visit one of our display lots in South Dakota or Minnesota. Then, when you're ready to purchase, you can buy outright, finance, or apply for a no-credit-check loan.
More helpful chicken-related articles.
---
About Dakota Storage Buildings
Life is demanding and full of choices. We'd love to make just one aspect of your life a little easier. That's why it's our mission to provide storage solutions you can trust, from sheds and garages to coops and kennels. Customize your storage building with our online 3-D configurator, explore our stock buildings, or find a display location near you. Our team is now serving North Dakota, South Dakota, Minnesota, western Wisconsin, northeast Nebraska, and north-central Iowa. Discover The Dakota Difference.