6 Best Chicken Egg Recipes of All Time Including Frittata & Egg Salad
by Dakota Storage Buildings, on May 23, 2019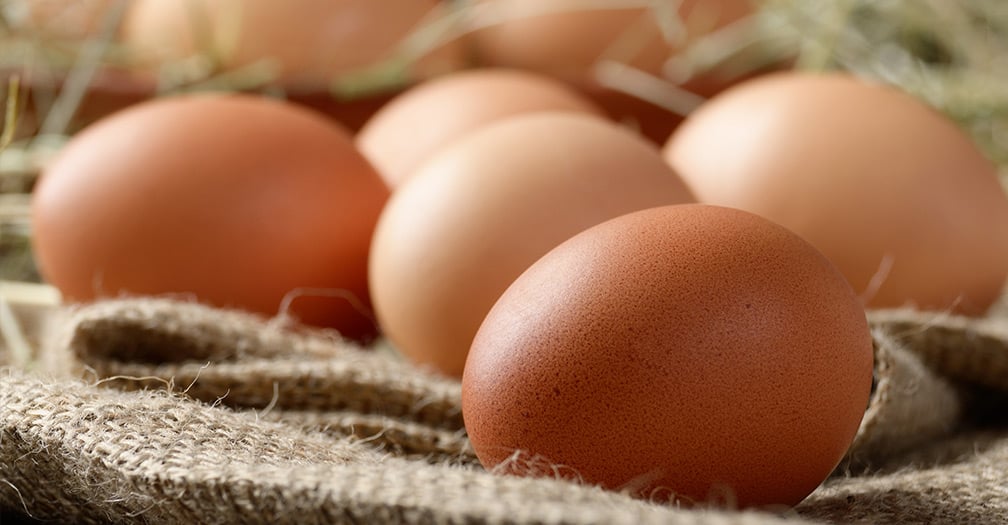 Chicken eggs are both nutritious and delicious. Try these egg-based recipes—they're the best!
It can be hard finding the just-right recipe that's not too salty, sweet, or spicy. For those of you who like trying new-to-you egg-based recipes, want alternative ways to make the same egg dish you know and love, or still need that just-right recipe, we have some ideas.
Best Egg Recipe #1: Grab and Go Spinach and Ham Quiche Bites
Less fancy than quiche, these hearty little egg bites are perfect for grab-and-go mornings. If you want to change them up a bit, swap out ham and dill for bacon and parsley.
Ingredients
1 (14.1 oz.) package refrigerated rolled pie crust
4 large eggs
2 chopped scallions
3/4 c. half-and-half
1 (10-oz.) package frozen chopped spinach, thawed and squeezed dry
1/3 c. finely chopped smoked ham
1 tbsp. chopped fresh dill
2 tsp. Dijon mustard
Kosher salt and freshly ground black pepper
Directions
Preheat oven to 375°F with the rack in the lowest position. Unroll pie crust and cut into 12 (4-inch) rounds. Fit rounds into a lightly greased 12-cup muffin tin, pressing up and slightly over sides of each cup. Chill 10 minutes.
Meanwhile, whisk together eggs, half-and-half, spinach, ham, scallions, dill, mustard, 1/2 teaspoon salt, and 1/4 teaspoon pepper. Spoon into crusts, dividing evenly. Bake until puffed and set, 22 to 25 minutes.
Serve warm.
This egg recipe was found on countryliving.com.
Best Egg Recipe #2: BLT Egg Bake
Those who love BLTs will also love this warm and delicious casserole recipe. This comfort food is easy to make and is always a hit.
Ingredients
12 cooked and crumbled bacon strips
4 large eggs
4 slices American cheese
5 slices toasted bread
2 thinly sliced green onions
1 halved and sliced medium tomato
2 c. shredded lettuce
1 c. 2% milk
1/2 c. shredded cheddar cheese
1/4 c. mayonnaise
2 tbsp. butter
2 tbsp. all-purpose flour
1/4 tsp. salt
1/8 tsp. pepper
Directions
Preheat oven to 325°F. Spread mayonnaise on one side of each slice of toast and cut into small pieces. Arrange the toast with the mayonnaise-covered side facing up, in a greased 8-in. square baking dish. Top with cheese slices and bacon.
In a small saucepan, melt butter. Stir in flour, salt, and pepper until smooth. Gradually add milk. Bring to a boil; cook and stir until thickened, 2 minutes. Pour over bacon.
In a large skillet, fry eggs over medium heat until they reach desired doneness; place over bacon.
Top with tomato slices; sprinkle with cheddar cheese and onions. Bake, uncovered, 10 minutes.
Cut in squares; serve with lettuce.
This egg recipe was found on tasteofhome.com.
Best Egg Recipe #3: Stovetop Frittata
Frittatas are great for every meal, not just breakfast or lunch. Packed full of protein and veggies, they're ideal body fuel. They also transport well which means they're great for picnics, potlucks, and packed lunches. Consider breaking up the leftovers into crumbles for a quick and easy breakfast taco filling.
Ingredients
12 eggs
3 tablespoons full-fat dairy (heavy cream, half-and-half, whole milk, sour cream, yogurt)
1/2 tbsp. salt
1 c. grated or crumbled cheese
3-5 c. vegetables or greens of choice (great combos include spinach, artichoke, and feta cheese; broccoli, cheddar and green onion; cherry tomatoes, zucchini, mozzarella, and basil)
1 tbsp. olive oil
Directions
Preheat the oven to 425°F.
Crack the eggs into a medium mixing bowl. Add your dairy of choice and the salt. Whisk just until the egg yolks and whites are blended. Whisk in all or half of the cheese (you can reserve the other half for topping the frittata before baking if desired). Set the mixture aside.
Warm the olive oil in a 12-in. cast iron skillet or oven-safe nonstick skillet until shimmering. Add the vegetables, starting with chopped onions or other dense vegetables. Cook for a few minutes, stirring occasionally, then add any softer vegetables such as zucchini. Cook until those vegetables are tender, then add any garlic or greens, and cook until fragrant or wilted. Season with salt, to taste.
Whisk the eggs once more and pour the mixture over the vegetables. Stir with a spatula briefly to combine and distribute the mixture evenly across the pan. If you reserved any cheese, sprinkle it on top of the frittata now.
Once the outside edge of the frittata turns lighter in color (about 30 seconds to 1 minute), carefully transfer the frittata to the oven. Bake for 7 to 14 minutes (keep an eye on it), until the eggs are puffed and appear cooked, and the center of the frittata jiggles just a bit when you give it a gentle shimmy. Remove the frittata from the oven and place it on a cooling rack to cool.
Garnish with herbs, slice with a sharp knife, and serve.
This vegetarian-friendly egg recipe can be found at cookieandkate.com.
Best Egg Recipe #4: Egg Salad
Egg salad has so few ingredients that it's natural to think it would be easy to make. While you may have the correct ingredients on hand, it's the measurements that make all the difference. Here's a great recipe with the perfect measurements that we're sure you'll want to add to your recipe book.
Ingredients
8 hard-boiled eggs
1 finely diced celery rib
1 thinly sliced green onion
1/2 c. mayonnaise
1 1/2 tsp. yellow mustard
2 tsp. freshly chopped dill
Instructions
Cut eggs in half. Remove yolks and chop whites.
Mash yolks with mayonnaise and mustard until smooth and creamy.
Add remaining ingredients and stir well.
Add salt and pepper to taste.
Serve on bread (lettuce optional).
For this egg salad recipe and more egg-based recipes, visit spendwithpennies.com.
Best Egg Recipe #5: Fried Rice
It's hard to find a fried rice recipe that's close to what you get from your favorite Chinese restaurant. But, we think this recipe might just do it. It tastes so close to the restaurant version, that your family may not be able to tell that it's homemade!
Ingredients
1 chopped small white onion chopped
2 lightly beaten eggs
3 c. cooked rice
1 c. thawed peas and carrots
2-3 tbsp. soy sauce
2 tbsp. sesame oil
2 tbsp. chopped green onions (optional)
Instructions
Preheat a large skillet or wok to medium heat. Pour sesame oil in the bottom. Add the white onion pieces, peas, and carrots. Fry until tender.
Slide the onion pieces, peas, and carrots to the side, and pour the beaten eggs onto the other side. Using a spatula, scramble the eggs. Once cooked, mix the eggs with the vegetable mix.
Add the rice to the veggie and egg mixture. Pour the soy sauce on top. Stir and fry the rice and veggie mixture until heated through and combined.
Add chopped green onions if desired and serve.
You can find this recipe at therecipecritic.com.
Best Egg Recipe #6: Bacon and Egg Breakfast Muffins
Nagi, cook and author of RecipeTin Eats, knew that eggs and muffins take around the same time to bake, so she wondered—is it possible to bake eggs IN muffins? It turns out you can—and they are awesome!
Ingredients
1 egg
4 eggs
4 oz. chopped bacon
1/2 c. chopped scallions or shallots
1 c. grated cheddar cheese
1 1/4 c. plain flour
1 tsp. baking powder
1/4 tsp. baking soda
1/2 c. milk + 1/2 tsp. white vinegar OR 1/2 cup buttermilk
1/2 tsp. salt
1/2 c. sour cream or full-fat plain yogurt
2 tbsp. vegetable oil or melted butter
1 tbsp. melted butter (for brushing; optional)
Directions
Preheat oven to 350°F. Spray 4 Texas muffin tin holes with oil (or grease with butter).
Heat a nonstick pan over high heat. Add bacon and fry until lightly browned. Remove onto a paper towel to drain the fat, then set aside.
Place dry ingredients in a bowl and mix to combine.
Whisk wet ingredients in a separate bowl.
Pour the wet ingredients into the dry ingredients until just combined. Do not over mix.
Fold in flavorings including cooked bacon.
Place 3 tbsp. of batter into 4 muffin tin holes. Bang the tin to flatten the batter.
Make a divot in the batter (so the egg yolk settles in the middle). Crack an egg into each hole. Divide the remaining batter between each hole to cover the egg.
Brush the muffins with melted butter (optional), then bake for 20 minutes or until golden brown.
Remove from oven and allow to rest for 5 minutes before turning out onto a cooling rack.
Serve warm.
For this egg recipe and more from Nagi, visit recipetineats.com.
What makes these egg recipes the best? Fresh eggs!
The fresher the eggs, the better tasting your recipe will be. Fresh-from-the-coop eggs are denser, thicker, and harder than store-bought eggs due to the different diet of the chickens. Also, fresh eggs have brighter yokes, tend to be creamier, and are more nutritious than commercial eggs which can be 6-8 months old when purchased meaning their nutrition has declined.
TIP: Don't cook or bake with eggs if they float on the surface of the water; this means they've expired.
If you're not already using fresh eggs, try finding a farm that sells them or farmers market near you.
If you love fresh eggs, can't find a fresh egg seller nearby, or wish you had access to fresh eggs all year round, it might be time to contemplate buying backyard chickens. Imagine having access to fresh eggs for delicious recipes like these all year round. If you're considering raising your own chicken, be sure to do your homework first including the costs that will be accrued as well as space or zoning restrictions.
When you're ready to look at chicken coops, be sure to check out our Coop Collection and download our catalog. When the time's right for you to purchase, we'll be here for you.