8 Popular Storage Building Add-On Features
by Dakota Storage Buildings, on October 18, 2016

It's the add-ons, features, and color selections that take a shed or garage from standard . . . to custom.
If you're in the market for a storage building, you have a lot to consider before making your purchase. It may be helpful to make a list of all the things you hope for in a building; find out whether those items come standard or if they need to be purchased as add-ons.

While our buildings come with many useful features, we also offer add-ons so that your building is customized to your needs. In most cases, these additional items provide greater convenience and efficiency or serve as an aesthetic upgrade. Here are a few of our popular add-ons.
Double Fiberglass Doors
While one set of double fiberglass doors comes standard on all of our vinyl and lap storage buildings, our painted buildings come with a set of wooden double doors. You can choose to upgrade from wooden to fiberglass doors - and many do. Fiberglass doors are durable, weather-resistant, low maintenance, and simple to clean.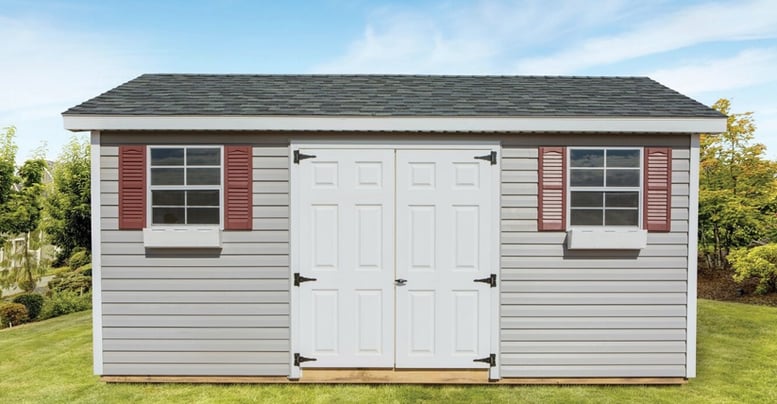 Vinyl Shutters and Flower Boxes
A window seems naked without shutters. By just adding vinyl shutters, your storage building will immediately look more attractive, and they will help your building blend seamlessly into the neighborhood.

To complete the look, add decorative flower boxes. They add character and curb appeal to any building. You can grow seasonal flowers, plants that repel pests, or a variety that requires little upkeep.

Our flower boxes and shutters come in a variety of colors.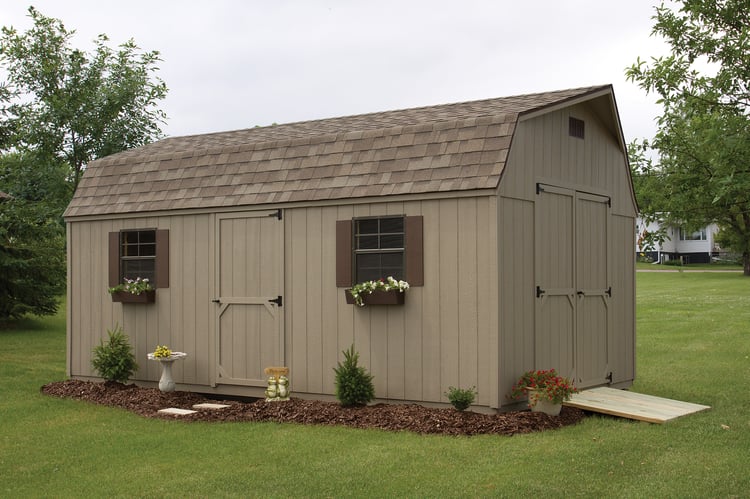 Shelves and Lofts
Add one or more 2-4' deep shelves or 2-8' deep lofts to your building for increased storage. Having a built-in shelf or an easy way to get the extra space you need. If you're looking for a built-in workbench, our shelves are ideal!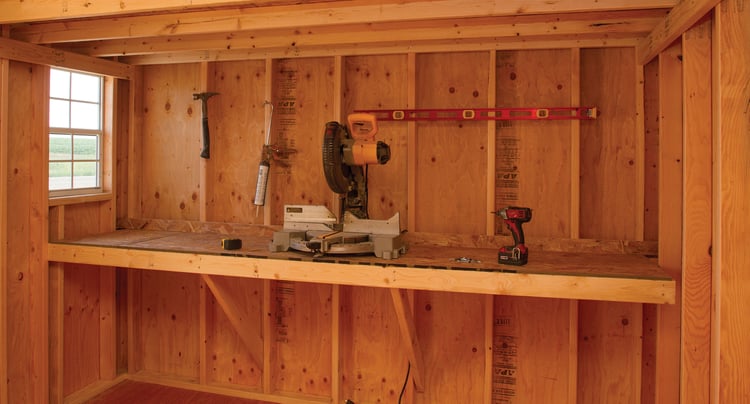 Door Window
All of our buildings come with one window. You can always opt to add more windows, or you can add a door with a 9-light window. While the door windows do not open, they do allow more natural light to come into the building.


Flooring
We offer LP ProStruct® Floor with SmartFinish®, a durable overlay, which creates a professional appearance. Unlike traditional plywood flooring, LP ProStruct Floors with SmartFinish incorporates Treated Wood Strand Technology with SmartGuard® to resist termite damage, decay, warping, splitting, and cracking.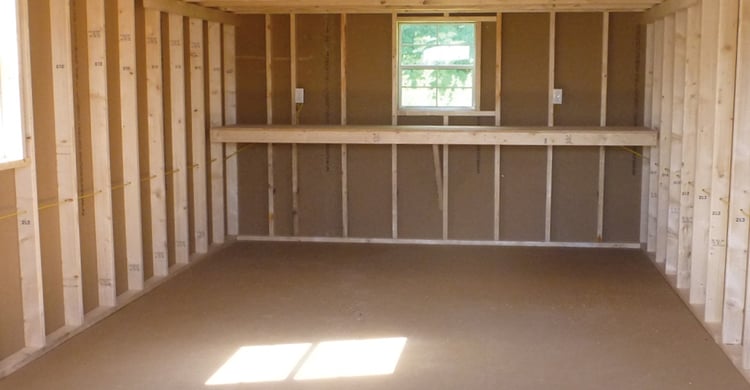 Porch Railing
We can add a 4' railing with 32" black balusters (the short pillars that support the railing) to your porch-style building. Even though they're not always a building code requirement, porch railings provide an extra measure of safety and protection.
Don't have a storage building?
If you don't have a shed or garage, but you would like to get one, find your shed or design your own. All of our buildings are handcrafted using only the highest-performing materials.
If a fully built shed cannot be delivered to you home due to space restrictions, no problem! On-site building options are available.
We sell our products factory direct, which means that there is no middle man. This keeps your costs down, streamlines the process, and enables us to continue providing excellent craftsmanship and superior customer service. Check out our sheds at a display lot near you.
Discover five reasons why people buy from us, then connect with us on
Facebook, Twitter, Instagram, and Pinterest.