All Quality Sheds Have These 6 Things in Common
by Dakota Storage Buildings, on August 27, 2021

Some indicators of a no-short-cut shed include quality lumber, proper framing, durable flooring, weatherproof roofing, and sturdy siding.
Whether pre-built or custom, backyard sheds are a great solution to storage and space problems. However, be sure to invest in a quality shed. Don't be swayed by cheaper options. The lower the price, the less you can trust the quality. A cheap shed will likely leak, fall apart, or deteriorate long before a high-quality outdoor storage shed would. As you shop, look for sheds that are both reasonably priced and constructed soundly with quality material. You want your investment to last a long time and take little effort to maintain.
To find this kind of shed, there are a few specific things to inspect. A few indicators of a premium, no-short-cut shed include quality lumber, proper wall and roof framing, durable flooring, weatherproof roofing, sturdy siding, and a manufacturer-backed warranty.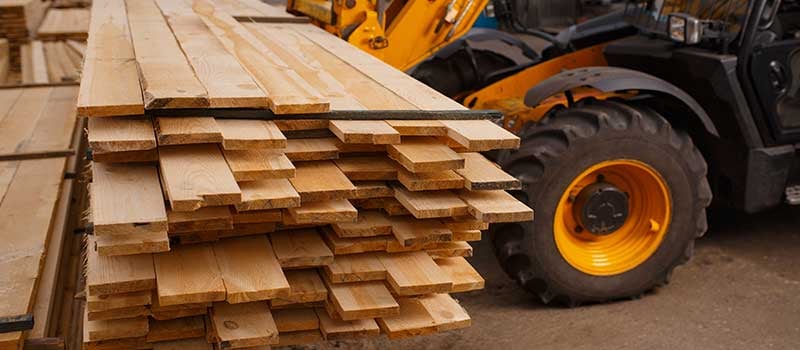 1. Quality Lumber
Most shed frames and floors are constructed with lumber. The type of lumber used directly affects the lifespan of the shed. High-quality sheds will typically be built with cedar, redwood, douglas fir, or old cypress. These wood types are naturally more durable, less prone to knots and splits, and highly weather-resistant. When this wood is reinforced with pressure-treated technology, it lasts even longer and can stand up to all types of weather over a long period of time. Low-quality lumber might be more affordable but will not last long.

2. Proper Wall & Roof Framing
Framing is what gives a shed its form and strength. When inspecting the structure's frame, look at the size of the studs and the measurement between them. A well-framed shed wall will be built similar to a house and according to code. It will have 2×4 studs with a 16" (or less) on-center spacing. A poorly framed shed may have studs spaced up to 24" on-center. This corner-cutting will lead to the exterior siding buckling and a structure that is not strong enough to withstand strong winds or heavy snow. For roof framing, some manufacturers go above and beyond by using metal press plates to reinforce trusses.
3. Durable Flooring
Shed flooring is critical to longevity. Without a strong foundation, a shed wouldn't stay level or sturdy for very long. Strong, pressure-treated skids and joists work together to create a sturdy base and keep the shed a few inches above the ground.
Skids, joists, and flooring should withstand all that Mother Nature dishes out. Together, they should be water-resistant and durable enough to resist warping and bending if mud or water are brought into the building by a soggy ATV or wet snowblower. The shed's floor also needs to hold the weight of items stored inside it without buckling or breaking and withstand pests and insects.
An example of durable and strong shed flooring is LP ProStruct® Flooring with SmartFinish®. It looks nice, but more importantly, it can take a lot. This flooring uses LP's Treated Wood Strand Technology and its proprietary SmartGuard® technology that resists splitting, cracking, warping, fungal decay, and termite damage.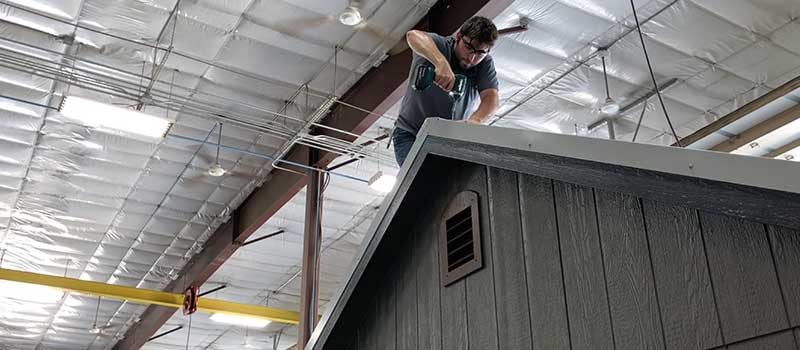 4. Weatherproof Roofing
Rain, hail, snow, and ice are unavoidable. Every shed roof will come in contact with these natural inconveniences, which can lead to leaks, cracks, or even warps, potentially damaging anything stored inside. Naturally, a weatherproof roof is essential.
Shed roofs are typically asphalt shingles, cedar shingles, wood shakes, board-and-batten, asphalt roofing felt, or corrugated metal roofing panels. The best roofing options currently on the market are asphalt shingles and steel panels.
For example, CertainTeed's NORTHGATE modified asphalt shingles have a rubber-like characteristic that gives them great flexibility, allowing them to resist cracking even in frigid weather. These shingles also provide superior granule adhesion, which is critical when it comes to protecting your shed roof's shingles from wind, rain, snow, hail, and dust. As for steel roofing panels, Long Creek Steel has excellent products that offer outstanding protection, come in a great variety of color options, and require the least amount of maintenance of any roofing option, even over decades.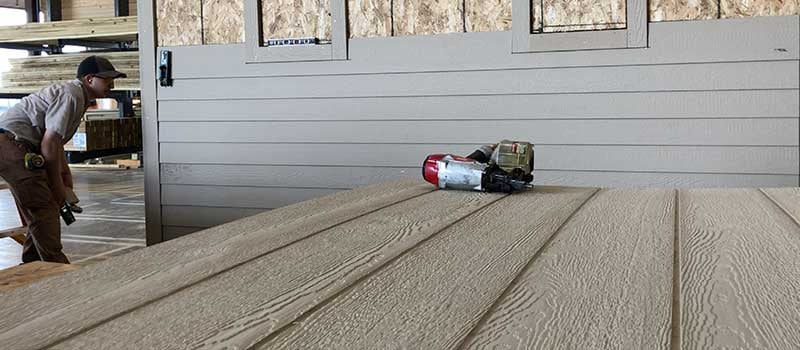 5. Sturdy Siding
Look for siding that's fade-resistant, easy to clean, and available in a color you want, but most importantly, durable. The most common types of shed siding include wood, steel paneling, engineered wood paneling, vinyl lap, and engineered wood lap. However, some outperform others over time. High-quality shed siding should last at least 30 years.
We recommend the following siding types and manufacturers.

6. Manufacturer-Backed Warranty
Most trusted manufacturers back their work with a warranty and provide customers with a warranty certificate that guarantees their product's structural stability when used appropriately and maintained adequately. Such warranties cover any manufacturer-related deficiencies. Manufacturers do this to give customers a sense of peace and confidence, knowing their purchase is a good investment.
Bear in mind that most shed warranties apply only to the original purchaser and location and don't cover normal wear and aging — characteristic of any outdoor product exposed to natural elements.
Conclusion
Whether you buy pre-built or custom, knowing these key indicators of a quality shed will help you understand what to look for in a no-short-cut shed worth your investment.
For more tips on choosing the right shed for your needs, download our Shed Buying Workbook for comparatively minor but equally important details that will help you determine the best shed to buy.
Resources: