Backyard Garden Shed: The Perfect Gift For Ladies Who Love Gardening
by Dakota Storage Buildings, on May 09, 2017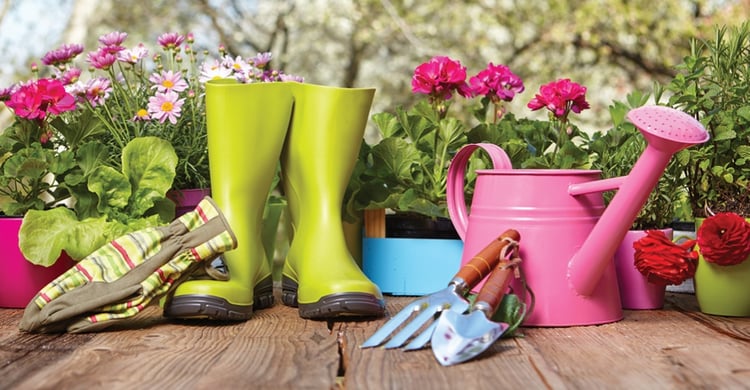 Consider getting your mother or wife a backyard garden shed for Mother's Day this year!
On Mother's Day, many people give gifts, cards, flowers, candy, treats, and more to their mothers and maternal figures, including grandmothers, great-grandmothers, stepmothers—and even wives. (You can't forget that she's the one that brought your children into the world!)
If the special lady in your life loves gardening, you could buy her a gardening-related present like a gift card to her favorite garden store, an Apple Tree-To-Be Kit, or a stackable light system for starter plants—or you could buy her the ultimate gift—a backyard garden shed (or a potting shed as some like to call it). If you already have a shed, consider renovating it into a garden shed that's sure to make any home gardener envious.
Ladies, if you're reading this post and you're a gardener who'd love to have a backyard garden shed, you might want to forward this to your children or husband. Hints never hurt!
Here are 4 reasons why sheds are a gardening staple.
They're perfect for storing lawn and garden equipment—and everything else a good gardener needs from hand tools to wheelbarrows to hoses.


They offer valuable and convenient workspace. Every gardener needs space to work. From shelving to tables to workbenches, everything can be stored safety and out of the way. Besides, dragging things in and out of the house can deter even the most enthusiastic gardener.


They offer shelter from the blazing sun and rain showers. Gardeners can keep their mess outside of the house and keep working through both hot and rainy days.


Depending on the size of the shed and the amount of natural light it gets, it can also provide an ideal environment for growing starter plants.
If you choose to purchase a garden shed, consider these 6 things.
Make sure the interior can get plenty of natural light. Depending on gardening needs, wall-to-wall windows, skylights, dormers, or just a few additional windows might be required.


Make sure the floor material will not warp or mold when it gets wet. A good material for flooring is

LP ProStruct® flooring with SmartFinish

.




Determine which siding style is best for you. Vinyl and Lap siding options are ideal—they're durable and easy to clean. Also, think about which siding and trim colors will look nice in the backyard, blend in with the surrounding landscape, and compliment the color of your home.


Thinking about adding practical upgrades like a trusty ramp (great for tractors and wheelbarrows), an internal organizer kit like the VersaCaddy, and built-in shelving.


Remember to check with your township about zoning and building permits. It's better to know this information before making a significant purchase.


Before getting started, understand the importance of laying a solid shed foundation.
If you're transforming a backyard shed into a garden shed, don't forget to . . .
Revive the exterior by applying a fresh coat of paint. For more aesthetic appeal add shutters and window boxes. Plant herbs and flowers in your flower boxes for added beauty and function. (Did you know that lemon thyme and lavender are pretty, smell great, and repel mosquitoes?) These are simple ways to bring new life to a drab looking building.
Organize the interior. Hang walls of pegboard to organize and display gardening tools, plus prevent future clutter. Bring in kitchen carts for storage and work space. Don't forget to add durable metal or plastic shelves.
Bring in the light. If there's not enough natural light, install an electrical line and think about the various ways (lamps, overhead lights, wall sconce, etc.) you can light the shed for both plant growth and work after dusk.
Here are two of our buildings that are perfect garden sheds.
The first three photos are of a 12x20 ft. garden shed with a porch, LP SmartSide Lap siding, 2 sets of fiberglass double doors, built-in shelves, and Desert Tan shingles. The siding and trim are painted with Sherwin Williams white paint. The shed size, porch, additional windows, and built-in shelving make it perfect for gardening in general—but especially for growing starter plants.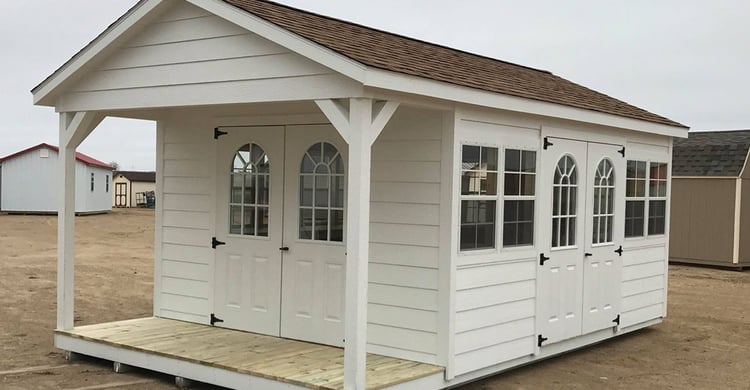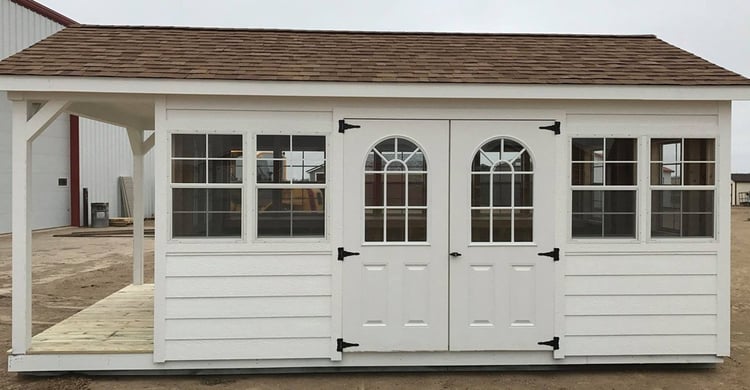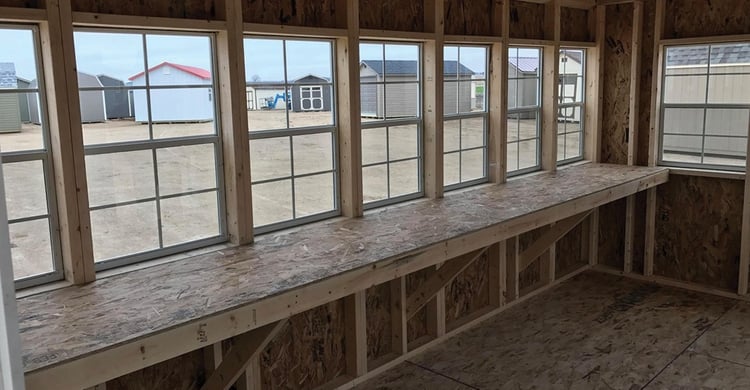 The next two photos show a 10x16 ft. a garden shed with LP SmartSide siding and trim, LP ProStruct flooring, LP Smart Panel (interior walls), shutters, window boxes, and a custom set of double doors. It's painted with Sherwin Williams colors, Rookwood Red (siding) and Napery (trim). This example is very different from the first, but is still practical and useful as a garden shed.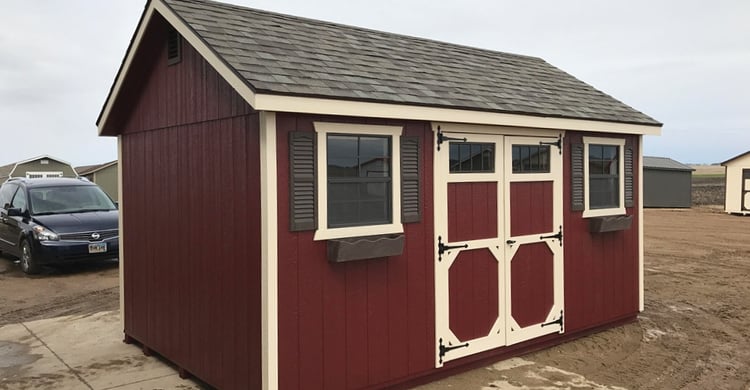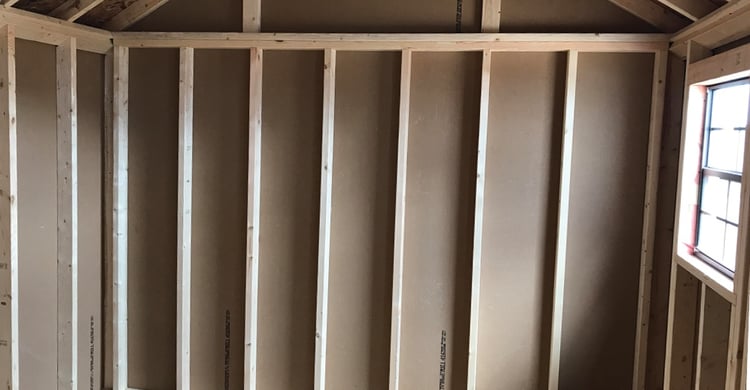 Ready to find YOUR garden shed? We suggest starting with our semi-customizable Garden Shed Package or our online configuration tool to customize your ideal building from inside to outside..
Helpful resources: