Benefits of Buying a Ranch Style Storage Shed
by Dakota Storage Buildings, on July 24, 2015

Benefits of the Ranch Style Storage Shed
Here at Dakota Storage Buildings, we offer a few different types of storage buildings. In this post we'll talk about the Ranch Style Shed, and what it has to offer.
The Ranch Style Shed has contemporary styling and advanced functionality. It has a 5/12 pitch roof line that provides a lot of wall space — perfect for hanging bulky equipment. The Ranch Style Shed is often used for:
Garden supplies
You can easily store seeds, fertilizer, tools, pots, hoses, and anything else you may need. Storing these items in the backyard makes the most sense and allows you to keep the inside of your house clean, and the outside of your house beautiful.
Tools and workshop
You will have plenty of room for all of those bulky power tools and cords along with the rest of your equipment. Out of sight but easy to access.
Sports equipment
Avoid tripping over awkward sports equipment by storing it all in the backyard shed — hockey and lacrosse sticks, basketballs and soccer balls, cleats and helmets. You don't need a huge storage shed for this option just something that will keep the clutter (and smell) out of your house.
Fishing and hunting gear
House all of your hunting and fishing gear in one place without worrying about who will get into it. There is plenty of storage space in these Ranch Style Sheds to keep things organized and easily accessible.
Outdoor office space
Creating an outdoor office means that you don't have to take over a spare bedroom, clutter the kitchen table, or kick the car out of the garage. And another great benefit is that outdoor office space in a shed could be tax deductible.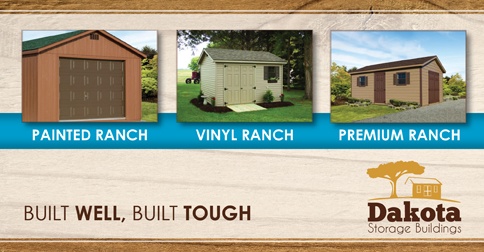 All Ranch Style Sheds come with the following standard building features with various upgraded shed options also available:
1 set of double wood doors

1 window and two vents

4"x4" pressure treated skids

2"x4" treated floor joists for 8' and 10' wide sheds

2"x6" treated floor joists for 12', 14', and 16' wide sheds

All framework 16" on center

7/16" OSB roof sheeting

15 lb felt (on sheds 120 sq ft and larger)

30-year architectural shingles or steel roof

DuraTemp fir plywood siding

Quality paint (choice of color)
While all of our buildings are built with industry leading, advanced grade, and high performance components, the Ranch Style Shed comes in three great options: painted (wood) siding, lap siding, vinyl siding and metal. See all options here.
After you get an idea of what type of shed you would like to purchase, request a quote to receive further information and assistance in making your decision.