Perfect Coops for Your Backyard Chickens
by Dakota Storage Buildings, on March 13, 2019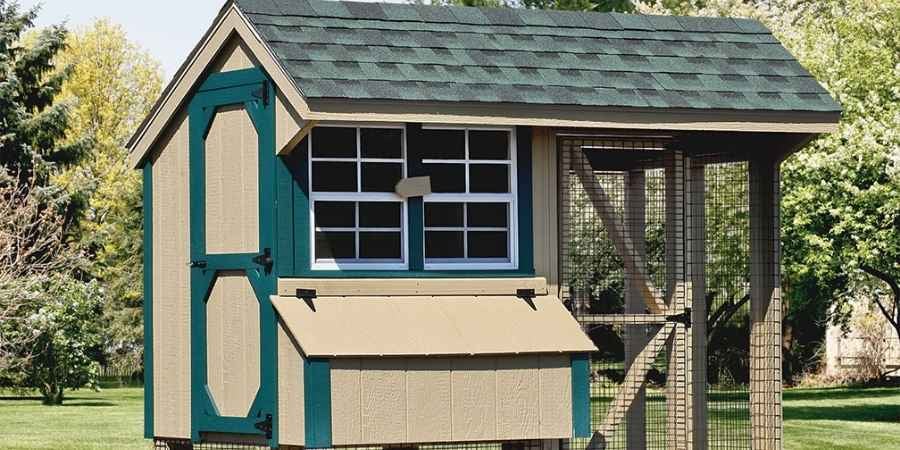 This post was updated on May 4, 2020.
Who doesn't love fresh eggs directly from the coop? No better way to get them than with backyard chickens!
Our backyard chicken coops make raising chickens, feeding time, and daily egg collection easy and convenient. Ready for fresh eggs? Give your backyard chickens the best start with a premium coop that your hens will love.
Our Quaker Chicken Coop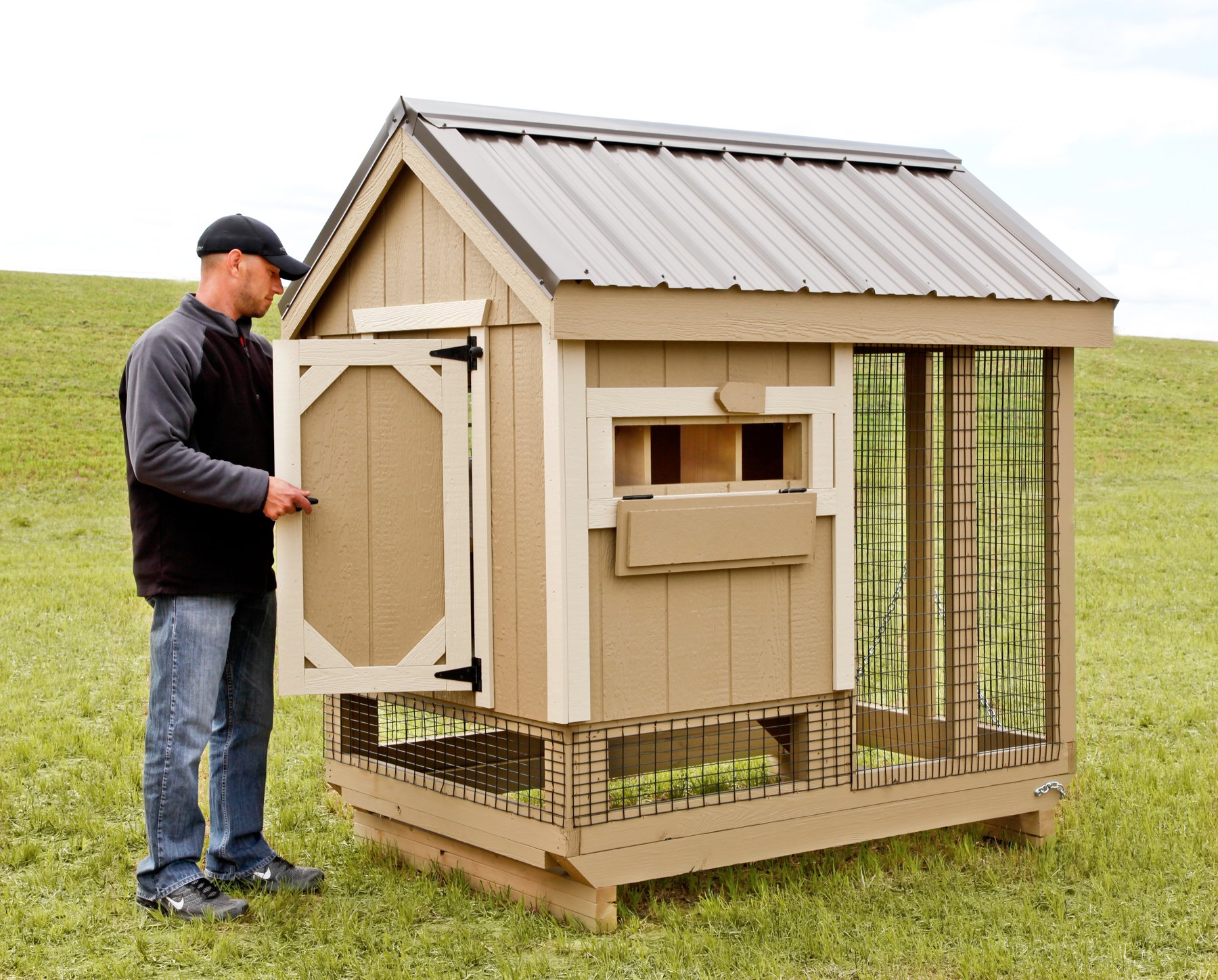 Quaker Chicken Coop Details
The best way to start raising chickens is to invest in the best chicken coop for your needs. Our Quaker coop features high-quality material like LP® SmartSide® wood panel siding and Tuff-Rib steel panel roofing.
Our Quaker style coop comes in eight sizes. The larger sizes feature six nesting boxes which are ideal for 24 hens (1 box per every 4 hens). So, if you're looking for a chicken coop for a brood of chickens—we got 'em!
- 4x8 Quaker Chicken Coop; 4x4 Coop, 4x4 Run, 4 Nesting Boxes
- 6x8 Quaker Chicken Coop: 4x6 Coop, 4x6 Run, 4 Nesting Boxes
- 6x10 Quaker Chicken Coop: 4x6 Coop, 6x6 Run, 4 Nesting Boxes
- 6x12 Quaker Chicken Coop: 6x6 Coop, 6x6 Run, 6 Nesting Boxes
- 7x12 Quaker Chicken Coop: 6x7 Coop, 6x7 Run, 6 Nesting Boxes
- 8x12 Quaker Chicken Coop: 6x8 Coop, 6x8 Run, 6 Nesting Boxes
- 7x14 Quaker Chicken Coop: 4x7 Coop, 7x10 run, 6 Nesting Boxes
- 7x16 Quaker Chicken Coop: 6x7 Coop, 7x10 Run, 6 Nesting Boxes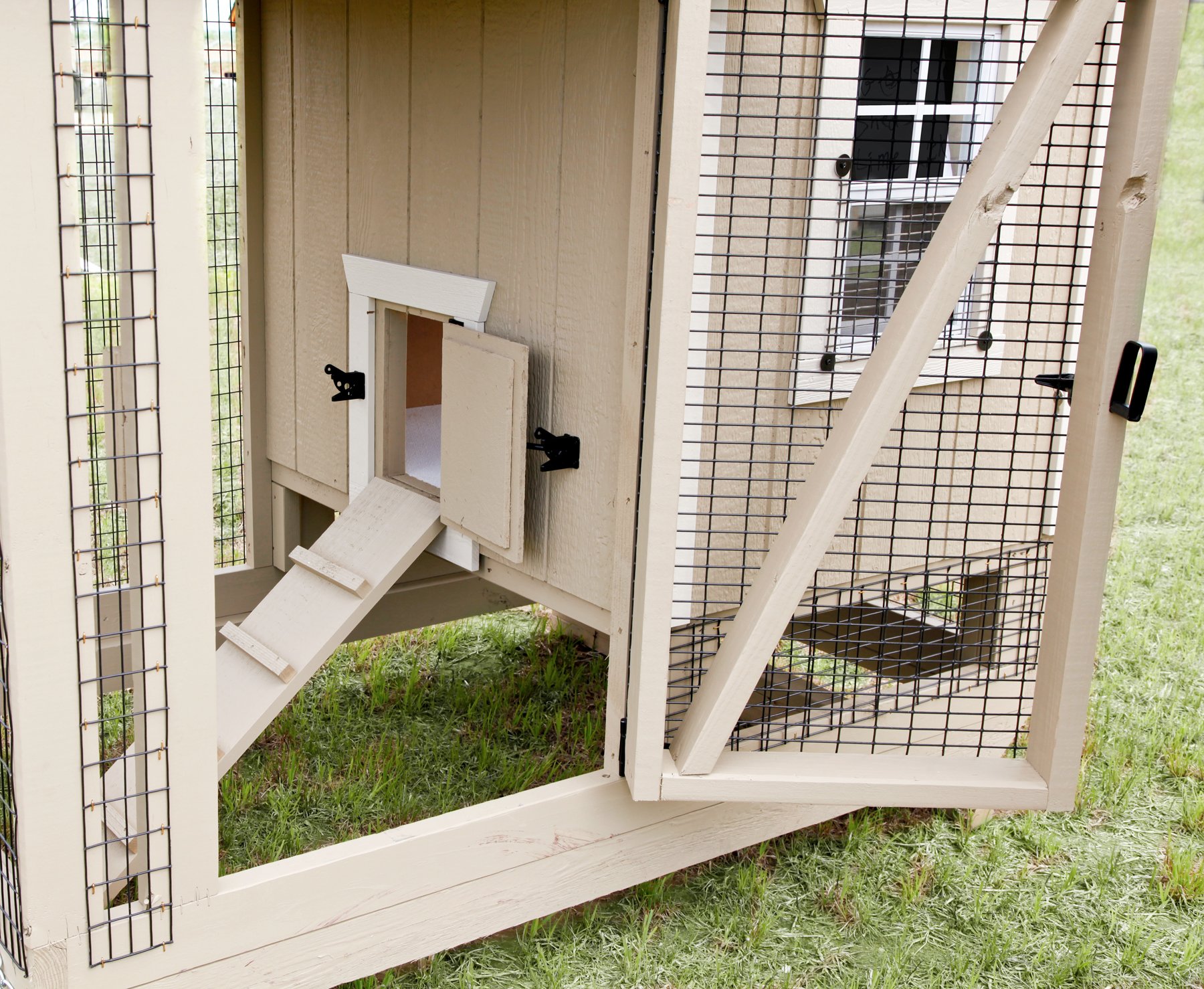 Quaker Chicken Coop Features
From roofing to flooring, each coop is constructed with the highest quality components. Only premium materials are used because we believe the coops we sell are a representation of our integrity and our commitment to customers.
We intentionally hire and partner with skilled and trustworthy craftsmen. The dedicated teams that build the products we sell care about the details and the quality. We would never sell a chicken coop that we wouldn't buy ourselves.
Here are some key features of our chicken coops.
Run: Even though the windows allow sunlight and fresh air to come inside, the coops feature an area outside where they can move freely.
Nesting Boxes: Give your hens a clean, dedicated space to build a proper nest, and you'll get good eggs that are well protected. Each nesting box is the right diameter—fill them with soft bedding like straw, and you'll get lots of eggs.
Roost: Chickens like to sleep up off the ground at night. Our roosts give them the space they need to perch for a good night's sleep. Our coops provide the space needed for all hens to rest well.
Flooring: Our coops have LP ProStruct Flooring with SmartFinish and Epoxy Finish. This provides a durable yet attractive overlay that resists decay and warping.
Roof Sheathing: The chicken coops that we sell have roof insulation that is designed to block radiant heat and help maintain interior temperature.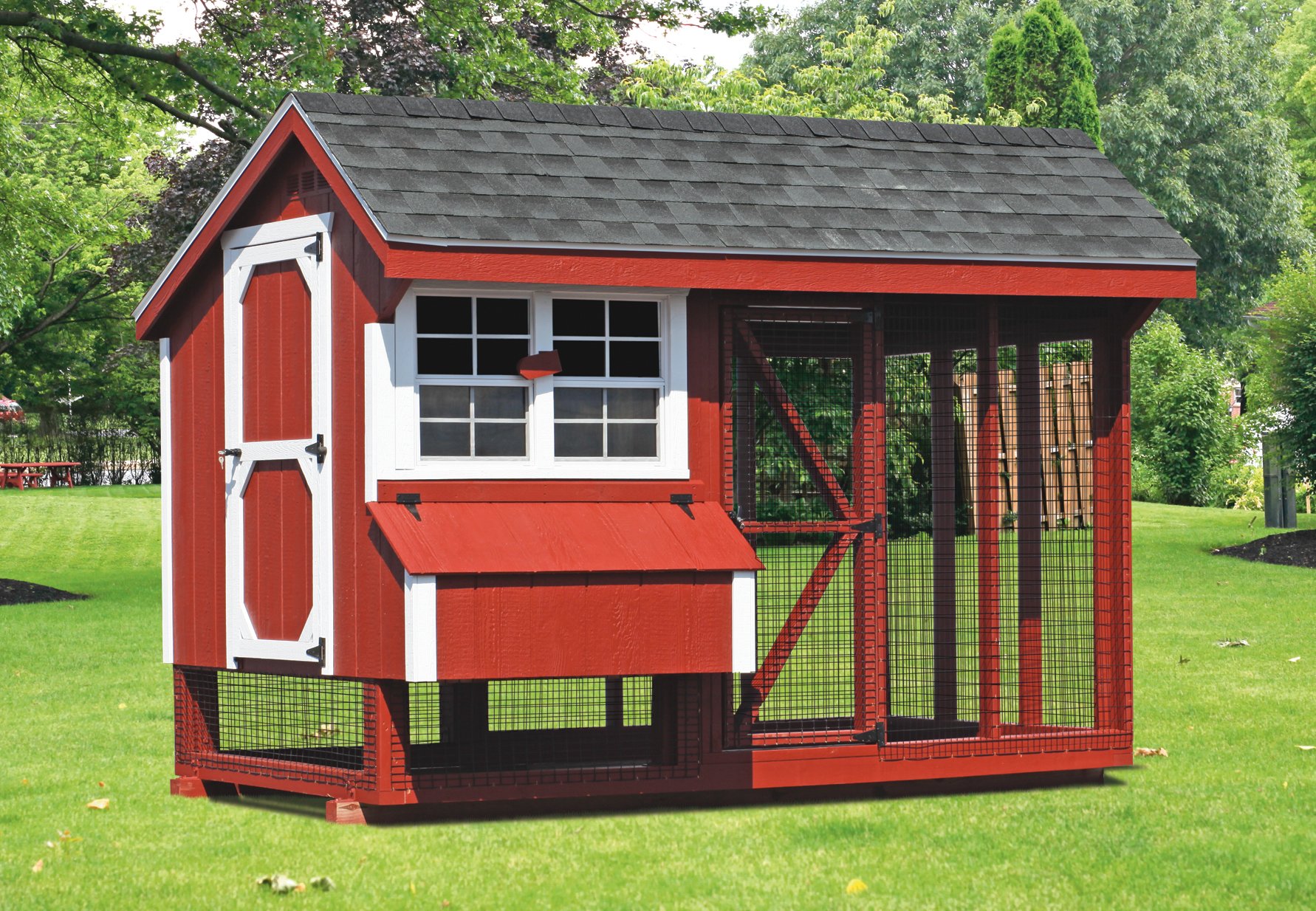 Buying A Quaker Chicken Coop
We all know that happy hens lay healthy eggs, so make sure they're happy by investing in the right size coop with all the proper features. Download our product catalog today.
If you need assistance choosing a coop that's best for your chickens, or if you're ready to purchase, call our helpful sales team at 888.832.6889 or send an email to sales@dakotastorage.com.
Our mission is to help you organize your life and keep your valued possessions safe—and yes, that includes your backyard chickens. We know chickens are an investment, and we want to help you keep them secure and happy.
When you purchase with us, you can trust that you're getting a premium coop, a knowledgeable and experienced team of experts, above-and-beyond customer service, honest prices, and flexible delivery.