How to Set Up a Shed as a Woodworking Shop
by Dakota Storage Buildings, on August 12, 2020

Create a plan to meet your woodworking needs — then use an online shed customizer to bring it to life.
If you've been making due by cramming your woodworking shop into a corner of a shared space — like an already-packed garage or basement — you may find yourself wishing you had more room and convenient access. It's easy to imagine the benefits of having a dedicated space where you can spread out and organize everything in the way you like it.
The ever-versatile backyard home shed makes a great woodworking shop. The right shed size can offer room for a workbench, plenty of tool and equipment storage, and enough space to comfortably work on large pieces or even have multiple projects going simultaneously. They also make it easier to load in lumber without having to maneuver around cars and other obstacles.
Plus, owning an on-site woodworking workshop means you won't have to clean up every time you need to step away from your project. Your tools will be there waiting for you when you return — right where you left them.
3 Questions to Consider When Setting Up a Woodworking Shop
The question isn't whether having a woodworking shop in your backyard would be awesome — you already know the answer to that is YES. Instead, the questions to consider are these.
How much space do I need to store all of my equipment and tools and have sufficient room to work?
What woodworking shop can fit both my needs and budget?
Where can I find my ideal woodworking shop?
Here's a quick look at each of these considerations to help guide your planning.
1. How much space do I need to store all of my equipment and tools — and have sufficient room to work?
To determine your space needs, consider the woodworking tools and equipment you currently have as well as any you hope to acquire. It may help to sketch out a basic woodworking shop layout, being sure to allow plenty of room to work and move around comfortably.
It's usually better to err on the side of more space than less, but if you have budget restrictions, even a small workshop can do the trick if you set everything up efficiently. Folding equipment and clever storage ideas can make all the difference.
Most woodworking workshops need room for the following basic items:
Workbench - If you're thinking of buying a pre-built workbench, some can be a bit rickety, so be sure to look for one that gets positive reviews. Make sure it's sturdy, offers sufficient workspace, and is a comfortable height for you. A shed that comes with a built-in workbench is ideal for your woodworking shop since it maximizes space and stability.
TIP: Strategically locate your workbench near an electrical outlet for easy use of power tools.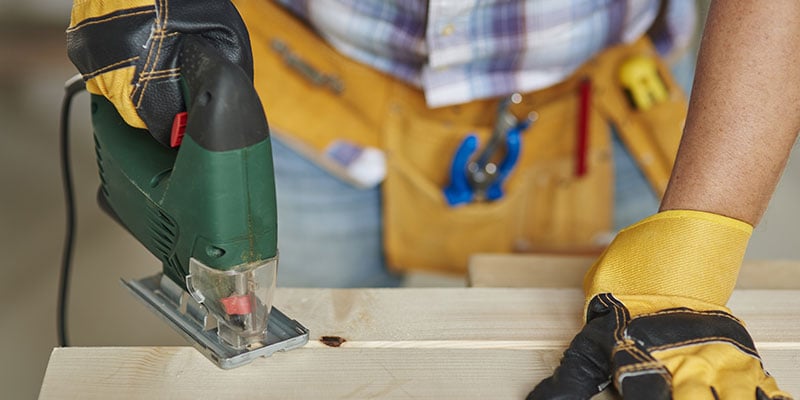 Tools & Material Storage - Using a mixture of shelving, cabinets, drawers, and pegboards/hooks offers storage versatility for a variety of woodworking shop needs. Choosing a shed with a built-in loft is one smart way to maximize storage space.
Lumber storage can be tricky in small spaces, but there are lots of woodworking shop ideas to help you find a good solution. For instance, your workbench can double as a lumber rack, or you can build a simple cart with wheels for ultimate portability.
TIP: Click here to find out how to choose the best lumber for woodworking in seven simple steps.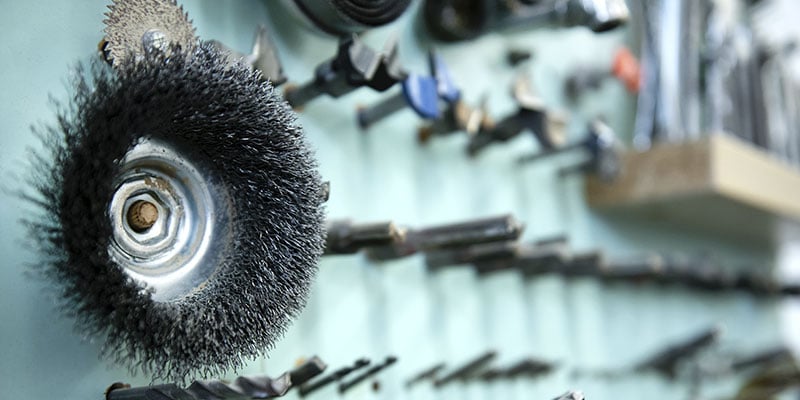 As you design your workshop, create an organizational plan that keeps your most frequently used items handy. Watching virtual tours to see how DIY woodworkers set up their shops can be helpful. Plan for ways to store woodworking basics like protective gear, hand tools, power tools, brushes, and fasteners to name a handful.
Equipment - Woodworking experts at Popular Mechanics have compiled a list with links to their recommended equipment for a small backyard shop. Here are some staples worth adding to your checklist.

Portable Table Saw - Ideal for breaking down large sheets of plywood, sawing tenons, and ripping compound cuts
Miter Saw - Best for straight or angled cross-cutting
Circular / Track Saw - Hand-held and convenient for cuts that don't need to be super-precise
Drill Press - Accurately cuts holes with repeatability and control
Sawdust Control - Dust collection systems are important to mediate potential health issues (and messes!)
Shop Vacuum - Offers greater power and capacity than a house vacuum
Finding room for everything will depend on your workshop layout and your storage solutions.
Consider convenient and practical features as you set up shop, including built-in shelving and workbenches, multiple windows for natural light and ventilation, interior insulation for year-round comfort, double doors, and an overhead garage door for easy lumber loading. Thinking through the path a piece of wood takes from the moment it enters your shop until it leaves will help guide you through nearly ALL of your shop layout decisions.
2. What woodworking shop can fit both my needs and budget?
Now that you have an idea of how much space you need, you can choose the right shop size. Expect your workshop to evolve as you take on new projects, so make sure you allow room to grow.
While you can build your own shop or buy one from a home improvement store, we recommend investing in a high-quality building that will last for years — and guess who makes those? We do!
We suggest starting your search by browsing our Shed Collection or Garage Collection, which feature semi-customizable packages created for specific uses. For instance, in our Shed Collection, our Backyard Shed XL is larger than a standard shed and has built-in storage, including a loft and workbench, but can be personalized to meet your size and color preferences. If you need something larger and have enough room on your property, you could personalize our Detached Garage. It ranges in size from 18'x24' to 32'x40' and features a concrete floor and overhead garage door.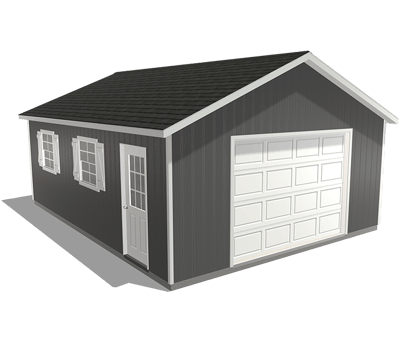 If you'd prefer, you could start from scratch, customizing your own woodworking shop from top to bottom, inside to outside. Using our online shed designer, you can select every detail, add-on, and feature that you want. Sometimes complete customization is the way to go.
Be sure to consider your shop's budget as you decide whether you want to build your own, buy a pre-built stock shed, choose a shed or garage package to personalize, or design a customized building. As you compare prices and costs, look at payment options as some shed manufacturers like us offer payment options.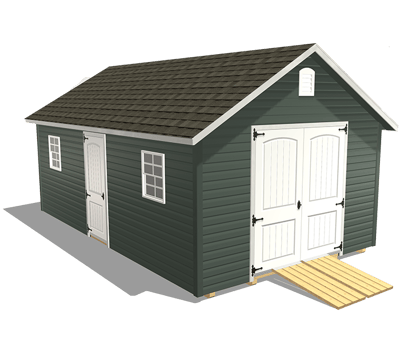 When investing in a woodworking shop, it's best to select one that's both in your budget and worth the money you're spending. Choosing a reliable shed or garage that will last for years is better than choosing a cheap option that will be disappointing or begin falling apart in a couple of years.
3. Where can I find my ideal woodworking shop?
Right here! No need to look any further. If you're ready to invest in a woodshop paradise, Dakota Storage Buildings offers a variety of shed collection and garage collection for you to personalize. Or, use our online shed customizer to create a custom building from scratch.
Have questions about the buying process? Our Ultimate Shed Buying Guide will give you a complete look at the shed buying process from window shopping to delivery.
To learn more about creating a woodwork shop, read Tips For Setting Up a Woodwork Shop in a Garage. For woodworking tips, check out 10 Woodworking Tips.