Is It Cheaper to Buy or Build a Shed? Which Option is Best For You?
by Dakota Storage Buildings, on August 08, 2022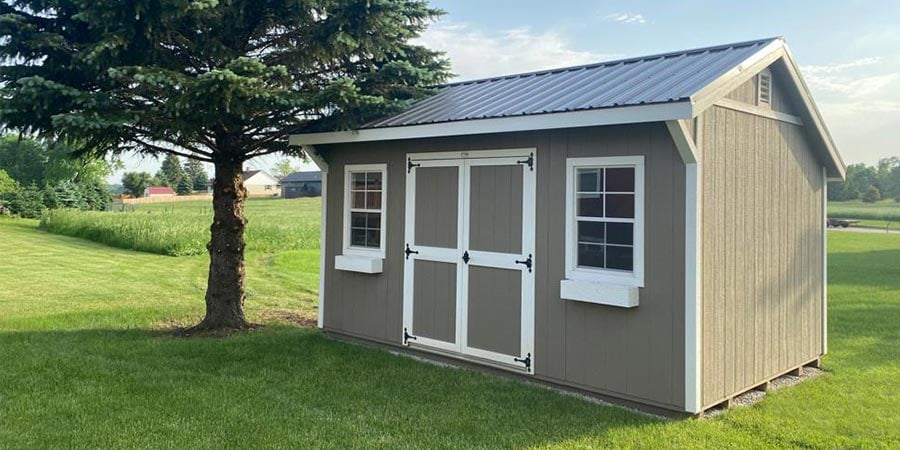 How To Solve Your Storage Situation
You may think that you're living with a family of people who enjoy clutter.
If extra tools, bins, decorations, or hobby supplies get underfoot, it may be time to add extra storage.
A solution for many households is to get a shed. Great, that's settled! But now to decide if you should pay more money upfront to buy a shed or attempt to build one yourself.
Read on to see if you should buy or build a shed.
What are the Pros and Cons of Building Your Own Shed?
Bragging Rights
There's nothing like the feeling of knowing you built something with your two hands. If you're a wonder in the workshop, this pride and self-satisfaction is a reward. For some, this feeling alone may be enough to risk a few weekends and try their own hand at building their shed.
But consider your precious free time when you're mulling over the costs involved. In addition to planning the project, you will also be making plenty of trips to your hardware store. Your sweat equity can't be estimated high enough. This is especially true if you run into problems during your project.
Personal Touches
If you build your shed, your creativity determines your limits. You can add in many extras or upgrades that may be out of your budget if you buy a ready-made shed.
You can choose colors and materials that look seamless with your yard and house. You can decide where to embellish and decorate with different trims and metals for a signature look.
Options like windows, electricity, top-level storage, and more are all available to you.
Although the upgrades and materials will cost less to DIY, tool costs need to factor into the equation.

If you don't have a wide selection of carpentry and power tools, your bank account will take a ding with new purchases or rentals.
Location, Location, Location
A huge benefit to building your shed is the freedom of having more spaces where you can place the shed on your property.
Because you'll be bringing in the materials piece by piece, you won't be hindered by fences or roofs to get your shed in the yard.
Your custom plans can also design around any shaped lot.
Will I Save Money by Building My Own Shed?
You will save money on transportation and installation fees. You may spend the saved money from delivery and installation to purchase needed tools.
Rising supply costs will also hit an individual harder than a shed company, as they buy in bulk.
You can estimate to pay around $20 per sq. foot for a 120 sq. foot shed that you build yourself.
What are the Benefits of Purchasing a Shed?
Instant Gratification
Do you want to get the lawnmower out of the rain tomorrow? You can start stocking your shed with your tools and overflow the same day it is installed.
Remove The Worry With A Warranty
Peace of mind is worth more than money. A pre-made shed comes with a manufacturer's warranty that covers defects, material failures, leaks, and more.
Plan To Succeed
Wondering how many packs of shingles to buy? And how in the world are you going to connect the electricity in your shed?

Buying a ready-made shed removes these questions.
Additionally, there is an assurance of quality that comes with purchasing from the professionals. Buying from a manufacturer like Dakota ensures a quality inspection along with a full satisfaction guarantee! Building your own shed can be rewarding, but buying pre-owned provides a sense of security that relatively novice builders will not have.
Even if you do choose to purchase a shed from a manufacturer, Dakota Storage offers the option to customize. With a configurator tool that allows you to select features, sizes, style, color package and more, there is still freedom of choice in buying a pre-made shed!
Should I Buy My Shed?
You will pay extra to have your shed delivered and set up. The benefit is that your shed is ready to use on the same day.
A shed manufacturer can purchase supplies in bulk and use factory production methods. While the overall price is more expensive, you aren't giving up your time.
You can estimate to pay around $40 per sq. foot for a 120 sq. foot shed that you purchase and have delivered. This does vary depending on a number of factors and the price can vary.
Buy the Right Shed with Confidence
You will start out saving money by building your shed. However, rising supply costs, tool purchases, construction experience, and your valuable free time may make purchasing your shed a more attractive option.
If you've decided to explore shed buying, we can offer some guidance to take the guesswork out of your decision.
Click here to download our Shed Buying Workbook.
It will give you all the information you need to buy the shed that will conquer your storage problems once and for all!