Maintain Your Yard: Landscape Ideas for Your Shed
by Dakota Storage Buildings, on May 03, 2016

Unless you're a landscaping genius with more ideas and time than the average person, you may find these suggestions helpful.
All three of our ideas are simple but require different levels of effort.
Little Effort:
Lay Mulch
Laying mulching will add instant visual appeal. In addition to adding a manicured look to your yard, mulch helps to suppress weeds.

You can find bags of mulch at home centers, but for the best selection, check your local nursery or landscape supplier.
Once the mulch is laid (by either you or a hired hand), it will require little to no maintenance throughout the year.

Click here for mulching tips.
Some Effort: Plant Annuals
If you want to add a pop of color to your yard but don't want delicate plants that need daily attention, consider a hardy plant like annuals. Select the colors you like, plant them either in front of your shed or around the perimeter, then enjoy their beauty all season long.

Click here for more information about annuals.
Most Effort:
Create a Pathway
If you've added mulch and annuals, but you're looking for something more, creating a stone, gravel, wood chip, or brick pathway from your house to your shed could be the perfect finishing touch. This process can be simple or complex depending on the amount of money and labor you're willing to invest.

Check out these simple pathway ideas from Country Living. For more ideas, visit our Shed Landscaping Ideas and Outdoor Living Pinterest boards.
Don't have a shed?
If you don't have a shed, but you would like to get one, browse our Ranch, Low-Barn, and High-Barn style sheds. All of our buildings are handcrafted using only the highest-performing materials. Not sure which style you like best? Get a feel for the look of each by trying our online shed configurator.
If a fully built shed cannot be delivered to you home due to space restrictions, no problem! On-site building options are available.
We sell our products factory direct, which means that there is no middle man. This keeps your costs down, streamlines the process, and enables us to continue providing excellent craftsmanship and superior customer service.
Visit our website or one of our display locations to learn more about our products.
Tip: When ordering your shed, consider our flower box options. Adding flower boxes beneath your shed windows is yet another way to embellish your beautification efforts.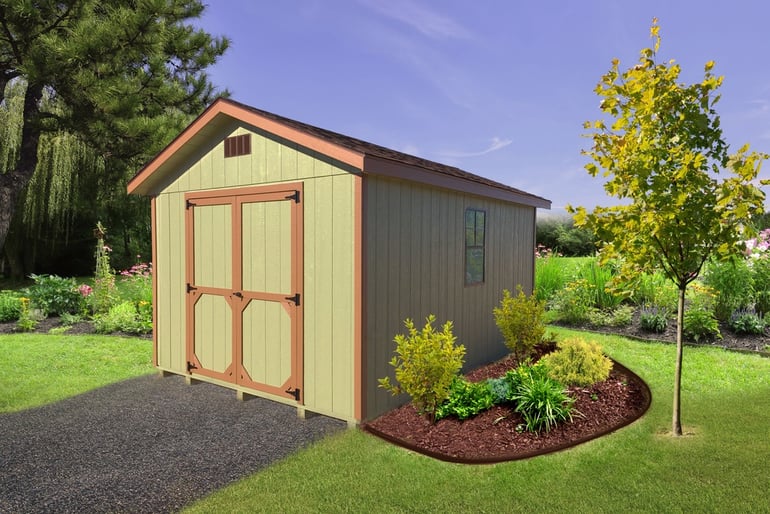 It's our mission at Dakota Storage Buildings to make affordable, high-quality buildings that exceed expectations. Explore our storage buildings in person at any of our South Dakota or Minnesota display lot locations. And don't forget to follow us on Facebook!