Metal, Wood or Vinyl: Which Siding Is Best for Your Backyard Shed?
by Dakota Storage Buildings, on March 11, 2020

The shed siding you choose will impact the budget, maintenance, and appearance.
You've decided that you need a backyard storage shed. Whether it's to use as storage for your lawn mower, rakes, mulch, pavers, snow blower, shovels, etc., or you plan to use it as a she shed or man cave, you'll need to decide on what type of shed you want. You also have to ask another fundamental question: do you want a metal shed, wood shed, or vinyl shed? Which siding is best for a shed?
Why is the answer to this question important? Because your siding is not only the "face" of your shed, it's also the material that protects the structure from the elements. Whether the shed will need to withstand 100-plus degrees in summer, the frigid temperatures in the winter, or the considerable humidity, your backyard shed needs to hold up for years no matter what the weather throws at it.
In addition, your shed's siding also has an important aesthetic purpose. It provides a finished look to the shed and helps it blend in with your home's styling (if that's what you prefer) and provides an overall "look" to your landscaping.
The bottom line is this: an ideal shed looks fantastic, functions in the way you need it to, and withstands weather's fury.
Consider these things when choosing the best shed siding options.
How water-resistant does it need to be?
Water damage can harm the things you store in the shed. It can also diminish the integrity of your shed's overall ability to withstand the weather over its lifetime. If you live in an unusually wet or storm-prone area, make sure the siding you choose overlaps so that seams and joints are protected from wind-driven rain. Also, since siding can expand and contract, compensating for this movement with siding that's created to overlays keeps buckles or gaps from forming.
What is your budget?
Siding costs vary based on the type of material. For instance:
Vinyl siding costs anywhere from $3.50-$8 per square foot
Metal siding runs about $4-$8 per square foot
Engineered wood siding can cost between $5-$10 per square foot
Natural wood siding ranges from $7-$12 per square foot
Generally speaking, how long does siding last, and how much maintenance is required?
Traditional wood siding requires regular painting (every 5-10 years) and repairs (as-needed). While it may be less expensive upfront, it will require some more elbow grease on your end. How are your DIY repair and maintenance? Are you willing to take on maintenance and repair chores?
On the other hand, most engineered wood sheds, vinyl sheds, and metal sheds require little maintenance, only occasional cleaning and simple repairs like re-caulking windows.
How do you want the shed to look?
In other words, do you want it to make a statement, or do you want it to blend in with your yard? A shed's style, siding type, and color all factor into this decision.
Explore the pros and cons of the most popular shed siding options.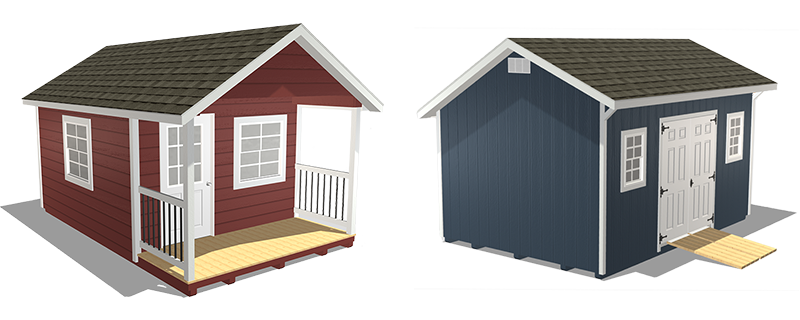 Engineered wood sheds. Engineered wood siding is treated, so it's more durable than traditional wood and requires far less maintenance. You may not have to repair or repaint engineered wood siding as often, but you do need to inspect it for cracks, leaks, and other wear at least once a year.
It's also a good idea to clean this siding yearly. To do so, take a damp sponge, clean cloth, or soft brush and wipe the surface using a mix of mild detergent and water. Never use harsh solvents or abrasives on treated wood as it can damage its surface or paint. To clean light mold and mildew, use a solution of three parts water and one part white vinegar.
At Dakota Storage Buildings, we offer two engineered wood siding choices: LP Wood Panel Siding and LP Wood Lap Siding. Our LP® SmartSide® Wood Panel Siding is an engineered wood siding that offers the beauty of traditional wood with the advantages of treated wood technology. The other wood shed siding is LP SmartSide Wood Lap Siding has flat panels that overlap each other with a shiplap joint and decorative groove between the laps. We use Sherwin-Williams SuperPaint® Exterior Acrylic Latex Paint for our wood sheds.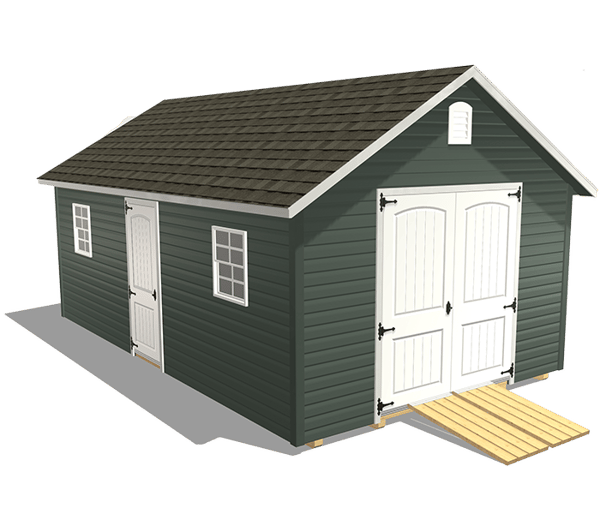 Vinyl sheds. A vinyl shed has the advantage of being quite low maintenance. It's also weather-resistant and doesn't need painting. It also won't present you with problems such as rotting, cracking, flaking, blistering, or even insect damage. Cleaning it is similar to that of engineered wood: soft brush or cloth and gentle detergent. A caveat, however: if vinyl siding does become damaged or need replacing, it can be costly.
We offer our customers Certainteed Mainstreet™ Vinyl Dutch Lap Siding, which is comprised of flat panels that overlap each other horizontally with a shiplap joint and a decorative groove between the laps, which improves strength and adds visual interest.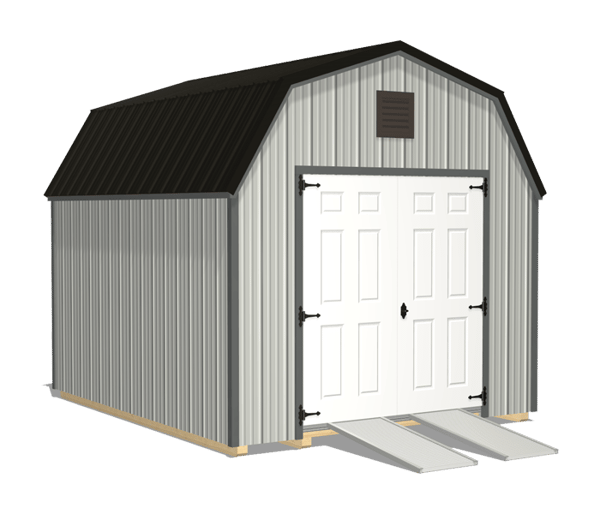 Metal sheds. If you're interested in a metal shed, you're not alone. Many people choose a metal shed for its cost, quality, and low maintenance. You often see metal sheds used for agricultural and warehousing purposes because it's relatively easy to build a much larger shed with metal. Metal sheds also are quite long-lasting and come in a variety of colors. They can, however, rust and corrode, and don't have the same aesthetic "look" as sheds made with wood or vinyl siding.
At Dakota Storage Buildings, our metal sheds come with Long Creek's Tuff-Rib Steel Siding. This paneling is installed horizontally as a wainscot. It creates a modern industrial building perfect for a home garage, ranch, farm, or commercial garage or shed. This paneling is economical, strong, and durable — it has you covered, guaranteed.
Choose the shed siding that's right for you.
What type of shed siding is right for you: wood, vinyl, or metal? Still not sure? Use our 3D shed configuration tool to design a shed based on your needs, budget, wants, and constraints. Change siding material, layout, size, and add-ons until you have virtually built the shed best for you. Customize as many storage buildings as you'd like, then save them. When you're ready, you can purchase the shed you like the most online through the configuration tool when you're ready.