The Cost & Process for Buying a Detached Garage
by Dakota Storage Buildings, on December 22, 2020

With your garage budget in mind, it's time to explore options, costs, and builders.
If you want your vehicles to be covered when they're not in use, but you've ruled out car covers and a carport, perhaps the right solution for your vehicle storage challenge is a permanent and versatile detached garage. Detached garages can shelter vehicles, provide extra storage space, and coordinate with your home's color, allowing it to blend in seamlessly.
Choosing to build a 1 or 2 bay detached garage is a good decision for many reasons. For starters, obtaining a detached garage permit is easier, the insurance is lower, and the cost is less than an attached garage. Additionally, detached garages are healthier. The American Lung Association recommends a detached garage over an attached garage to limit the homeowner's exposure to carbon monoxide, gas, oil, chemicals, and other potentially harmful fumes.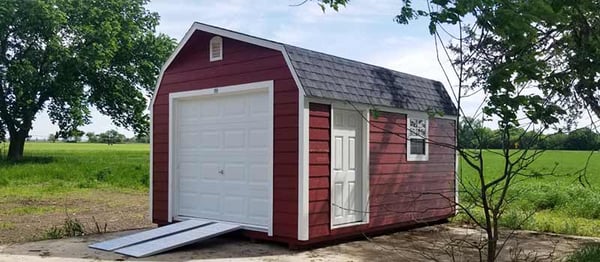 Are you ready to research your detached garage options? With your budget in mind, let's explore the average price range, standard sizes, popular features, and potential garage builders.
Detached Garage Price Range
According to HomeAdvisor.com, building a garage averages $50 per square foot. A one-car garage ranges from $10,500 to $27,000 and a 2 car garage is between $14,500 and $40,300.
HomeGuide.com says the national average to build a garage is $35 to $60 per square foot. The cost to build a one-car garage is between $7,500 and $14,200, and a two-car garage is between $19,600 and $28,200.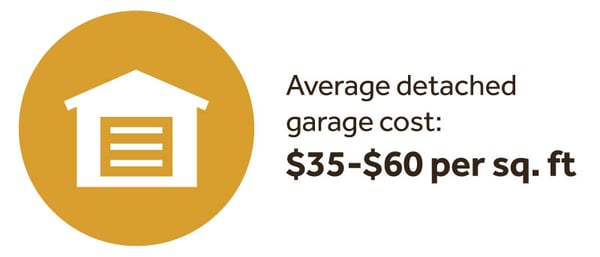 As you can see, both reputable sources give slightly different price ranges. This is due to various factors, including geographical location, commodity prices, and labor costs.
But why guess at a price range and risk going over budget? At Dakota Storage Buildings, we offer a way for you to see an estimated price immediately, which is the best way to stay on budget. Our online 3D configurator allows you to choose your garage size, style, roofing material, siding options, features, and more. Plus, you can zoom, rotate, and switch colors at a click of the mouse. Swap out windows, move doors, and add transom windows, all with your computer, tablet, or smartphone. Our configurator allows you to create and save multiple versions and compare prices so that you can get exactly what you want.
As you think about your budget and the cost of the garage itself, be sure to set aside money for a concrete pad and electricity.
You can get estimates for a concrete foundation using sites like Angie's List or, if you're handy, you can pour your own. Some garage builders offer site preparation at an additional cost. Remember, the cost of your foundation will be contingent upon the size of your garage.
If you want electricity in your detached garage for outlets and lighting, you'll need to think about running power. Costs for adding circuits to a detached garage range from $1,000 to $4,000 because the feeder cable must be buried beneath ground running, connecting from the main service panel to the garage. You can do this yourself to save money or hire an electrician or handyman to handle the project.
Detached Garage Sizes, Configurations, and Features
There's a lot to consider when shopping for the right garage for your needs, budget, and lot size. Garage size, layout, and features are just a few. Here's some insight into each.
Size
The average size of a one-car garage ranges from 16 to 18 feet wide by 20 to 24 feet deep. The average size of a two-car garage usually ranges from 22 to 26 feet wide by 20 to 24 feet long. At Dakota Storage Buildings, our Detached Garage comes in these sizes:

18'x24' – one-car garage

18'x36' – one-car garage

20'x24' – one-car garage

20'x36' – one-car garage

24'x24' – two-car garage

24'x28' – two-car garage

30'x32' – two-car garage

32'x40' – two-car garage
Configuration
Many people like the look of a garage that has two stalls with separate overhead doors more than that of a double-wide stall with one overhead door. A two-door option is not only pleasing to the eye, but it's also practical. For instance, with two doors, you don't have to expose all the contents of your garage every time you enter or leave the garage. Also, if one of the two doors malfunction, you'll still be able to open the other door, having access to at least one vehicle.
A double stall may not look as appealing to the masses, but has some practical benefits like being able to pull the car into the center of the garage to rotate tires, change the oil, open up all of the doors to vacuum the interior, and load/unload larger items like a wheelchair, bike, or kayak. Unfortunately, if for some reason the door malfunctions, you're stuck. There's no alternative way to get your car or any other vehicle in or out. Additionally, a larger, single door puts greater strain on the opening mechanism (or your back, if it's a manual door) than one or two smaller doors.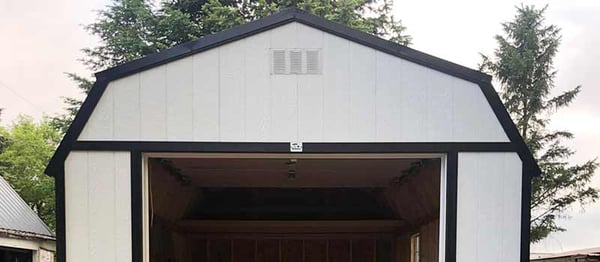 Features
Most detached garages come with roof ventilation, overhead garage door, and a single door. Our Detached Garage comes with DRYline house wrap, Clopay overhead garage door, insulated vinyl windows, vinyl window shutters, color contrast trim package, prehung fiberglass door, and a choice between LP® SmartSide® Wood Siding or CertainTeed® Vinyl Siding.
However, in both cases, when you buy a custom detached garage, there are often add-on options that can make the garage even better. Of course, as you add more, the price will increase. But some are valuable and worth considering. For instance, porches, built-in lofts, built-in workbenches and shelves, and skylights are great additions.
You could also choose to add a second overhead garage door, transforming a traditional detached garage into a drive-through. The second door makes it easy to access lawn equipment and can even allow you to by-pass the hassle of backing out of your garage if you'd rather drive through. Do keep in mind that you might lose some potential wall storage space with this option, but the benefits of a drive-through garage might well be worth it. With a second overhead door, there's no more need to back out cars to access trash cans, bikes, lawnmowers, 4-wheelers, etc. And never struggle with your trailered boat again — simply drive on through.
Detached Garage Builders
There are many garage sellers and builders. A simple Google search will give you many ideas and options. However, if you want the greatest value, best customer service, convenient and easy shopping, and on-site construction, all with a personal touch and the highest care, there's only one manufacturer in South Dakota and Minnesota that fits the bill — that's Dakota Storage Buildings.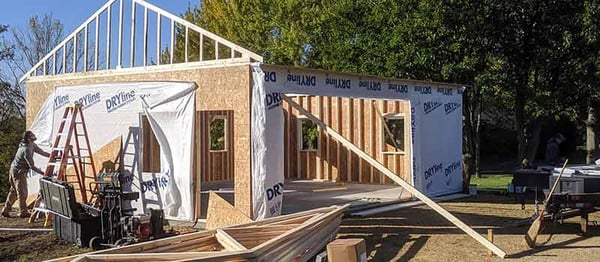 If you live in South Dakota or Minnesota, we want to be your go-to for garages. Our entire team will bend over backward to make sure you get what you want — a quality building at a no-nonsense price and supportive staff to help you.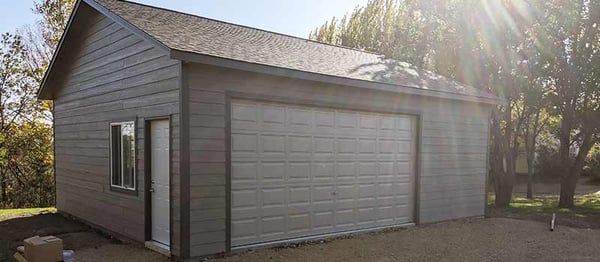 From selecting your garage to getting your permit to laying your foundation, we're here to help. To take the guesswork out of buying a garage, we've laid out our garage buying process here.
If you have any questions about Dakota Storage Buildings, need help figuring out what you can get for your budget, or want validation before moving forward with your garage purchase, we're here for you. In the meantime, click the button below to test our configurator. Start personalizing your Detached Garage today!
Alternative garage option: After thinking through the various garage-related costs in relation to your budget, if you'd prefer to explore a one-car garage option to save money, we have an alternative that you might like. Our single-car Home Garage can handle the wear and tear of everyday life and improve your property's value. It comes with a built-in loft, Clopay overhead garage door, LP® SmartSide Wall Panel with SilverTech, prehung fiberglass door, sturdy Roseburg Rigicoat® Plywood Flooring, and your choice of LP® SmartSide® Wood Siding or CertainTeed® Vinyl Siding.