What to Look for In a Storage Shed
by Dakota Storage Buildings, on June 29, 2022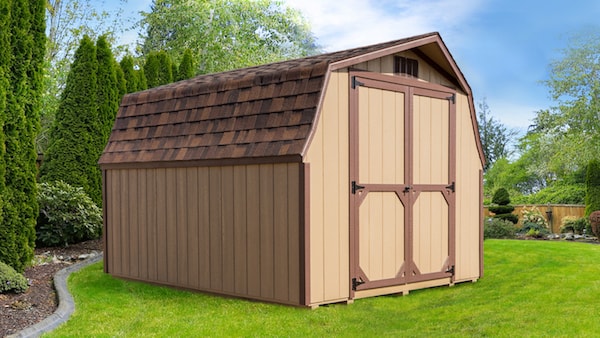 Running out of room for storage in your garage? Purchasing a storage shed for your backyard is a quick and simple way to add necessary storage. Perhaps you need more room to store patio furniture, garden or landscaping tools, or pool equipment. Or maybe you need an extra workspace for your side hobby!
Whatever the reason for your storage shed needs, consider these important factors to help you make a perfect choice. This article will provide an overview of important features to look for when purchasing a shed.
Shed Flooring and Foundation
Some storage sheds have flooring, while others do not. You will want to consider your need for a shed to determine if you need flooring. Plastic and metal sheds often do not include flooring, which means you will need to purchase this separately. Some wooden sheds will have plywood flooring included.
Installing a shed on a foundation will keep the shed elevated off of the wet ground. The most important components to consider when selecting flooring are its ability to hold the desired weight and its ability to resist splitting, cracking, and warping from usage.
Walls and Siding
Storage sheds have walls and siding that are made of varying materials. Most storage sheds use either wood, plastic, or metal siding. Wooden siding will require the most upkeep and maintenance, as wood can begin to rot over time.
Metal and plastic shed siding are usually better options for owners looking for less maintenance. Vinyl sheds usually hold up best over time. Look for siding that is easy to clean and maintain, such as vinyl lap or steel paneling.
Longevity and Price Point
While it's easy to be drawn to low-priced storage sheds, you get what you pay for. Investing in a higher quality storage shed will pay off in the long run, as it will hold up over time. If your budget allows, opt for the highest quality storage shed while staying within your budget.
As previously mentioned, the materials used for the siding and walls will impact a storage shed's longevity.
Size and Style Considerations
The size storage shed you will need will depend on your usage needs. How much stuff do you have to hold and how much land space do you have for the shed? These are questions to ask yourself in advance of purchasing a storage shed. As the goal of purchasing a storage shed is to provide ample storage, be careful not to select a size that is too small for all of your storage needs.
As for style, storage sheds come in varying options, colors, and themes. Some homeowners want a storage shed that will match their home, while others may not be as concerned with appearance. Try to envision how the storage shed will look based on the intended location.
Some storage sheds offer customizable options, such as flower boxes, built-in shelves, ramps, windows, and more.
Getting Started on Your Storage Shed
Want to make the most informed purchasing decision possible? Download our free shed buying workbook to guide your buying process.