Why Our Basic Storage Shed Is Better Than a Cheap Shed
by Dakota Storage Buildings, on August 20, 2019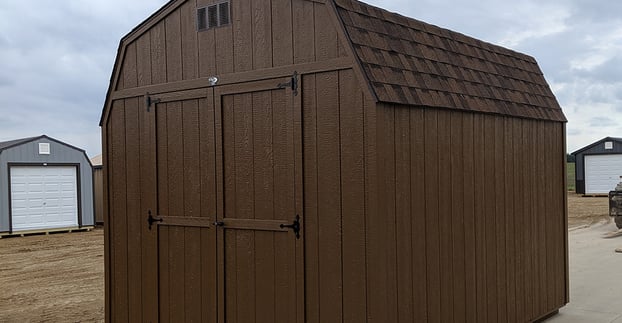 Update February 2021.
Are you in the market for an inexpensive shed that will last more than two years?
Cheap sheds are a dime a dozen. From lumber to paint, low-end sheds are made with the cheapest and lowest quality materials. Consequently, they may only last a couple of years before they begin to fall apart.
Why pay for three cheap sheds over the course of a decade when you could pay a low price for higher-quality building that will last longer? Stop replacing your bargain shed every few years. Instead, consider a better and financially smart alternative—one that's budget-friendly and isn't going to fall apart in 3-5 years.
If you want a good shed—one that's dependable and on the lower end of the price spectrum—you don't have to compromise on quality as much as you think. Sure, a good shed is made with sturdy materials, but it doesn't need the highest quality to do its job.
The goal is to find a simple, affordable storage shed that will last many years and keep your stored items dry and safe.
After listening to our customer's input and considering the needs of budget-conscious storage seekers, we created our Basic Backyard Shed—and we're excited to share it with you! Our Basic Backyard Shed solves age-old storage problems at a price you can't afford to pass up.
Our Storage Shed is Cheap But Not Cheaply Made
Our budget-friendly Basic Backyard Shed is simple but reliable. Achieve secure and economical storage for small to medium-sized home and outdoor items like lawnmowers, patio chairs, bicycles, and plastic storage bins.
Are you researching affordable backyard sheds to store your outdoor and lawn equipment? Store your mower, snow blower, and sports equipment in our simple yet secure Basic Backyard Shed. It's made with durable materials and low-maintenance siding which means little upkeep is required.
Or you can use this shed for home storage. Reclaim a spare bedroom or a corner of your basement by storing plastic storage bins, window air conditioners, and space heaters in this convenient backyard shed. The structure may be simple, but that doesn't compromise its ability to protect your possessions.

Our Basic Backyard Storage Shed features:
2x4 Framing Lumber: Each framing stud meets high grading standards for strength and appearance.


7/16 OSB Roof and Wall Sheathing: Because of its thickness, we use OSB sheathing instead of plywood.


5/8 OSB Flooring: OSB flooring is used instead of plywood because of its strength.


4x4 Pressure Treated Skids: Due to ground contact, our sheds are built with moisture-resistant skids.


2x4 16" On-center Floor Joists: These floor joists support a sound structure of the building.


Landmark® Asphalt Shingles: These shingles by CertainTeed have dual-layered construction for durability and a lifetime-limited warranty.


Double Doors: A set of painted wooden double doors is included.


50-year LP SmartSide Panel Siding: LP's high-quality wood siding is durable and attractive.


Sherwin Williams SuperPaint: Sherwin Williams's trusted paint resists fading, chipping, and peeling.
In addition to these standard features, personalize your shed by choosing its size, siding paint color, and roofline style—Low Barn, High Barn, or Classic Ranch.
Learn More About Our Economic Shed Option
Ready to learn more about our low-cost shed? For pricing and more details, download our Basic Backyard Shed Guide.
And even though this is an affordable utility shed, you can still apply for financing. We offer a credit program through GreenSky that's 0% interest for 12 months. Learn about this and other payment options on our Payment Options page.
We care about helping you organize your life, assisting you as you look for the best storage solution for your needs, and making the purchasing process as easy as possible. So, if you have questions about our new Basic Backyard Shed line or you're ready to purchase, please contact our team—they're eager to assist you!