4 Benefits to Having An Outdoor Dog Kennel
by Dakota Storage Buildings, on July 15, 2021

There are many instances in which dogs thrive in outdoor dog kennels — here are a few.
Most people who have dogs can't fathom their family pet living outside. However, there are instances in which outdoor living works well. For example, some working dog breeds, while being pack animals, do well with outdoor living because it's in their DNA. And for families who are away from home most of the day due to school, work, obligations, or day trips, their dog may thrive being in an outdoor kennel for long stretches of time.
There are many good things that come from having a protected outdoor space for your dog. Before dismissing the use of an outdoor kennel, consider these four benefits.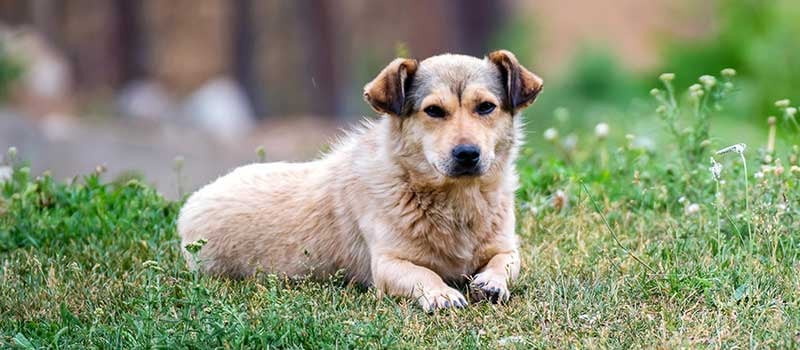 1. Fresh Air & Bathroom Access During Long Days
We know you love your dog and that it feels terrible when you have to leave him alone all day, whether you're going to work or taking a day trip. And you might feel concerned that your dog may wreak havoc on your house while you're gone, whether out of boredom or separation anxiety. Plus, if you're going to be gone more than ten hours, you'll be pushing the limits of your dog's bladder.
If you have to leave Fido behind for a long stretch of time, it could be in your dog's best interest to spend the day outside while you're away. An outdoor dog kennel would be the perfect solution. The right kennel would provide security, an indoor space for protection from a stray shower or direct sunlight on a scorching hot day, and a gated outdoor area for fresh air and bathroom breaks.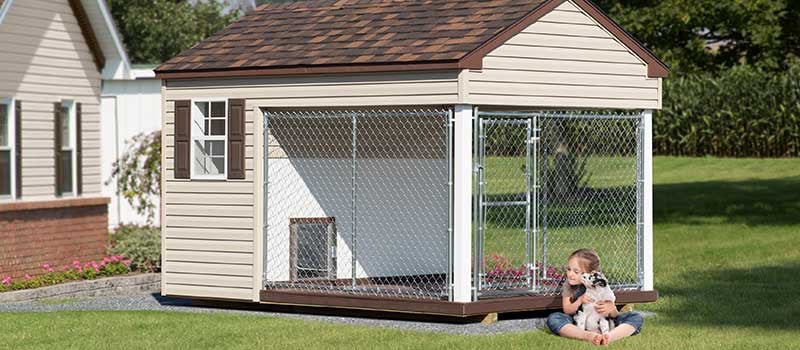 2. Comfortable Housing for Outdoor Dogs
If you have a working dog or a hunting dog, he might be happiest living in an outdoor space for most of the year. Outdoor dog breeds tend to be bigger and have heavier coats, making it comforting to live outside.
However, for these dogs, buying the right dog house is an important step in setting up your dog for a happy and healthy life. The right outdoor dog kennel will be the appropriate size for your dog's measurements, have an insulated room, and include a sufficient fenced-in outdoor dog run. Together, these protect your dog from harm, the elements, and give him a place to stretch his legs, get fresh air, and "go" when he has to.

3. Temp Solution to Beat Allergy Season
If your house is full and the space you have is tight, having a dog that sheds can create a problem. Free-floating pet dander in a cramped indoor space is a recipe for misery and can lead to serious health complications. The only surefire way to eliminate a pet allergy is to remove the pet from your home. We're not suggesting rehoming your dog. Instead, it may be beneficial to provide him with another space to live during the day when you're home or for a couple of weeks during the height of allergy season.
Because high-quality dog kennels have insulated rooms, you could house your dog humanely in an outdoor dog kennel, which would address allergy concerns and allow you to keep your four-footed friend.

4. Accommodating House Guests Who Aren't Dog Lovers
Whether you have house guests who are allergic to dogs or who aren't dog-lovers, having an outdoor dog kennel can help fix this problem. There's no need for you to pay to keep your dog overnight in a commercial kennel when you can keep him close to home, safe and sound, in a backyard dog house.
With a little planning, your pup can be moved outside to his temporary home while you clean your house, removing as much pet fur and dander as possible, providing a healthier place for your guests to stay, or he could stay there during the duration of your guests' stay.
Where to Find Quality Outdoor Dog Kennels
Whether you plan to keep your dog outdoors all year round or only for periods of time, there are important things to consider before buying a backyard dog kennel.
A quality outdoor dog kennel should be insulated, waterproof, the right dimensions for your dog's size, and it should keep him safe and protected from harsh weather and give him plenty of space to move around. But with a million different options available, where do you even begin? What should your main concerns be? What design options and features are vital for your specific dog?
When it comes to recommending the best outdoor dog kennels, we have a ton of experience and can make sure you choose the best one for your dog. To help, we've put together a guide to help you choose the right outdoor dog kennel.
Our guide covers:
How to measure your dog so that you choose the right kennel size

How to pick the best location in your yard for a kennel

Ways to prepare your dog's kennel for year-round comfort

Complete list of dog house essentials

Helpful go-to resources for dog owners
If you have any questions about finding the right outdoor dog kennel, reach out to our team. We're happy to help!
More helpful dog and kennel-related articles
Explore our outdoor dog kennels.
---
About Dakota Storage Buildings
Life is demanding and full of choices. We'd love to make just one aspect of your life a little easier. That's why it's our mission to provide storage solutions you can trust, from sheds and garages to coops and kennels. Customize your storage building with our online 3-D configurator, explore our stock buildings, or find a display location near you. Our team is now serving North Dakota, South Dakota, Minnesota, western Wisconsin, northeast Nebraska, and north-central Iowa. Discover The Dakota Difference.