Anyone Can Afford A Dakota Storage Building
by Dakota Storage Buildings, on August 09, 2016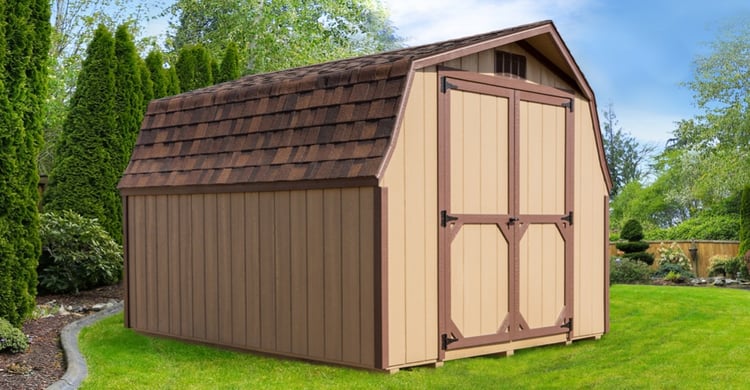 With three payment options available, anyone can afford a Dakota Storage Building.
Note: This post was updated July 2017.
Our factory direct model allows us to sell high-quality buildings and offer superior service at an affordable price. Our goal is to help you get the perfect storage shed in the quickest way possible!
We offer 3 payment options: buy outright, financing, and rent to own.
Buy Outright


To own your building immediately and not increase your debt, this is the way to go. There are many advantages to buying a Dakota Storage Building outright. The freedom to own and modify your building in whatever manner you choose is just one.
Other benefits include:
The joy of having full ownership of your new building at delivery.
The peace-of-mind knowing there are no outstanding, pending, or long-term agreements.
The satisfaction of paying for your building without accrued interest.
When purchasing outright, a deposit of 25% is required at the time of order, and the balance is due upon delivery.
Purchasing a shed outright may not be a feasible option for everyone. In those instances, we have financing and rent to own options available as well.
Financing

If you're not able to buy a shed outright, no problem! If your credit is approved, you can enjoy interest rates as low as 9.9% and financing opportunities ranging from 24-60 months. With payments starting as low as $49/month, anyone can afford a Dakota Storage building!
Benefits include:
The freedom to choose an in stock, customized, or built-on-site storage building.
The ability to order your storage building today without large upfront fees.
The affordability of fixed monthly payments.
To get started, fill out our online form and a financing application will be emailed to you directly.
HINT: It's better to finance than to use a credit card. With a personal loan, you know when your debt is expected to be repaid, and you can't borrow more money without completing a new loan application. This helps to keep your finances in check. Credit cards, on the other hand, don't have an end date, meaning you can reach the credit limited as many times as you want. It's up to you to pay the entire balance off or pay the minimum amount and carry the balance over to the next month, stretching out the payback period indefinitely, keeping you stuck in debt. Click here for more information.
Rent To Own

Rent to Own offers an affordable monthly payment plan. If you want to buy your building during the rental period, simply pay 60% of the remaining balance. However, Rent to Own is not available in Minnesota.
Benefits include:
The ability to lock in a purchase price.
The convenience of not needing a credit check.
The option to buy your storage building outright at a future time.
Take the next step
Now that you know what payment options are available, it's up to you to decide which is the best one for you. If you haven't selected a storage building yet, browse our package options or design your own.
If you could use a little more help, download our free Storage Building Buying Guide. It will walk you through the entire buying process and will lead you through all the steps necessary to prepare for the arrival of your building, including how to lay a proper foundation. With this guide, you will know exactly what to expect during each phase of the buying process.
Connect with us on Facebook, Twitter, Instagram or Pinterest.
Discover The Dakota Difference.