Buy A Custom Shed with These Built-ins to Maximize Storage
by Dakota Storage Buildings, on November 11, 2020

Customizing a shed allows you to take advantage of every nook and cranny.
It's time. You need a new backyard shed for storage. Just a word of caution: no matter what you plan to store inside of your shed — bikes, seasonal decorations, lawn & garden equipment, plastic storage bins, etc. — be sure to buy a one that has maximum storage opportunities.
As you shop, consider the benefits of buying a custom shed. A custom shed with built-in storage allows you to fully utilize the interior space.
To help our customers utilize all the nooks and crannies of our storage buildings, we offer built-in lofts, built-in workbenches, built-on porches, and in-wall storage systems. This is what we call smart storage. It's also a smart investment because it will meet your storage needs for the long haul. Let's look at the benefits of each built-in option and how they add value to your purchase.

Built-in Loft
Shed lofts provide storage in what is often unused or under-utilized space. Here are three reasons why shed lofts are a great way to maximize space for more storage.
It increases your storage capacity. Take advantage of all of your space. Don't limit yourself by storing your things on the floor or shelves when you can use what's traditionally wasted space.

You can greatly increase your storage capability by utilizing the area above your head.

It allows you to store things up-and-out-of-the-way. Do you stumble over plastic bins of holiday decorations in the middle of summer when you want your bike, not your Christmas wreath? Get seasonal items and occasionally-used things out of the way — but within reach when you need it — by using up-and-out-of-the-way storage space.
It allows you to store things out of reach of children. If you have items that you'd prefer to be out of the reach of children, lofts are a practical and safe solution. Whether it's gardening chemicals or fragile memorabilia, you can keep those items safely tucked away until they're needed.
When you customize a Dakota Storage Buildings shed, you can add one or two 4' deep lofts (one in the front and another in the back) to drastically increase storage space. It's an easy way to get the extra storage without ordering a bigger building size. Our built-in lofts can be added to many of our shed styles but work best with the High Barn roofline.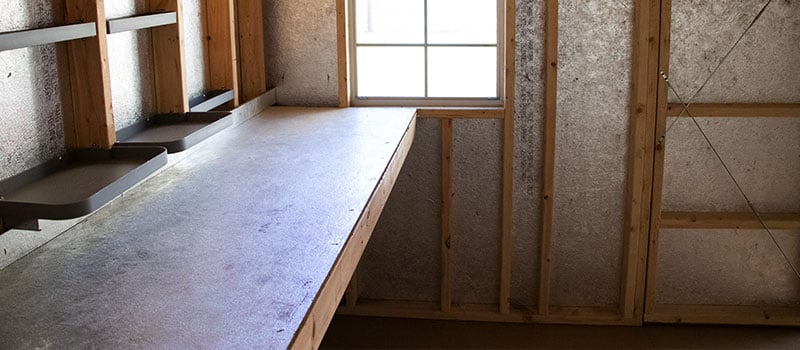 Built-in Workbench
When buying a workbench online, from a home improvement store, or building your own, you need to go the extra mile to ensure that it's sturdy, with a thick top, stout legs, and enough surface space for work.
A workbench that's the correct size and appropriate style can significantly impact the quality of your projects. Conversely, a poorly planned or constructed workbench can have a negative effect on your posture and can increase the chance of an accident or injury.
That's why we offer 2' and 4' deep built-in workbenches. They increase storage space and provide a dependable and sturdy surface for projects. They can withstand hammering and drilling and anything else that a hobby or project can throw its way. When you get a built-in workbench from Dakota Storage Buildings, you can rest assured that it's high-quality, just like the shed itself.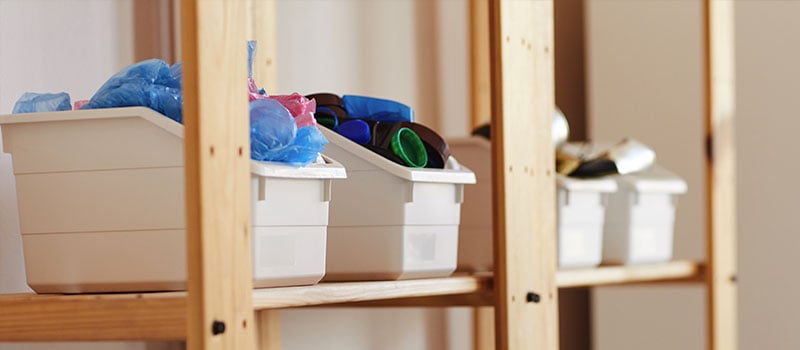 Built-in Shelves
Buying plastic utility shelves for storage inside your shed is a fine plan and will work. However, no storage solution is ever quite as perfect as one that's custom.
Our two-tiered shelving units are made specifically for your shed, meaning they fit snuggly and are built by the craftsmen who built your shed. As a shed manufacturer who offers custom-built shelves, we're able to provide construction congruence — the shelving and building lumber will match and look cohesive. And because our shelving units are built to last, you'll enjoy a dependable, long-term interior storage solution.
Built-on Porch
Sheds provide the perfect space to store seasonal decor, lawn mowers, ladders, outdoor equipment, and more — having a porch is the icing on the cake. Not only does a porch provide additional footage, but it's practical uses are unlimited.
Use a porch to:
House a utility bench, resin deck box, or outdoor storage bin. Storage within your storage — brilliant! Use these porch-based options to conveniently store hand tools, coal, toys, furniture covers, and chair cushions.
Store outdoor items. Think trash cans, umbrella caddies, brooms, shovels, and other weather-durable items.
House vegetation. Keep your plants, herbs, or other vegetation shielded from direct sunlight and bad weather.
Beautify your backyard.

Put up lights

or

plant flowers around the perimeter of the porch

to create a warm and homey feel.
You can enhance your outdoor storage space with our 2' or 4' built-on Basic Porch or beautiful wraparound Cottage Porch.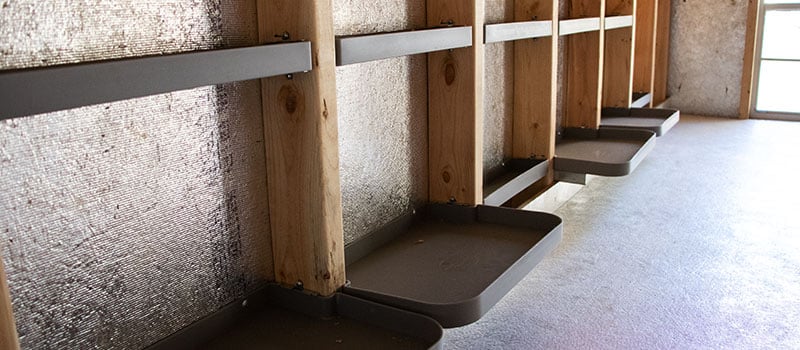 In-wall Storage
Pegboards and wall hooks are a great way to keep smaller tools and items organized. But it's even more effective to utilize the vertical space between wall studs.
For this reason, we sell the VersaCaddy™ Organizer Kit as an add-on. The VersaCaddy is a complete and versatile storage system specifically designed to utilize the vertical space between 16" on center studs, maximizing the storage space inside sheds. Buy one or more kits then choose where each piece goes to best suit your organizational needs.
Customize Your Shed with Built-in Storage
Are you ready to take advantage of every nook and cranny of your custom shed?
Use our 3D configurator tool to customize your shed. You can add windows, move doors, and change the shingles all with your computer, tablet, or phone.
Decide where you want your workbench and shelves to go, if you'd like one or more VersaCaddy wall storage systems, and whether you'd prefer one loft or two. If you want a porch, start by selecting a porch option from the Style dropdown in the configurator tool. When you're ready, you can save your shed for later or start another one from scratch. When the time's right, you can begin the shed purchasing process right from the configurator.
Ready to maximize the storage pace in your customized shed? Click the button below to get started.