Choose Dakota Storage Buildings as Your Custom Garage Builder
by Dakota Storage Buildings, on December 21, 2021

Get your full custom garage from the best garage builder in the Midwest.
Whether you want a custom garage for vehicle storage, workspace, or a workshop, you deserve a well-constructed building that will last a long time. When you choose Dakota Storage Buildings for your full custom garage, you'll get exactly what you want, product quality that you can feel good about, a manufacturer-backed warranty for peace of mind, and assurance you're not breaking the bank.
You Can Trust the Quality of the Product You're Getting
We understand that you want the best building for your money — and we do everything in our power to deliver that. When you buy from us, you never need to worry about poor construction or shoddy craftsmanship. We always use quality materials and construct each building with care. Before any building leaves our shop, we inspect it thoroughly. You can trust that each garage we manufacture meets our high-quality standards and is worth every invested dollar.
Quality Materials: From lumber to paint and overhead doors to insulated windows, we use the highest quality components to increase your garage's lifespan and reduce typical maintenance over the years. We use the best available materials because we believe the custom garages we build are a representation of our integrity and commitment to our customers.
Superior Construction: We care about constrƒuction details and creating products that are durable and beautiful. All of our garage builders are experienced and skilled, and everyone on our team cares about getting things right and making customers happy. We would never sell you a garage that we wouldn't buy ourselves.
Because we value our customer's business, all garages manufactured by Dakota Storage Buildings are inspected thoroughly using a checklist that addresses each component of the building from floor to roof and siding to wall studs. It's important to us that we meet buyer expectations as well as our own high quality standards. Because of its thorough nature, the checklist we use for our quality inspections sets us miles apart from other garage manufacturers.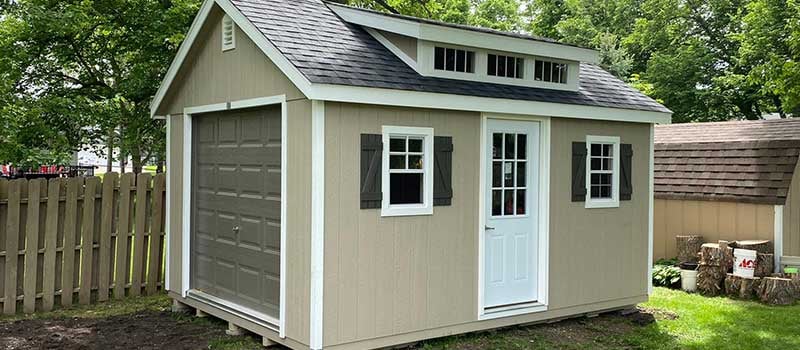 You Get Exactly What You Want, Placed Where You Want
Being picky is okay. You have an idea of how you want your garage to look and function. You might need extra space for hobbies, many windows for lots of natural light, a built-in workbench for projects, a place to store your vehicle, ATV, boat, or riding mower. Maybe you need more storage space so that you can declutter your basement or attic or store a deep freezer. Whatever the case, get the full custom garage you want — without compromising on style, size, or features.
How can you get a garage to fit your specific needs? We have a garage configurator that lets you design your ideal garage. Using our online tool, you can choose each component of your garage. Choose the size, roofline, siding, and all the features you want, like transom windows, dormers, window boxes, wall/roof radiant heat barriers, and so much more — the possibilities are virtually endless.
Our garage configurator makes customizing easy and fun. You can zoom, rotate, and switch colors at the click of the mouse. You can swap windows, move doors, and change roofing all on your computer, tablet, or phone. Our garage configurator takes the guesswork out of what your custom garage will look like and how much it will cost. See real-time prices and save as many versions as you'd like for as long as you'd like. Then, when the time's right and you're ready to purchase, you can start the checkout process online.
Remember, it's okay to be picky. It's your custom garage, so make it exactly what you want it to be.
---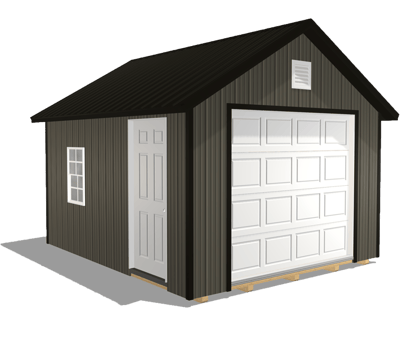 ---
Once you've placed your custom garage order, it'll be added to our construction queue, and you'll be given an estimated completion date. When your garage is built and ready for delivery, our team will contact you to schedule a delivery time. Upon arrival, our team will place your garage exactly where you want it with as little disruption to your property as possible.
We are proud to serve North Dakota, South Dakota, Minnesota, western Wisconsin, northeast Nebraska, and north-central Iowa and charge only minimal delivery and escort fees based on distance and garage size.
FAQ: ​​​​How far will you deliver & how much does it cost?
You Get Fair Prices and Payment Options
Don't waste money on poor quality or marked-up garages. Invest in a durable building that solves your space and storage problems for a price you can afford. To ensure you get excellent quality at fair prices, we build with premium materials that are guaranteed to last a long time, and we choose to sell directly to customers. We're able to keep prices lower by eliminating the cost of middlemen. We believe our customers deserve the most value for their dollar. Selling directly allows us to keep quality high, prices fair, and the purchase personal.
When you purchase a custom garage through us, you can choose the payment option that works best for you. You can buy outright, rent to own, or finance.
Buy Outright: To own your building immediately and not increase your debt, this is the way to go. There are many advantages to buying a Dakota Storage Building outright. The freedom to own and modify your building in whatever manner you choose is just one.
Rent to Own: Rent to Own offers an affordable monthly payment plan. If you want to buy your building during the rental period, simply pay the remaining balance. (Note: Rent to Own is not available in Minnesota.)
Finance: If you're not able to buy a storage building outright, no problem! Financing allows you to start enjoying your new storage building immediately without hefty upfront fees. If your credit is approved, you can take advantage of several financing opportunities and low monthly payment plans. Even if you're not approved, other financing options are available.
It's time to get a few steps closer to having the full custom shed storage space you want.
Step 1: Design Your

Garage




Visit our

garage configurator

to create and save your custom garage.

Step 2: Secure A Permit


Secure a building permit

first if your township or city requires it.




Step 3: Make Downpayment


Pay through the garage configurator or call 888-832-6889.


Step 4: Prepare Foundation




Lay a compact and level foundation in

four easy steps.


Step 5: Schedule Delivery


We'll let you know when your garage is done and ready for delivery.