How Factory Direct Prices Can Save You Money
by Dakota Storage Buildings, on July 05, 2017

When taking the factory-direct route, the buying process is more streamlined, cost-effective, and satisfying.
Buying factory direct and buying from a retail store are very different experiences. While both have their place, there are many benefits to buying factory direct that should be considered, particularly when purchasing large-ticket items like garages and sheds.
Here are 4 ways that buying factory direct from a manufacturer will benefit you and save you money.
1. Better quality for less money
We love being able to offer competitive pricing to our customers, that's why we sell our garages and sheds directly to you without the added costs associated with middlemen. If we sold our products to retailers or distributors, they would mark up costs to increase their profit margin which would, in turn, increase your cost.
Also, our team of builders are masters of their trade — they're professional, efficient, and take pride in the buildings they create. Since we work smartly and efficiently, we can keep overhead down, allowing us to offer high-quality buildings at lower prices than many of our competitors.
Overall, buying directly from the factory who makes the product is most often a better value and smarter financial investment.
2. More available options
When you purchase a storage building through us, you speak directly to our knowledgeable staff who works on-site and knows how building construction and the purchasing process works — the ins and outs from start to finish. Often during those calls, customization options that may have otherwise been dismissed as "not an option" can be discussed and very possibly made a reality.
You don't have that kind of customizability or that level of customer service when you talk to a sales rep at a retail store or distribution company — their ability to give you exactly what you want is unrealistic.
Working directly with the manufacturer, you can rest assured you'll get exactly the building you want.
3. Greater attention to detail
Visit any of our Minnesota or South Dakota display locations to see our products up close. At our show lots, you can walk through our buildings and experience first-hand the quality and details put into each one.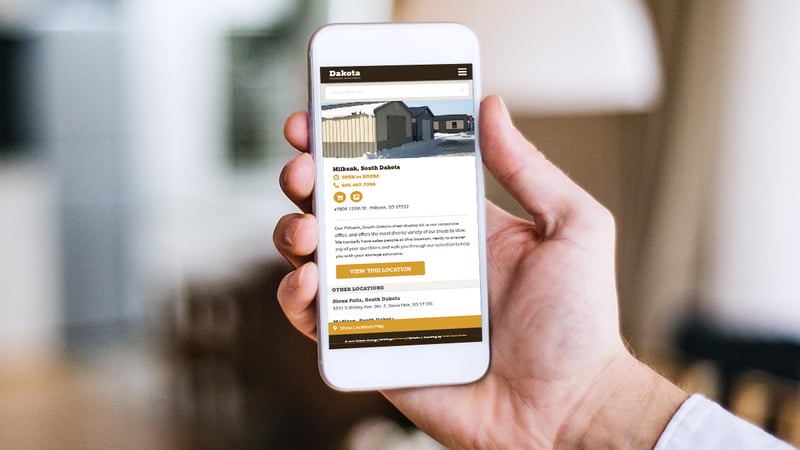 When buying directly from those who are responsible for every inch of the product — and have their name and integrity riding on it — you can be confident that they've given all aspects of the buildings the attention it deserves.
At Dakota Storage Buildings, we are proud of our buildings and stand behind them with a top to bottom warranty. When we choose materials, we use top-of-the-line products from reputable brand names like Sherwin Williams, LP Building Products, Long Creek Steel, Georgia-Pacific, and others.
4. Personal relationship with the manufacturer
When you call our office, you'll be connected to a knowledgeable representative who's involved in the day-to-day operations rather than a disconnected dealer. Our staff knows each product like the back of their hand.
The highest-rated value of the factory direct process is a bit more personal, though. One of the most important factors in cutting out the middleman is being able to build an open and direct line of communication with the manufacturer. This gives you, the customer, a more personal, comfortable, intimate experience.
In summary
While this post is a broad-stroke overview of the benefits of buying factory direct from a manufacturer, including how it can save you money, you should have a better understanding of why buying your next garage or shed factory direct is the way to go.
If you're ready to buy your next storage building from a manufacturer, consider us. As an important next step, take a moment to browse our payment options and think about which is best for you.
More posts to explore: