How To Choose A Shed Color
by Dakota Storage Buildings, on January 06, 2022

Choosing trim and siding colors is an important part of the shed buying process.
Searching for the right shed can feel overwhelming. With so many choices, price points, styles, and features, narrowing down options can be challenging.
While you might be in the thick of deciding the right shed style and size, it won't be long before you need to choose from a myriad of siding colors. This choice may seem like a small detail in comparison, but the colors you choose will be what you see every day for many years. The last thing you want is to invest in a premium shed that's visually unappealing. No one wants a color that clashes with their home or stands out like a sore thumb compared to other backyard structures — but the right color can look great, complement your property, and add aesthetic appeal.
Here are some tips for how to choose a shed color that you'll love and not regret. Read through our recommendations to pick colors that are guaranteed to look great.
Find Out What Siding Colors Are Available
As you look for sheds, find out what colors are available. This may seem obvious, but some shed kits and home improvement store sheds have limited color options. If you don't care about the color of your shed or how it will look on your property, then a limited selection may be fine. However, those who want a certain look will need to be cautious of this.
Wood panel and wood lap siding tend to be more forgiving because they are painted, which means they can be re-painted later if you don't like the color or you'd like to try something new. However, vinyl siding and metal siding are different. They are colored during the manufacturing process. While these siding options may be higher quality, they have much less visual flexibility once installed on a shed.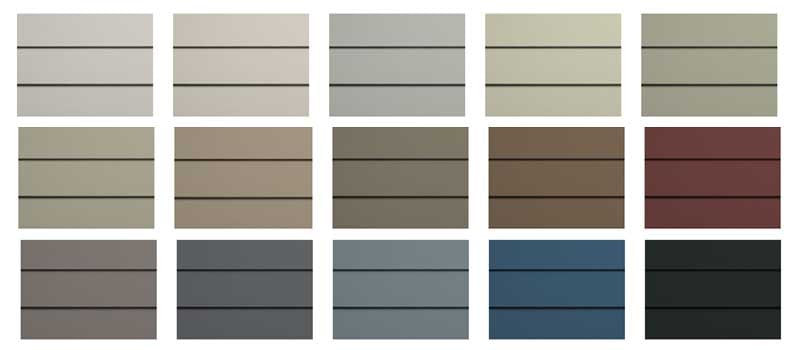 Consider Personal Taste & Color Rules
While it's important to know what siding colors are available, it's also critical to consider your taste preferences, outdoor space, and general color principles.
For instance, do you want your shed to blend in or stand out? If you want it to blend in with your landscaping and yard, it's best to choose neutral colors like shades of white, brown, and gray. If you like nature-inspired colors, try hues of green, yellow, or orange. If you love a traditional feel, matching the colors of your shed to the colors of your home might be better. If you want to add a pop of color to your mostly neutral property pallet, then choosing bold but complementary colors for siding and trim would give a vibrant and fresh feel.
As a general rule of thumb, light colors will make structures appear larger, whereas dark shades can cause them to appear smaller and help them blend in with the surroundings.
Use a Siding Color Visualizer
Once you know which siding colors are available, your taste preferences, and general color rules, it's helpful to use a virtual tool to explore siding and trim color combos. Using a visualizer, you can discover color options and test combinations that you may not have otherwise considered. It also allows you to see what those colors look like next to your roofing. You don't want them clashing with your shingles or metal roof.
At Dakota Storage Buildings, we offer an online visualization tool that allows you to mix and match to find your ideal color combo. Save as many versions as you'd like and then compare them side by side. This is the best way to choose siding colors before making a decision. The best part is that you can do this from the convenience of your smart device or laptop — technology for the win!
Here's a cautionary note: colors in printed catalogs and on websites are just approximations, so it's best to see the colors you've settled on in person before placing your order.
See a Sample In Person
Because print and screen colors are just approximations, make a point to see the colors you've chosen in person. Most shed builders have paint numbers and vinyl/metal siding samples that they can show you, or, in some cases, they may have in-stock pre-built sheds with the requested colors.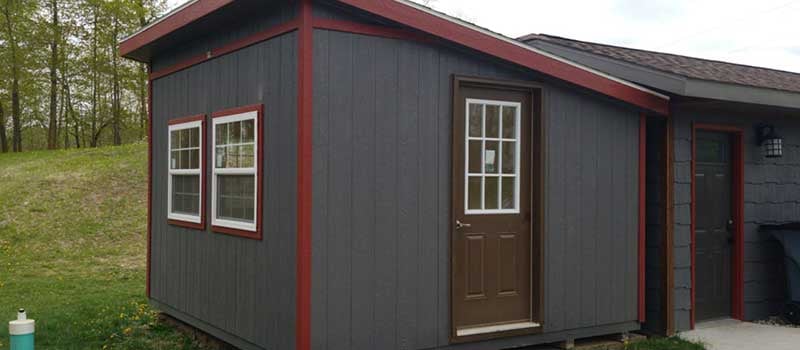 We have many siding colors to explore, all of which you can see in our visualizer tool and in person. The paint colors we use for our wood panel and wood lap siding are from Sherwin-Williams, an industry-trusted and reputable paint manufacturer. Color swatches can be found in any Sherwin-Williams store. As for vinyl and metal siding colors, we are happy to provide samples upon request.
We are committed to making sure our customers love their sheds. We'll bend over backward to make sure everything exceeds expectations. This includes getting siding color and trim combos right. We want you to love your shed and feel proud of it every time you look at it. Learn more about The Dakota Difference.
Dakota Storage Buildings is a custom shed builder in South Dakota serving North Dakota, South Dakota, Minnesota, western Wisconsin, northeast Nebraska, and north-central Iowa. Read more shed articles.