Pros and Cons of DIY Shed Kits, Prebuilt Sheds, and Custom Sheds
by Dakota Storage Buildings, on May 06, 2021

Let's unpack three primary shed categories, including the pros, cons, and cost of each.
You're likely reading this because you have more stuff than you do storage space, and you're looking for a solution. You may have decided that the answer to your dilemma is a backyard shed. However, because you haven't shed shopped in a while, you may feel a little out of the loop.
We get it. Many people like you want to know the options are available before they start shopping. That's why we'll unpack three primary shed categories — kits, prebuilt, and custom — and highlight the pros, cons, and costs of each so that you can make the best choice for your situation.
First things first, let's talk about your budget and the average cost of a shed. Once these numbers are in mind, we'll review common payment options that most shed retailers and shed manufacturers offer.
Shed Prices and Payment Methods
Shed prices range vastly. While each category offers a storage solution, longevity and durability vary as construction and materials range from cheap to premium.
DIY shed kits. Dependent upon the complexity of the structure and material used, DIY shed kits generally range from $100 to $2,500. However, you can buy DIY shed framing kits that do not come with roofing or siding. This option is on the cheaper side of the spectrum. However, the kits we're talking about in this article are complete with roofing and siding.
Prebuilt sheds. The price of a typical-sized, prefabricated backyard shed averages roughly from $1,500 to $4,000, depending on the materials used. For instance, more expensive but low-maintenance siding like vinyl or metal can be more costly than treated wood siding.
Custom sheds. Generally speaking, a custom shed can cost anywhere from $2,000 to $8,000, depending on the materials you choose and the project's size. Custom sheds become more expensive the larger the square footage and the more add-ons or upgrades they have.
Knowing your budget and the cost range for each category will help you figure out which payment option is reasonable for you. Here's a quick overview of the most common payment options.
Buy outright. Buying your building with cash or check in one full payment allows you to own it immediately.
Rent-to-own. A rent-to-own agreement is a deal in which you commit to renting a shed for a specific period of time, with the option of buying it before the lease runs out. It's important to note that rent-to-own legislation can be different from state to state. Be sure to look at your state before considering this option.
Loan. Whether you take a loan through a bank or third-party financier, financing allows you to enjoy your new building immediately but commits you to monthly payments. Some loans require a credit check, while others may not. In both cases, be sure to read the fine print and note the interest rate.
Credit. Depending on your credit card limit, interest rate, and monthly payment, putting your shed on your personal credit card could be a good option.
With a financial framework, you're one step closer to the start of your shed shopping experience. Now let's take a moment to compare shed categories, looking at both their pros and cons.
DIY Sheds Kits
You could sew your own clothing, but very few of us actually do. You could build your own dining room table, but not many of us have the woodworking skills to pull it off. This same logic applies to all DIY projects — including putting together a shed kit. If you don't have any construction experience, then a DIY shed kit may not even be an option worth considering. However, for those who are particularly handy, this is not only a viable option but a relatively inexpensive one.
Generally speaking, if you don't have the proper tools, some building skills, a little experience, no help from an experienced co-laborer, or you're short on time, a DIY shed kit may not be the best storage shed solution.
Here's a list of DIY shed kit pros and cons for consideration.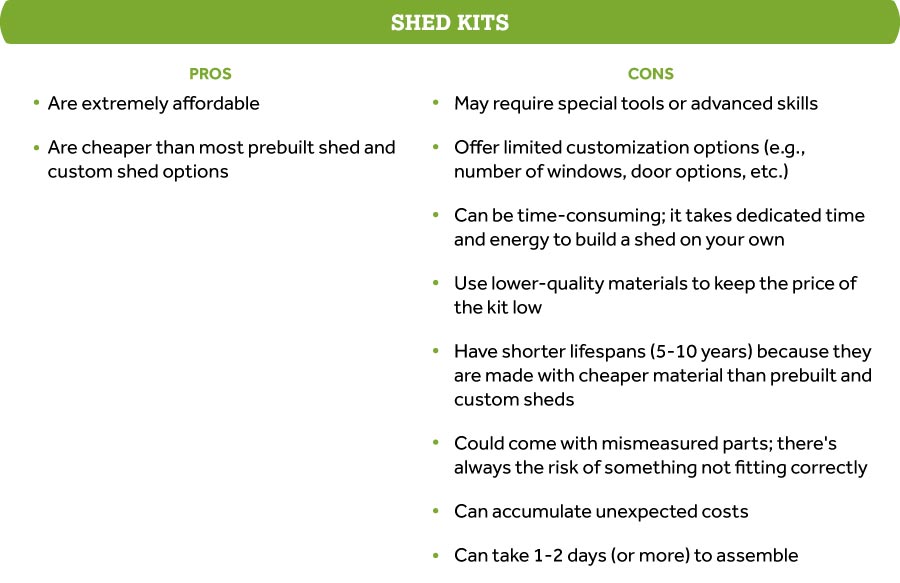 DIY shed kits are convenient and may save you some money upfront, but due to the lower-grade materials used, there's a higher probability of them leaking or breaking, causing damage to the items stored inside.
Prebuilt Sheds
An alternative to a DIY shed kit is buying a prebuilt shed and having it delivered to your home.
Whether from a home improvement store, online shop, shed retailer, or shed manufacturer, prebuilt sheds tend to be of higher quality than a shed kit and come in two varieties: stock and semi-customizable. Stock sheds are already built, and you buy them as-is. Semi-customizable sheds have more flexibility as they usually have predetermined choices from which a buyer can choose (e.g., size, siding type, siding color), making it feel more personal than a stock shed. While both come in standard sizes, most people purchasing a prebuilt shed tend to buy 10'x12' or 10'x14'.
Prebuilt sheds can be delivered as-is or prefabricated in the shop and quickly assembled on-site, usually in a matter of hours. And while they may not last as long as a custom shed, well-made prefab sheds can last at least 20 years with minimal maintenance.
If you feel this might be the right shed category for your needs and budget, be sure to look carefully at the shed you're interested in buying. Some prefab sheds have untreated wood flooring and joists, which often leads to deterioration after time, while others do have treated flooring and quality construction. Buying a prefab shed is a great idea — you just need to make sure you're inspecting the shed before buying it.
Here's a list of prebuilt shed pros and cons for consideration.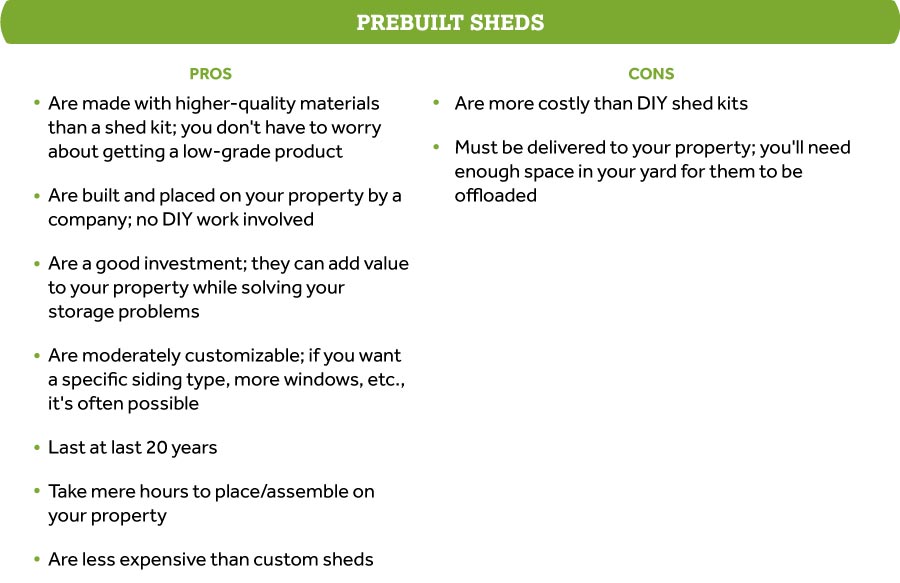 ---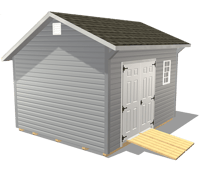 Explore the prebuilt sheds in our Shed Collection.
---
Custom Sheds
We believe that a storage building is an investment. You'll get out of it what you put into it. Many custom shed manufacturers offer high-quality custom sheds that can be delivered to your property or built on-site by an experienced construction team.
The best part and greatest advantage of buying a custom shed is that it's made to your unique specifications. It's built just for you. If you want a shingled roof with metal siding, it's yours. If you want a drive-through shed, you got it. If you want to create a shed big enough for a loft sleeping area, you can. You get the point. Buying a custom shed is the best way to get exactly what you want.
Here's a list of custom shed pros and cons for consideration.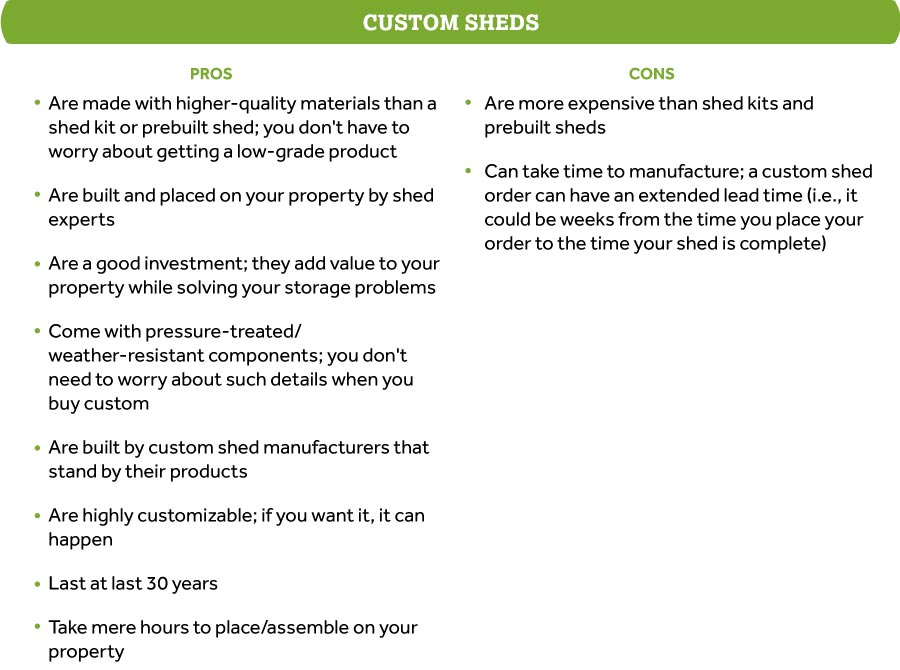 Ready to Shed Shop?
Now that you know typical costs, standard payment options, and the pros and cons of three major shed categories, do you feel ready to start shed shopping? If you're still feeling hesitant, no worries. For a little more direction, give our Shed Buying Workbook a once-over. It's designed to help shed shoppers think through all the important details that impact shed selection and ensure a high-value, long-lasting purchase that meets needs and fits budgets.
More helpful articles: