How to Choose the Right Large Storage Shed for My Backyard
by Dakota Storage Buildings, on April 24, 2023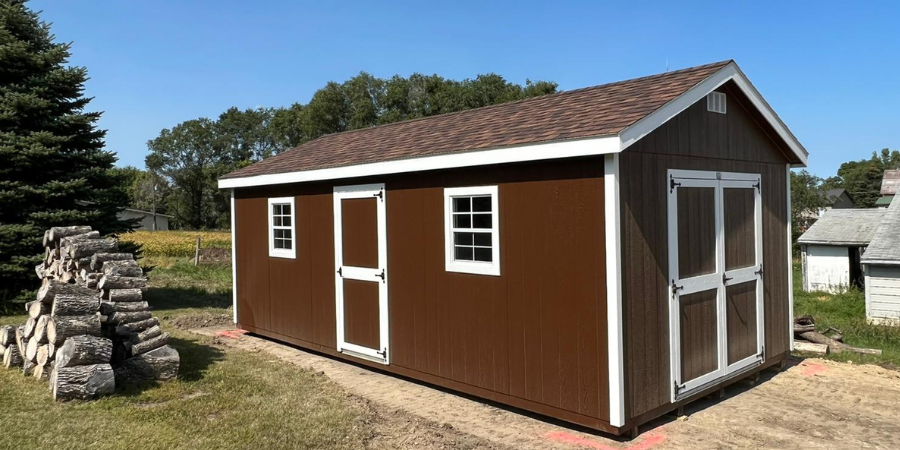 A storage shed is a big investment, so making the right purchase is essential. With such a wide variety of large storage sheds, knowing which option is best for your needs can take time and effort. We want to help ease the stress of the buying process and help you think through which shed size, style, and features are best for you.
What Type of Shed Do You Need?
Before you purchase a large storage shed, there are important things to consider. Having an idea of what you will store in the space will help you determine the necessary size and style. The last thing you want is to invest in a shed without having a game plan. When this happens, buyers can accidentally buy a shed that is too small and lacks space for their stuff. Is there large lawn equipment you need to move in and out of a shed? What if you want to use it as a studio? Will there be enough space for you to work? Answering questions like this can help you know what type of shed you need.
Specifications of Our Large Sheds
When planning to buy a shed, choosing a size that fits your backyard while providing adequate storage space is essential. Not every yard will be the same size. That is why we offer sheds in a variety of dimensions. Even our smallest shed will give you a spacious space to store all your belongings.
1. Standard Styles
Our standard backyard storage sheds are 10 by 12 feet and perfect for a large backyard. If too much stuff overflows out of your closets, this shed can be a great storage solution. However, with a large backyard shed, the options are endless. You can utilize this extra space in many ways.
2. Extra Large Styles
If you think the large backyard shed will not quite meet your needs for extra space, our Backyard Shed XL and Garden Shed XL may be the best choice for you. At 12 by 20 feet long, this option provides almost double the space for extra storage. You can also get creative and use this shed as an outdoor workspace, gym, or studio.
3. Garage Styles
Garage sheds are great options if you have a bike, car, or motorized lawn equipment but are not a safe place to store it. Our garages can be up to 12 by 24 feet wide, holding your vehicle and still having space for you to work. This shed is for you if you have large vehicles, equipment, or machinery.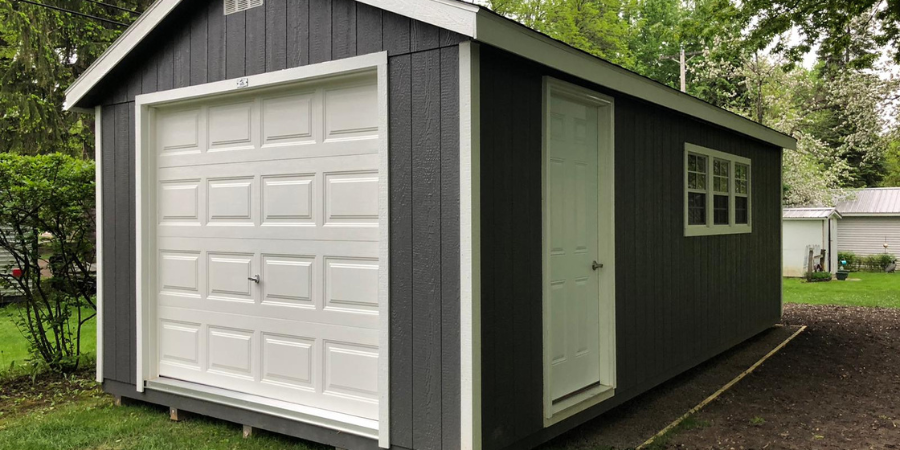 Shed Types and Considerations
While the size of the shed certainly matters, there are other factors to consider before making a purchase. There are multiple types of sheds and numerous color options available. No matter your style preference, you can find a large backyard shed that will match your aesthetic.
1. Choosing Your Solution
Standard sheds are the traditional backyard storage solution. Whether holding garden tools, tubs of clothes, or family keepsakes, these sheds keep your belongings safe and secure from outside elements. No matter your need, a standard shed can be a great solution.
Utility sheds are our base shed model and are great because you will get the material quality and high-quality craftsmanship that all of our other sheds offer while keeping your storage solution simple. This option is budget friendly and still serves the overall purpose you are looking for.
Specialty sheds are designed with a specific purpose in mind. Maybe you need a small guest house or lakeside cabin for fishing trips. From man caves to farmhouse sheds, we have multiple specialty options designed for your hobby.
2. Color Options
When you go to purchase a shed, you should have a wide selection of paint colors so you can choose the best option for your outdoor space. Maybe you want your shed to match the color of your home, or maybe you want to add character with a pop of color. With our paint collection, you can find the perfect color.
3. Price
If you want to buy a shed, you have likely determined a budget you want to stay within. Making financially wise decisions is important, but that does not mean you cannot afford a high-quality outdoor shed. With numerous sizes, styles, and features, you can find a pre-built shed or customize your own to fit your unique needs.
Common Features to Make Your Shed Uniquely Yours
Your shed's features are what make it unique. Customize your storage shed to fit your needs while maintaining the highest quality features. Durability is important for any outdoor structure, and features promoting longevity are essential.
1. Pressure-treated Skids
Pressure-treated wood is a standard feature on all of our buildings because it will resist rotting with ground contact and will help to increase the life of the building by a substantial amount. Treating lumber to give it a much longer life is done by forcing liquid chemicals inside the wood to protect it from natural decay.
2. Flooring
Flooring is one of the most important shed features and is integral for the structure to function properly. When floors are made of high-quality materials, it will help maintain the structural integrity of your shed. Plus, they must be durable and withstand any equipment stored in the shed. We use LP ProStruct® Flooring with SmartFinish® for its beautiful finish but long-lasting durability.
3. Roofing
A shed's roofing helps to keep what is inside safe and secure. A leak-proof roof will keep harsh weather out of your shed and away from your precious belongings. We offer you two high-quality roofing materials: CertainTeed shingles or Long Creek Steel's steel roofing.
4. Door Options
Choosing a door for your shed provides top-notch security while keeping your belongings secure. Whether you choose a garage or standard door, you will want to choose one made from the best material. Our standard or double doors come in fiberglass, steel, and wood, so you can get a finish that correlates with the rest of your shed.
5. Insulation
Sealing cracks and crevices with spray foam insulation can help protect your stuff from extreme temperatures. It creates a watertight membrane that prevents moisture from slipping through the cracks. Insulation is a valuable addition to any garage and comes standard on all our sheds.
Ways to Use a Shed for More Than Storage
Large backyard sheds offer a vast space for storage, but there may be other uses. You can utilize this extra space in unique ways — that do not include storage! We have seen every use under the sun, from golf simulators to art studios to personal gyms. With such a large space, you can use it how you see fit. Think outside of the box and find the perfect way to utilize your large storage shed.
Enhance Your Shed-buying Experience
If you want to buy a shed but are overwhelmed by all the options, we are here to help! It can be daunting, but our goal is to make it enjoyable. Getting new space for your home is exciting, and you should be able to have a stress-free experience. Download our free resource, the Shed Buying Workbook, to make the most of your shed-buying experience.