Create A Backyard Woodworking Shop​​
by Dakota Storage Buildings, on August 02, 2016

Create A Backyard Woodworking Shop
When it comes to pursuing woodworking as a hobby, there's no substitute for a personal workshop where you can dabble - a place where you can work on projects that are close to your heart.
If you don't already have a woodworking shop, consider one of our shed packages, garage packages, or create a custom building from scratch.
A ranch-style shed like this one may be big enough for your needs.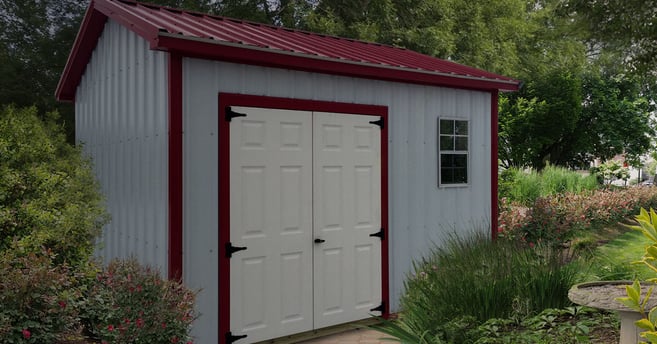 If not, you may want a larger building like this high barn-style garage.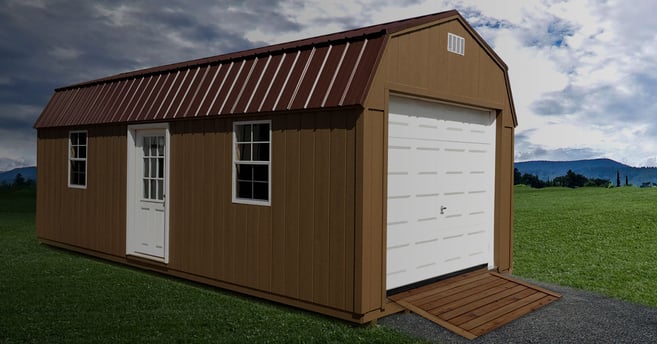 Once you've selected a building style, consider adding a built-in workbench to save space, an additional window for more natural light, and a double or garage door for easy access and convenience. See more features.
Expect your workshop to evolve over time as you take on new projects, so don't be afraid to choose a larger building; make sure you have room to grow!
Here are a few things to consider once your building in place, and you're ready to organize.
Workbench

Many inexpensive commercial benches are rickety. They sway under mere hand pressure. If you're not choosing a built-in workbench, look for one with a thick top and stout legs. Make sure the surface is large enough for sufficient work space.
Strategically locate your bench near an electrical outlet so that hand tools can be applied.
To select a height to match your stature, use this rule of thumb: make your workbench height the distance from the floor to your first thumb knuckle, with your arms hanging relaxed at your sides.
Shelves & Wall Storage
Decide if you want to utilize shelving, wall storage like pegboards, or both. Keep protective wear such as goggles, ear protectors, breathing masks, and work apron, plus basic woodworking tools such as planes, chisels, hammers, clamps, sandpaper, hand power tools, bits, blades, and more neatly stored and organized by frequency of use and function.
Equipment
The website Popularmechanics.com suggests eleven must-have items for a small backyard shop. Here are six worth adding to your checklist.
Portable Table Saw - This saw is ideal for breaking down large sheets of plywood, sawing tenons, and ripping compound cuts. It has built-in guides for easy and safe use.


Miter Saw - This saw is best for straight or angled crosscutting.


Circular / Track Saw - This saw can be held in your hand

and is

designed to cut medium to large sized objects and is convenient for cuts that do not have to be as exact.


Drill Press - This saw can accurately cut holes with repeatability and control.


Sawdust Control - Find a good dust collection or extraction system that can prevent a great deal of sawdust from becoming airborne, avoiding both potential health issues and a mess.


Shop Vacuum - A shop vacuum offers greater power and capacity than that of a house vacuum.
Lumber
Keep wood near the shop door if for no other reason than for offloading convenience. Store wood where it will be well supported and perfectly flat to avoid deformation. Also, if your wood shop is damp, use a dehumidifier to remove moisture from the air.
Click here to find out how to choose lumber for woodworking in seven simple steps.
TIP: To learn more about creating a woodwork shop, read Tips For Setting Up a Woodwork Shop in a Garage. For woodworking tips, check out 10 Woodworking Tips.
Next Steps
Ready to design your own wood shop paradise? Choose everything from the building style and size to roof and siding options. Don't forget about adding a built-in workbench! Click here to start customizing your woodshop shed..
Have questions about the buying process? No problem! Our Ultimate Shed Buying Guide will give you a complete look at the shed buying process from start to finish.
Connect with us on Facebook, Twitter, Instagram or Pinterest.
We are proud to serve North Dakota, South Dakota, Minnesota, western Wisconsin, northeast Nebraska, and north-central Iowa.