Is Our Cabin Shed Right for You?
by Dakota Storage Buildings, on October 14, 2021

No matter how you use a cabin shed, finding one that you love can be challenging.
Many people like the idea of having a cabin shed. You might be one of them. But why? Why are they so popular, and how are people using them differently than traditional sheds? For one, they offer a particular aesthetic — a woodsy, cozy feel. And two, they can serve as more than just storage space.
The original purpose of cabin sheds was storage for rural homes, but many people use them for weekend getaway cabins, tiny houses, offices, and lakeside or hunting cabins. While there are many cabin shed uses, one commonality between buyers is the worry that they might settle for one they don't love. The right one will fit your needs, be a good investment, and look just the way you imagine. If you're shopping for a cabin shed but aren't sure what to look for or which would be ideal for your situation, this article should help you narrow down options.
No matter how you plan to use a cabin shed, quality matters. Investing in something that meets your aesthetic expectations but fails to perform will result in disappointment and wasted money. A few indicators of a premium, no-short-cut shed include quality lumber, proper wall and roof framing, durable flooring, weatherproof roofing, sturdy siding, and a manufacturer-backed warranty. Learn more about these important shed qualities.
If you're interested in a high-quality cabin shed built by a trusted shed manufacturer, we have an option you should consider — our Cabin Shed.
A Perfectly Designed Cabin Shed
Our Cabin Shed is designed with you in mind and can be purchased as-is or customized to suit your needs. The base model has features such as prehung doors, insulated windows, water-resistant flooring, a built-in loft (perfect for a loft bed), and a built-in covered porch for added value and space. Use it as a storage cabin or add amenities and convert it into an office, tiny home, or a lakeside or hunting cabin.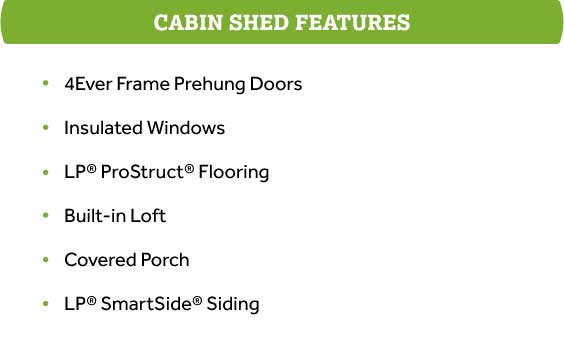 As a storage cabin, this shed serves outdoorsmen needing to store traditional or bow hunting equipment, fishing rods, and more in an organized fashion. Keep in mind, with a few additions such as electricity and plumbing, this shed could be converted into a completely customized hunting cabin.
If you're into bicycling or camping in the great outdoors, this shed package can also fit the bill for you. It offers a safe and dry place to store your bike, gear, tent, backpack, portable grill, hatchet, and more. Depending on the shed size you choose, you could have room for an ATV or two.
These are the basic elements of our Cabin Shed.
Customize Our Cabin Shed
Whether you need a storage building cabin, weekend getaway cabin, tiny house, office, or lakeside/hunting cabin, our Cabin Shed is a great place to start.
Use our drag-and-drop 3D tool to add windows, move doors, change siding color, and more — all with your computer, tablet, or phone. Save as many variations as you'd like, and get a quote for each (the total cost, including sales tax and, if applicable, delivery fee). When you're ready to purchase, you can check out securely online or call our sales team at 888.832.6889.
Your perfect cabin shed is waiting for you — start designing it today!
Why Buy a Cabin Shed from Us
You want the perfect cabin shed for a price you can afford — and we get it. That's why our buildings are built with premium materials by expert craftsmen at fair prices.
We strive to make the shopping and buying process as easy as possible. We want every customer to rave about their experience. That's why we:
Sell high-quality sheds products
Conduct quality control inspections on every building
Offer top-to-bottom limited warranties
Strive to deliver the best customer service in every citation
Preserve factory-direct pricing
Offer various payment options (including 0% financing)
Maintain

shed display locations

across South Dakota and Minnesota (see our products up close before making a purchase)
When it comes to buying a cabin shed, why settle when you can be delighted? Learn more about the Dakota Difference.
---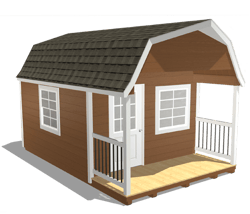 Configure your own custom Cabin Shed.
---
Read more articles about our sheds and creative shed uses.