Play Golf All Year Long By Creating A Golf Shed
by Dakota Storage Buildings, on May 02, 2017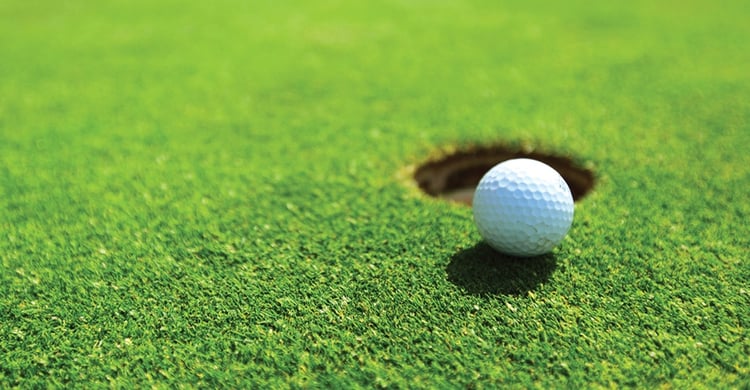 Whether you're a golf enthusiast yourself or are married to one, consider a DIY backyard golf shed.
Golfing fun can be had at home! A small or medium sized shed would be ideal for storing golf equipment and a 2-person golf cart. A larger one—perhaps even a garage—would be great for housing an indoor driving range and putting course. Imagine being able to play golf all year round, even in the winter and on rainy days!
As a bonus, depending on the size of the shed you're considering, it could serve a dual purpose as a Man Cave (or She Shed, right ladies?).
Read on to discover how a shed can be used for golf equipment storage, golf cart storage, and year-round indoor golf practice.
Golf Equipment Storage
Having a shed gives you a simple storage solution with many options. You can organize your shed so that all of your golfing gear has its own place.
Make a golf locker, build custom shelves, or buy standard shelving to organize your clubs, baskets of balls, tees, ball markers, towels, gloves, and shoes so that they're easy to find and load into your golf bag whenever you are ready to hit the course.
Depending on how much equipment you have, you could get away with a smaller shed that's 8x10 foot. However, if you wish to use your shed for golf cart storage or indoor practice, you have more to consider.
Golf Cart Storage
If you own a cart, keep it safe from the elements and intruders by storing it in a golf shed along with your other game equipment.
If you have an electric powered golf cart, you can set up a convenient charging station to be sure that it is ready to go whenever you need it. Or you can easily store supplies for your gas powered golf cart.
You could easily store all of your gear along with your cart in a 10x12 foot shed. Add a ramp and an overhead garage door for easy access.
Indoor Golfing
Practice putting and driving—inside! Here are some options for your golf shed.
Putting
Improving your putting makes it much easier to reach your scoring objectives, whether that means breaking 90 or breaking 75. During the long, cold winter months or on rainy days when you can't get out to play, develop a regular game-improvement routine that includes exercises such as stretching and plenty of putting practice.
Here are two examples of indoor putting options. The first is the Kick-Back Putt Cup by Callaway and the second is the Indoor Golf Training Mat by OUTAD.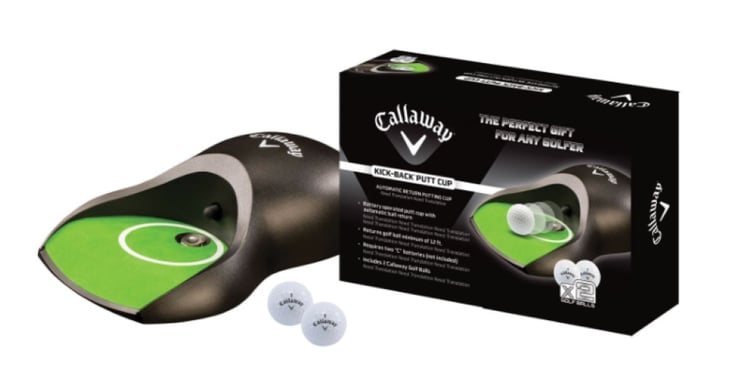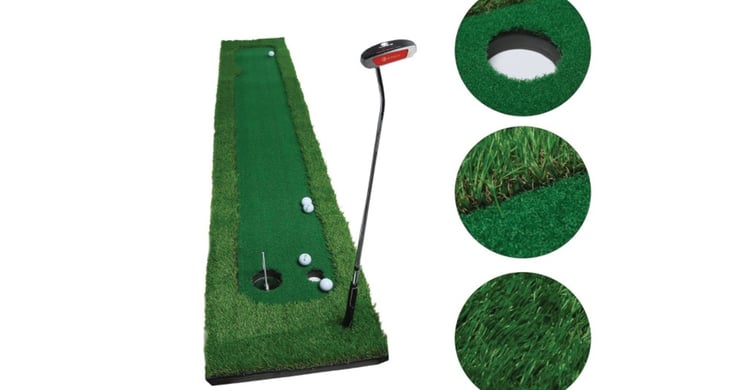 Full range golfing
For driving practice, an indoor range is needed. For this, try a golf simulator like the ones Spectrum Golf makes. There's a wide range of options out there, so take your time in researching which ones meet your needs and fit your budget.
The team at Spectrum Golf suggests that you consider these things when looking for an home golf simulator.
The single most important aspect of a home golf simulator is the turf. In an average round of golf, you are hitting and pounding the same turf top 70-100 times, so the simulator's turf must be durable.
Is the simulator screen impact resistant? A great residential golf screen should be able to project a great HD image and take the impact of real golf balls.
One challenge in using a golf simulator is space and ceiling height. Ideally, you need 10 feet to be able to swing all the clubs in your bag. To test the space you need, slowly swing a driver and see how close it gets to the ceiling. You should also find out the measurements and height requirements for other simulator components like the screen and projector.
Find out what technical aspects are needed. For instance, does the simulator come with or require a specific computer, software program, or projector type?
Discover whether or not special clubs are required. It's best if you can use the clubs you already own including your woods, irons, wedges, and putter.
Of all the things potentially required for a simulated experience—screen, net, projector, turf, software, projector, etc.—find out which come in the packages your researching and which are sold separately.
Spectrum Golf provides a nice diagram with measurements for one of their packages.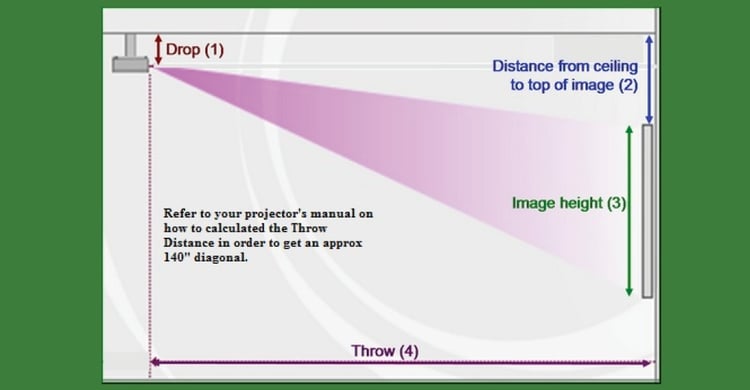 Below are a few more examples of indoor simulators. To view others, visit TruGolf and OptiShot.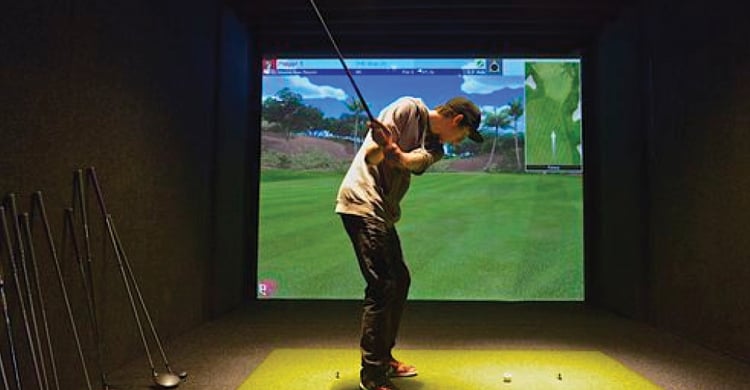 Here's an option that keeps thing simpler by not requiring a computer, software, or a projector—and it's a lot cheaper. Plus, it's collapsible for easy storage and comes with a portable bag. Learn more about the TOMSHOO Golf Practice Tent.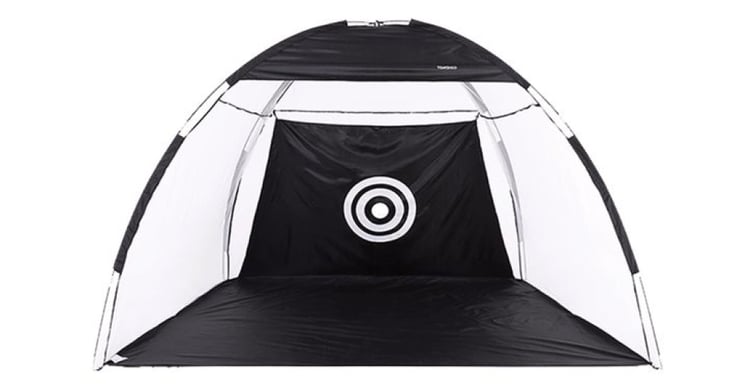 Before buying a golf shed, make sure you have enough room for the indoor golfing systems—putting and driving—you plan to use. Give James, our Sales Representative, a call at (888) 832-6889 or shoot him an email. He'll gladly suggest building sizes based to your space needs.
For more golf shed ideas, explore our Golf Shed Ideas Pinterest board.
More articles by Dakota Storage Buildings: