Shed and Garage Shopping For Beginners
by Dakota Storage Buildings, on April 19, 2017

Just as with any other significant investment, take your time and consider the options.
Don't buy the first shed or garage you see; and stop yourself from the impulse to buy the cheapest one available. Shop around. Compare sizes, styles, features, and prices.
As you prepare to navigate through the storage building buying process, reading this post is a helpful first step. From style and size to siding and roofing, there's a lot to consider, so we compiled a list of important things to think about when she shopping.
Shed Use Cases
Because storage buildings are versatile, they have many uses and functions. From traditional uses like storing lawn equipment, seasonal decor, and vehicles to creative uses like She Shed, Man Cave, and home office, there are many reasons for wanting to buy a new shed or garage. The trouble isn't finding uses, but rather, how to go about finding the right one.
Ask yourself: "What purpose will my shed serve?"
Building Sizes
Below is a chart of our size options. Most of our building styles can be made in these dimensions. While other companies may offer different sizes, this is a good place to start as you think through what size will suit your needs and fit in your backyard (or wherever you plan to put it).
Knowing the purpose of your shed is vital in determining the size you need. For example an 8x10 ft. shed would be great for a small backyard, a 16x40 ft. garage for boat storage, and a 12x20 ft. building for dirt bikes, motorcycles, and bicycles.
8 Ft. Options
10 Ft. Options
12 Ft. Options
14 Ft. Options
16 Ft. Options

8×10 8×12
8×14

10×10 10×12
10×14 10×16
10×18 10×20

12×12 12×14
12×16 12×18
12×20 12×24
12×28 12×32

14×20 14×24
14×28 14×32

16×28 16×32
16×36 16×40
16×24

Ask yourself: "What building size is best for my use?"
Custom Building Styles
Custom building styles most often refer to the architectural design of the roof. For instance, our Ranch style storage buildings are A-framed and our High Barn style and Low Barn styles have two slopes on each side of the ridge creating a steeper slope. Other roof styles exist—but don't get too hung up on this particular detail. Your most important decisions are choosing size, siding type, and roof material.
Ask yourself: "Which style would look best on my property?" and "Is one style better than another to suit the purpose of my building?"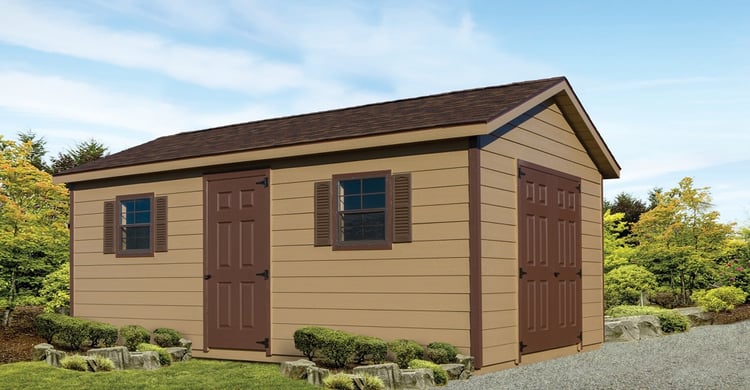 Ranch style building with lap siding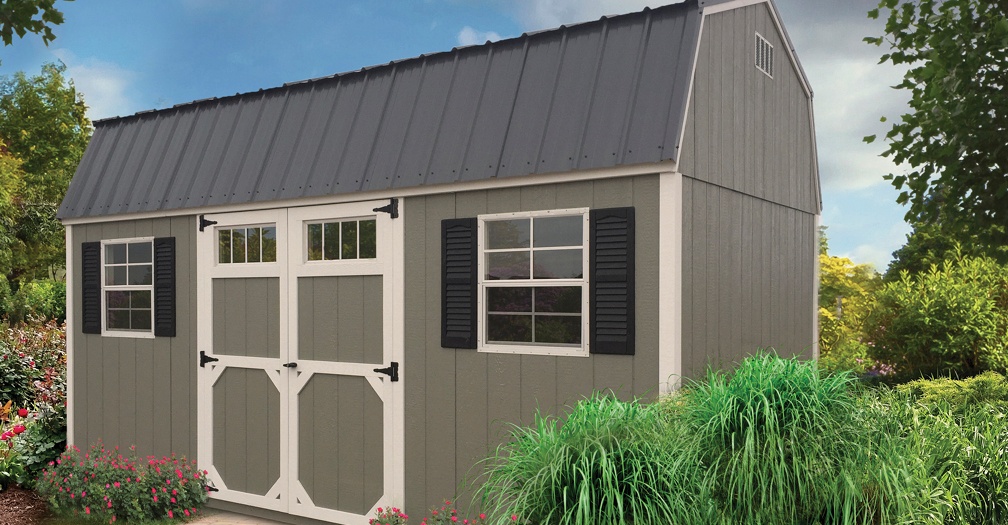 High Barn style building with painted siding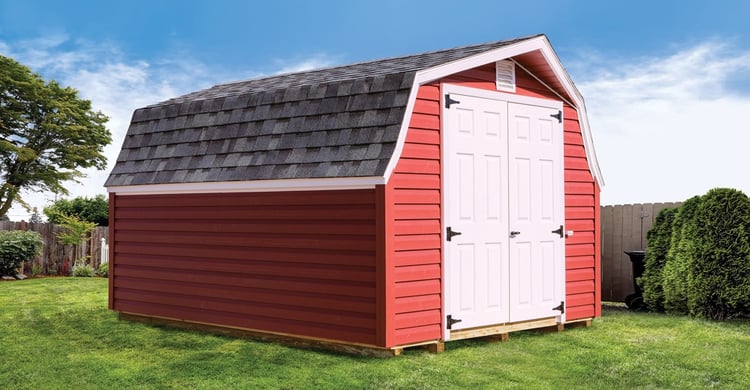 Low Barn style building with painted siding

Types of Building Exteriors
The building type is based on the siding material you choose. For instance, the siding options we offer are: wood (which we call painted), lap, vinyl, and metal. Read a little about each below, then check out our wide range of color options.
Painted: LP® SmartSide® Panel Siding offers all the warmth and beauty of traditional wood siding, along with the advantages of treated wood technology. These siding panels are more durable, dimensionally stable and consistent than traditional wood materials.
Lap: LP® SmartSide® Lap Siding is made of an engineered wood substrate, a renewable resource with a reduced environmental impact and is a good alternative to natural wood and fiber cement siding. It's made with LP's proprietary SmartGuard® manufacturing process to protect against fungal decay and termites, and back by limited-time warranty.
Vinyl: Georgia-Pacific Shadow Ridge Dutch Lap Vinyl Siding has flat panels that overlap each other with a shiplap joint, with a decorative groove between the laps. This groove improves strength, creates a narrow reveal line that adds visual interest and creates deeper shadow lines. This option is often chosen because it's low maintenance and weather resistant.
Metal: The Tuff-Rib® corrugated steel panel is the most commonly used metal siding in the residential and agriculture market today. It's dependable, long-lasting, and economical. Many of the colors offered are Energy Star approved for great energy efficiency.
Ask yourself: "What type of siding is the best investment for my budget?"
Features
Features are standard items that come with the building. For instance, every building comes with at least one set of double doors, one window, flooring, and roofing. The question to ask is: which features are non-negotiable and which come with upgrade options? At Dakota we have many high-quality standard features—here are a few.
Roofing: We offer Owens Corning's TruDefinition Duration® shingles and Long Creek Steel's steel roofing. TruDefinition Duration® shingles utilize SureNail® Technology which is durable even up to 130 MPH winds. Long Creek Steel's high-quality steel roofing is engineered to provide superior protection and has a wide variety of paneling and color options.
Flooring: Our tongue-and-groove high-performance OSB flooring is engineered to resist large amounts of moisture. If the flooring gets wet, it will not warp. Instead it will remain level and flat.
Skids and Joists: Pressure treated wood skids and floor joists are standard features on all of our buildings. These pressure treated elements are protected against moisture, rotting, and insects.
Ask yourself: "Which standard features are good for the purpose of my storage buildings, and which should I upgrade?"
Add-ons
After you've settled on features and upgrades, it's time to think about add-ons—items that don't come with your building, but could be added to improve beauty, convenience, or utility. We offer several add-on options, but we listed a few popular ones here.
Flower Boxes: Flower boxes add character and personality to your storage building. To make your flower box functional, use it to grow useful herbs or chrysanthemums (known for repelling roaches, ants, Japanese beetles, ticks, silverfish, and fleas).
Shelves and Lofts: We can add 2-4 ft. deep shelves and 2-8 ft. deep lofts to High Barn buildings to increase storage space. It's an easy way to get the extra storage space you need without ordering a bigger building size. If you're looking for a built-in workbench, our shelves are ideal and can be built into any of our building styles.
Insulation: We offer high-quality spray foam to insulate an outdoor storage building. Its 2-3 inch thickness creates a watertight membrane of protection against the heat and cold, and it's expansive nature works to fill every crack and crevice.
VersaCaddy™ Organizer Kit: The VersaCaddy™ 16 Organizer Kit is a complete and versatile storage system specifically designed to utilize the vertical space between 16" on center studs, maximizing the storage space inside sheds and garages. Each component is made of durable materials that can withstand heat, cold, and corrosion.
LP® SmartSide Panel with Smart Finish: We offer this interior upgrade for our Painted storage buildings. If you want the inside of your shed to look just as nice as the outside, this is a great option. It's a durable overlay that gives interior walls a clean appearance. Because these panels are treated with SmartGuard® treatment, they're also protected from rot and termites.
Ask yourself: "Which add-ons would make my building more efficient, practical, or comfortable?"
Payment
One important step in the buying process is knowing in advance of your purchase which payment options are available to you. If you're using a credit card, be sure that's a possible option before getting wrapped up in the shed selection and customization process. At Dakota, we offer three payment options: buy outright, financing, and rent to own.
Buy Outright (cash, check, and debit card): To own you building immediate and not have outstanding debt, this is the way to go. There are many advantages to buying outright. The freedom to own and modify your building in whatever manner you choose is just one.

Other benefits include:
> The joy of having full ownership of your new building at delivery
> The peace-of-mind knowing there are no outstanding, pending, or long-term agreement
> The satisfaction of paying for your building without accrued interest
Finance (take out a loan): If you're not able to buy a shed outright, no problem! If your credit is approved, you can enjoy interest rates as low as 9.9% and financing opportunities ranging from 24-48 months. With payments starting as low as $49/month, anyone can afford a Dakota Storage building!

Benefits include:
> The freedom to choose an in stock, customized, or built-on-site storage building
> The ability to order your storage building today without large upfront fees
> The affordability of fixed monthly payments
Rent To Own: Rent to Own offers an affordable monthly payment plan. If you want to buy your building during the rental period, simply pay 60% of the remaining balance. However, Rent to Own is not available in Minnesota.

Benefits include:
> The ability to lock in a purchase price
> The convenience of not needing a credit check
> The option to buy your storage building outright at a future time
Ask yourself: "What is my preferred method of payment and is it available at the stores/manufacturers I'm considering?"
Installation
Is there enough room from the road to your backyard for a full-sized shed to be delivered? Is there enough space on your property for a garage to be brought in and placed? If not, you'll want to purchase from companies that offer a build-on-site option.
All of our storage building can be built on-site or delivered to your property. When you choose on-site building, we prefabricate the building in our factory, transport the sections to your property, and complete the project on-site. When you choose delivery, we partner with Dakota Shed Haulers to provide you with a safe and efficient shed delivery experience.
Ask yourself: "Do you want to have your shed built on-site or delivered?"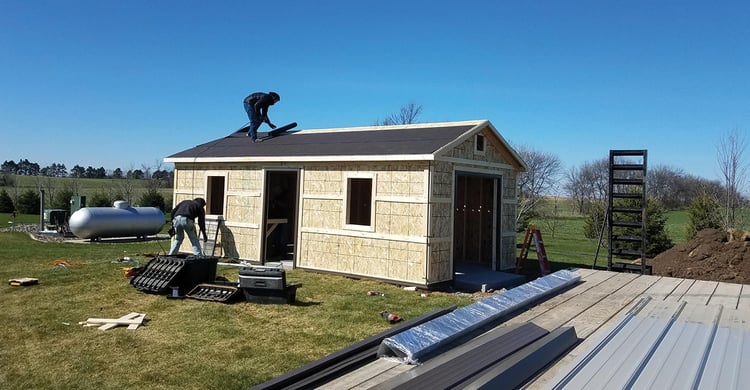 Building being built on-site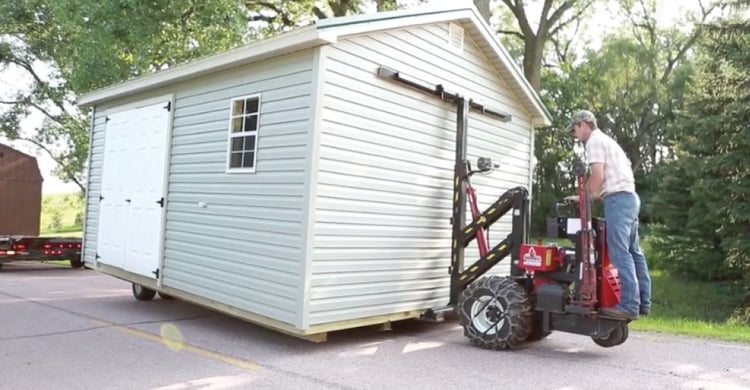 Building being delivered

Still need more help? Our Ultimate Shed Buying Guide will give you a complete look at the shed buying process from start to finish. As with any investment, your decision shouldn't be made quickly or carelessly. Don't let this seemingly daunting task discourage you from buying the shed you want. Our guide will break down the process, making it graspable and manageable.
Further reading: