Shed Buying 101: Shop With Ease
by Dakota Storage Buildings, on December 08, 2022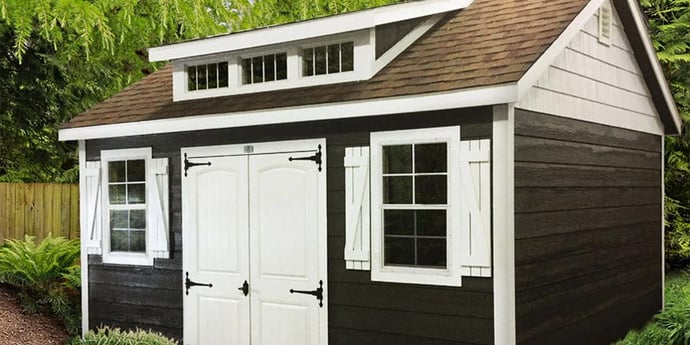 Buying a shed is a big investment, and you want to make sure that it is a lasting one. In this post, we will talk about the different products, services, and other offers we bring to the table. We strive for long-lasting products that will shine in your yard to have the best-fit sheds for your needs.
Ultimate Storage Buying Guide
Not sure how to go about researching, selecting, or purchasing a storage building? Which is the best one for you and your needs? Don't worry; we can help!
Our free Ultimate Storage Building Buying Guide will walk you through the entire buying process and will lead you through all the steps necessary to prepare for the arrival of your building. With this guide, you will know what to expect during each phase of the buying process. How to find and configure your storage building along with the different aspects we offer.
How To Get Your Storage Building
Once you have decided to start looking for a storage building, there are two ways to go about looking with us, you can,
1. Find Your Storage Building. If you have an idea of how you are going to use your storage building, browse our package options.
2. Design Your Own. If you like to make all the decisions, then create your building from scratch and choose from our wide variety of options. Learn about the styles and features that we have to choose from.
Custom Building Styles
Custom building styles most often refer to the architectural design of the roof. For instance, our Ranch style storage buildings are A-framed and our High Barn style and Low Barn styles have two slopes on each side of the ridge creating a steeper slope. Other roof styles exist—but don't get too hung up on this particular detail. Your most important decisions are choosing the size, siding type, and roof material.
Features
Features are standard items that come with the building. For instance, every building comes with at least one set of double doors, one window, flooring, and roofing. The question to ask is: which features are non-negotiable and which come with upgrade options? At Dakota we have many high-quality standard features—here are a few.
Roofing: We offer Owens Corning's TruDefinition Duration® shingles and Long Creek Steel's steel roofing. TruDefinition Duration® shingles utilize SureNail® Technology which is durable even up to 130 MPH winds. Long Creek Steel's high-quality steel roofing is engineered to provide superior protection and has a wide variety of paneling and color options.
Flooring: Our tongue-and-groove high-performance OSB flooring is engineered to resist large amounts of moisture. If the flooring gets wet, it will not warp. Instead, it will remain level and flat.
Skids and Joists: Pressure-treated wood skids and floor joists are standard features on all of our buildings. These pressure-treated elements are protected against moisture, rotting, and insects.
Ask yourself: "Which standard features are good for the purpose of my storage buildings, and which should I upgrade?"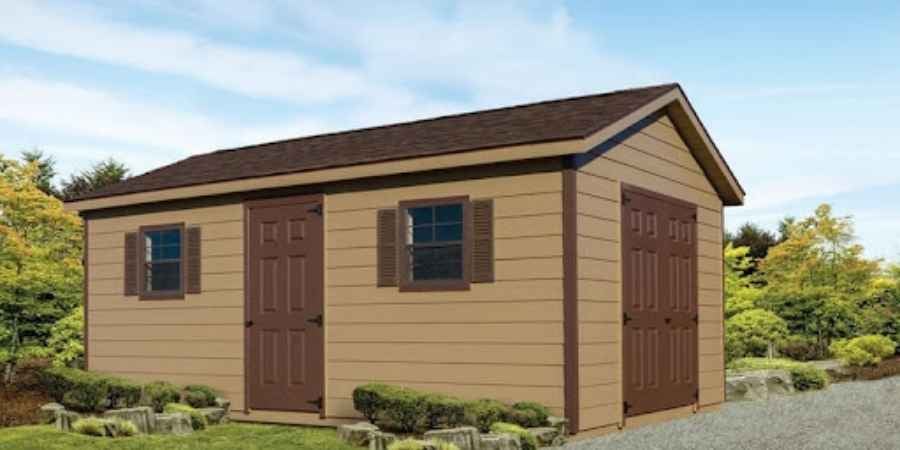 Quality Materials
Storage buildings should be built to last year after year, and we put a lot of care into the building process. Floor joists, insulation, siding, roofing, doors, and every other aspect of our storage buildings are put together with the best products and expert construction. Read more about how our buildings are constructed here to help with your process of buying a storage building.
Add-ons
After you've settled on features and upgrades, it's time to think about add-ons—items that don't come with your building but could be added to improve the beauty, convenience, or utility. We offer several add-on options, but we listed a few popular ones here.
Flower Boxes: To complete the look, add decorative flower boxes. They add character and curb appeal to any building. You can grow seasonal flowers, plants that repel pests, or a variety that requires little upkeep. Our flower boxes and shutters come in a variety of colors.
Shelves and Lofts: We can add 2-4 ft. deep shelves and 2-8 ft. deep lofts to High Barn buildings to increase storage space. It's an easy way to get the extra storage space you need without ordering a bigger building size. If you're looking for a built-in workbench, our shelves are ideal and can be built into any of our building styles.
Porch Railing:

We can add a 4' railing with 32" black balusters (the

short pillars that support the railing)

to your

porch-style building

. Even though they're not always a building code requirement, porch railings

provide an extra measure of safety and protection.

Flooring:

We offer LP ProStruct® Floor with SmartFinish®, a durable overlay, which creates a professional appearance. Unlike traditional plywood flooring, LP ProStruct Floors with SmartFinish incorporates Treated Wood Strand Technology with SmartGuard® to resist termite damage, decay, warping, splitting, and cracking.
As we shift away from what we have to offer from styles and materials, let's focus on how our installation process works once purchased.
Installation
Is there enough room from the road to your backyard for a full-sized shed to be delivered? Is there enough space on your property for a garage to be brought in and placed? If not, you'll want to purchase from companies that offer a build-on-site option.
All of our storage buildings can be built on-site or delivered to your property. When you choose an on-site building, we prefabricate the building in our factory, transport the sections to your property, and complete the project on-site. When you choose delivery, we partner with Dakota Shed Haulers to provide you with a safe and efficient shed delivery experience.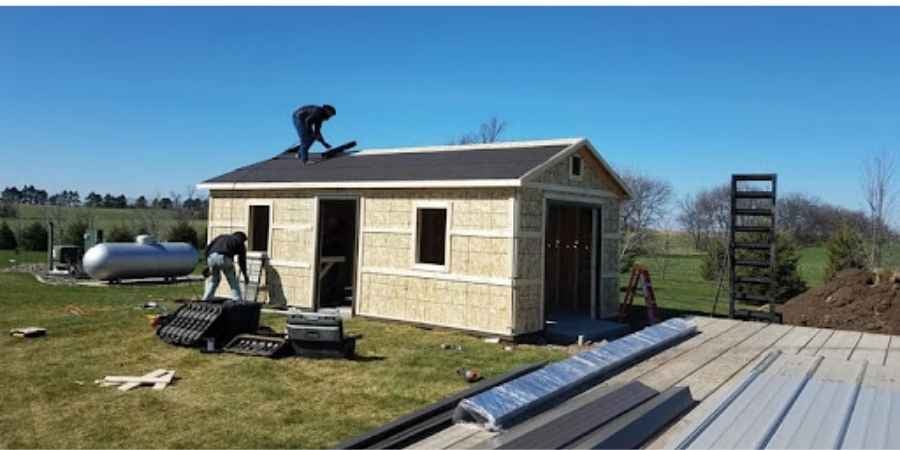 Caring Customer Service
From the sales call to delivery, we make an effort to go above and beyond for our customers. Some customers have a lot of questions that need to be answered and others know exactly what they are looking for, and either way, we are here to make the buying experience an enjoyable one. We genuinely enjoy getting to work with our customers, and we hope that that shines through in every interaction.
Testimonial
After farming for over 40 years, I appreciate the quality of something well-built. I added the plywood floor and 12" spacing for the floor joists. After looking at competitive brands, yours stands out as not only the best quality but also the most favorable price. Give my regards to all of your workers, including the delivery guy, on a job well done!! It all shows attention to detail.
Payment
One important step in the buying process is knowing in advance of your purchase which payment options are available to you. If you're using a credit card, be sure that's a possible option before getting wrapped up in the shed selection and customization process. At Dakota, we offer three payment options: buy outright, financing, and rent-to-own.
Buy outright (cash, check, and debit card): To own your building immediately and not have outstanding debt, this is the way to go. There are many advantages to buying outright.

Other benefits include:
> The convenience of ordering your building right away
> The security of having full ownership of your building immediately
> The peace of mind that there are no outstanding pending contracts.


Finance (take out a loan): Financing allows you to enjoy your new building immediately without a down payment or upfront fees, subject to approved credit.

Benefits include:
> The convenience of ordering your storage building right away
> An easy loan application process with clear and fair terms
> The convenience of monthly payments with competitive interest rates


Rent To Own
Rent to Own offers an affordable monthly payment plan. If you want to buy your building during the rental period, simply pay 60% of the remaining balance. However, Rent to Own is not available in Minnesota.

Benefits include:
> The ability to lock in a purchase price
> The convenience of not needing a credit check
> The option to change payment methods at any time
Still need more help? Our Ultimate Shed Buying Guide will give you a complete look at the shed-buying process from start to finish. As with any investment, your decision shouldn't be made quickly or carelessly. And if any questions pop up along the road, feel free to give us a call and reach out with your needs. We are here to serve you and be your right hand through our shed-buying process.