The Best Flooring & Features For Outdoor Dog Kennels
by Dakota Storage Buildings, on March 22, 2022

Dogs need safe and comfortable dog kennels when spending time alone outside.
When dogs live outdoors or stay outside for extended periods, they need safe and comfortable shelter. Besides clean drinking water and protection from the elements, an outdoor kennel requires a few non-negotiables like insulation, weatherproofing, and proper flooring. This article will focus on the latter — the best type of flooring for kennels.
Before considering options, keep in mind that the best flooring is level, easily cleanable, non-slip, non-absorbent (think water and urine), and resistant to abrasion (dog nails can cause damage over time).
Some flooring options are less desirable when wet because they become dangerously slippy. If you've ever walked on vinyl tiles where liquid has spilled, you know how slick it can be. While it's not ideal to use smooth, non-absorbent flooring, if it's necessary, be sure to cover it with no-slip mats.
Regarding cleaning, it's extremely important that your dog's kennel be sanitary. Flooring shouldn't have grooves that can collect dirt, food, water, feces, urine, or other potentially hazardous particles. Floors should be easy to scrub or spray down and durable enough for routine disinfection.
With these criteria in mind, we can take a closer look at flooring types and materials.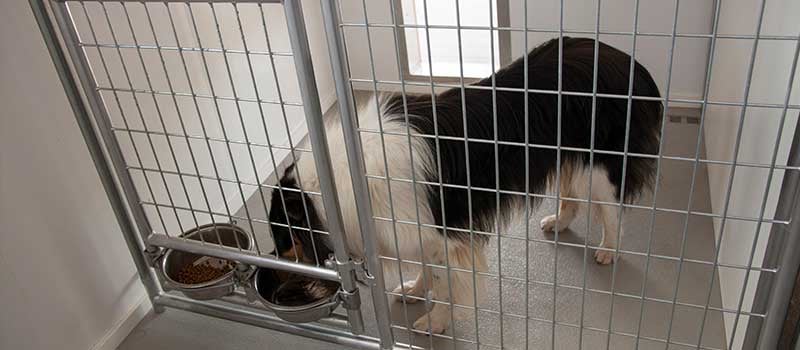 Dog Kennel Flooring Options
Many DIY kennels have concrete floors, but the material is hard on dog joints and can lead to skeletal problems. Far better flooring options include rubber, epoxy, plastic, vinyl, and engineered wood. Each of these has its pros and cons.
For example, epoxy floors are shock, fire, and water-resistant. However, they require a lot of prep time and expertise to install properly. Vinyl flooring is known to be scratch-resistant and easy to clean. However, it's slippery when wet, and the hard surface may be uncomfortable for sleeping. Rubber flooring can be much more comfortable for your pet and can provide good drainage if well designed. However, they are much easier for dogs to chew and destroy. Plastic flooring is cheap, soft, and fairly durable.
While you can choose floor material for your kennel, you can also select the application. For example, modular kennel flooring is not only easy to customize but sections can be easily replaced if damaged, keeping the dog kennel interior looking good and preventing costly repairs or replacements.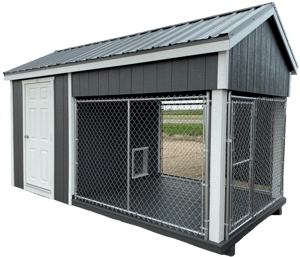 Shop Single Dog Outdoor Kennels
Our Single Dog Kennel Flooring
With so many flooring options, applications, and price points, choosing the right dog kennel flooring can feel overwhelming. That's why we do the hard work for you. By selecting the best materials and constructing quality kennels, you can have peace of mind knowing your dog will be safe and comfortable.
We use LP® ProStruct Flooring with SmartFinish and Polyurea coating inside our single-dog kennels. We chose this application because it's safe, easy to clean, anti-slip, and durable, making kennels comfortable for dogs while keeping the interior sanitary. This engineered wood flooring utilizes moisture and warp-resistant resin technology. Its exceptional strength allows it to endure weight, weather, and everyday use, making it an ideal flooring for kennels. It's resistant to spills and abrasions that pets can accidentally cause.
Since our kennels have built-in runs (a fenced-in exterior space), we utilize poly decking, or PVC decking, made from 100% plastic. It's known for its durability, resistance to mold, mildew, and stains.
Our interior and exterior floor materials are chosen primarily with safety and comfort in mind and secondly because they offer the best results for the price point.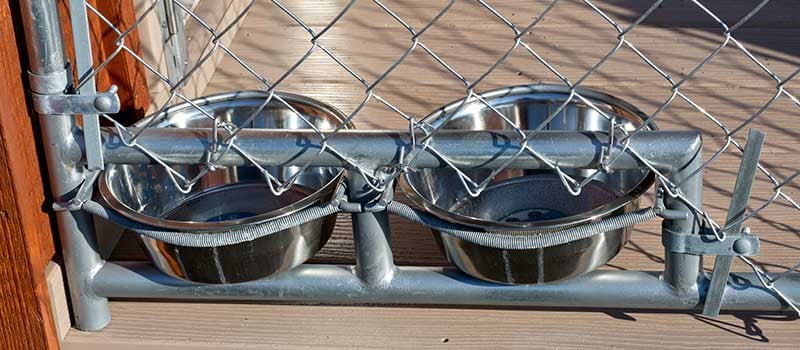 Our Single Dog Kennel Features
While a good floor is a critical part of a quality outdoor dog kennel, other features are important, too, especially if your dog lives outside. An insulated interior room, for example, is critical to long-term safety and health.
Our outdoor single dog kennels not only include an insulated interior room, but they also feature constructed of quality material — from top to bottom and inside to outside — to ensure longevity and durability. Because we use quality lumber, siding, roofing, and paint, you can expect peace of mind knowing that you're buying from experienced builders who know what outdoor dogs need for long, healthy lives. In addition to ideal interior flooring and the features already mentioned, our high-quality, low-maintenance outdoor kennels include:
Leak-resistant roofing

Roof sheathing with radiant heat barrier

Plexiglass dog door

Insulated full-size fiberglass door
When you're ready to buy a Single Dog Kennel, you can choose from our in-stock kennels or contact our friendly sales rep to customize your kennel's paint color and other details to match your home.
Shop Our Single Dog Kennels
Ready to buy a single dog kennel and run for your canine? Click the button below to browse our pre-built in-stock dog kennels. While you can order a semi-custom kennel, we have pre-built kennels in stock and ready for purchase. Check out our South Dakota and Minnesota display lots to see one in person today.
More reading: