Ultimate Guide for How to Raise Chickens
by Dakota Storage Buildings, on October 19, 2022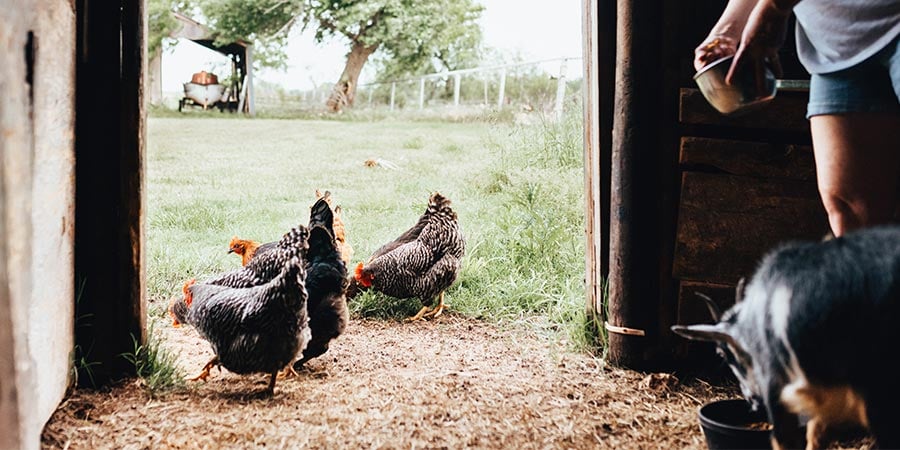 There are several reasons people may opt for raising chickens in their backyard. To begin with, they provide access to fresh and tasty eggs. For others, it provides an activity and a hobby that allows them to feel closer to their food. Of course, before you raise chickens in your backyard, you'll need to make sure you have the proper knowledge on how to do so. Keep reading to learn more about the basics of how to raise backyard chickens.
Things to Consider
Before you buy backyard chickens, there are many factors to consider. It is important to give these considerations some thought before making a big decision! Some important considerations include:
Make sure your neighborhood or town allows it! Some towns have local ordinances that may prohibit raising backyard animals. In addition, make sure you have adequate backyard space for a chicken coop or hen house. Chickens need room to move around!
Another consideration is the costs associated with raising backyard chickens. Chicken feed generally costs around $20 per 50-pound bag. Prices may vary based on your location and supply. There are also the initial start-up costs to consider, which may cost you several hundred dollars depending on the size of your coop, flock, etc. Consider the ongoing costs associated with raising chickens.
The time commitment associated with raising chickens is also something you should consider. Most chickens will live for several years, possibly even longer than a decade. Before you get backyard chickens, make sure you're ready for this long-term commitment.
As with any living thing, chickens can get sick. Check nearby to make sure you have an accessible place to take your chickens should they become sick or injured. In addition, frequent travelers may not be suited for raising chickens, as they require a lot of work. You'll need a reliable chicken sitter if you plan on going on vacation.
What are the weather conditions in your area? You'll need to be out there year-round caring for your chickens.
How Much Space Do Chickens Need?
Different breeds of chickens may need different amounts of space. In general, you can expect a medium-sized chicken to need at least three sq. feet of floor space in the coop and 8 to 10 sq. feet outdoors. Allowing enough space for your chickens to move around helps ensure they are happier and healthier. If your backyard is too tight, raising chickens may not be the best idea.
How Many Chickens Should I Raise?
Raising between three and six birds offers a steady supply of eggs. This is a manageable amount for beginners to take care of. You can expect adult hens to lay eggs (two eggs) about every three days. In the first couple of years of life, chickens lay more eggs. As they age, their production may slow down. You'll want to take this into account when considering how many chickens to raise at one time. Some people replace their birds with younger birds over time.
Getting Started Raising Chickens
All in all, raising chickens is not an easy job. However, it is a fun and rewarding job for many. It can give you a steady supply of healthy, fresh eggs right from your backyard. Before you get backyard chickens, consider the space they need, the associated costs, and other important factors.