What to Consider When Looking for in Great Kennel Manufacturers
by Dakota Storage Buildings, on June 26, 2023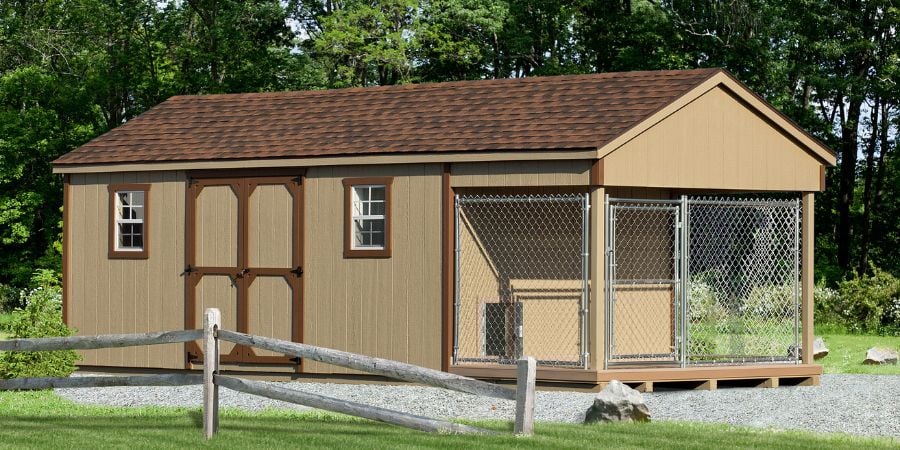 When it comes to your pet, only the best will do. A kennel is more than just a structure; it is a place where your pet will spend a significant portion of their day. A quality kennel can profoundly impact your pet's happiness, health, and overall quality of life, so choosing a reliable kennel manufacturer is essential. Finding a trustworthy manufacturer can seem like a hassle, but it will help ensure your pet gets a space that's as comfortable, secure, and well-crafted.
You Need a Reliable Kennel Manufacturer
Commercial dog kennels and runs are vital in a pet's life. Every pet deserves a kennel that's durable, inviting, and suitable for their specific needs. Kennel manufacturers play a pivotal role in your pet's life by creating this space for your dog. At Dakota Storage, we want to help guide you through every step of the buying process, making it as smooth and straightforward as possible.
When you choose Dakota, you're not just purchasing a product; you're entering a partnership with a team genuinely committed to helping you find the perfect solution for your pet. From the moment you reach out to us, we work to understand your and your pet's needs. We take the time to answer your questions, address your concerns, and provide the advice and information you need to make an informed decision. We'll guide you through our range of kennel options, helping you choose a model that suits your pet's size, breed, temperament, and budget and space constraints. Our commitment to you continues even after your kennel is delivered; we're here to provide ongoing support if you ever encounter a problem.
What Do I Need to Look for in Kennel Manufacturers?
Choosing the right kennel manufacturer is more than finding a company to construct a sturdy enclosure. It's about finding a team who understands your needs and your pet's needs and who is committed to delivering a product and a service that exceeds your expectations. Here are some factors to consider when choosing a manufacturer.
Customer Service
Superior customer service is the cornerstone of any reputable manufacturer. The company should be easy to reach and willing and able to answer all your questions, address your concerns, and provide expert advice to guide your decision-making process. At Dakota, we pride ourselves on our stellar customer service and are always ready to go above and beyond to ensure our customers have the best possible experience. Our customer service team knows what they are discussing and can be trusted to answer any questions.
Materials Used
The materials used directly impact durability, safety, and comfort. Look for manufacturers that use high-quality, pet-friendly materials that can withstand the elements and active dogs. At Dakota, we use superior materials like Prostruct flooring and chain link fencing to provide your pet with the utmost comfort and security.
Branding
A manufacturer's branding speaks volumes about its values and business conduct. Choosing a manufacturer whose values align with yours and who is committed to quality, integrity, and customer satisfaction is essential. Our company is centered around quality and customer service, and we are proud of the reputation we have built over the years.
Delivery Processes
The delivery process should be straightforward and hassle-free. The manufacturer should offer flexible delivery options and ensure your kennel is delivered safely and on time. At Dakota, we handle the entire delivery process, from the shop to your property, ensuring that your kennel arrives in perfect condition and is ready for your pet to enjoy.
Payment and Pricing
Lastly, consider the manufacturer's payment and pricing structures. A good manufacturer will offer competitive pricing without compromising on quality. They should also provide transparent and flexible payment options that are suited for a range of financial needs. Dakota offers fair pricing for our high-quality commercial dog kennels and runs, and we have various payment options to suit different budgets.
Why a Kennel From Dakota Storage Buildings?
Everything we produce at Dakota Storage must meet our high quality, durability, and design standards — including our kennels. At Dakota Storage, we have built a reputation for our high-quality storage solutions, and our kennels maintain the same high standards. We offer a range of kennels that combine superior craftsmanship with thoughtful design, ensuring that every Dakota Storage kennel meets the same rigorous quality standards as our storage buildings.
We take immense pride in our work, whether it's a shed or a kennel. Every Dakota product is built with meticulous attention to detail, using high-quality materials that guarantee durability and longevity. Just as with our sheds, our kennels are crafted to withstand the test of time, providing a safe, comfortable space for your pet for years to come.
Consistency and reliability set us apart. Just as with our storage buildings, when you purchase a kennel from Dakota, you can expect a product of exceptional quality and a smooth buying experience. We stand by our products with comprehensive warranties and are always here to provide support when needed. We offer expert guidance throughout the buying process, helping you choose the right kennel for your pet.
What Makes Dakota Different?
The market can seem crowded with kennel manufacturers, so finding a trustworthy, reputable company can take time and effort. Here are the key factors that make Dakota different.
Quality Control
At Dakota, we steadfastly commit to quality control, so we created the Dakota Difference. We understand that a kennel isn't just a purchase; it's an investment in your pet's comfort and safety. Every kennel we build undergoes inspection to ensure that it meets our high standards before it leaves our workshop. We pay attention to every detail, from the selection of materials to the final touches; each stage is carefully executed.
Comprehensive Warranties
We stand by our products and want our customers to feel confident in their purchases. We offer top-to-bottom warranties for our commercial dog kennels and runs. Our warranties demonstrate our commitment to you and your pet. They signify that we stand by our craftsmanship and are always ready to go the extra mile to ensure your satisfaction.
Customizable Options
We believe every pet is unique, and their kennel should be too. That's why we offer customizable options for our kennels. Whether it's the size, the layout, or the specific features, we give you the freedom to create a kennel that's ideally suited to your pet's needs. Our team is always on hand to provide advice and help you design a kennel that your pet will love.
Appealing Appearance
We believe that functionality and style should go hand in hand. Our commercial dog kennels and runs are designed to provide a comfortable and secure space for your pet and to be a visually appealing addition to your property. With multiple color options, we can ensure you will find an attractive kennel for your backyard space.
From Shop to Property
Our commitment to you doesn't end when your kennel is built. We take care of the entire process, from constructing your kennel in our shop to the delivery and setup on your property. We coordinate the logistics, ensuring your kennel is delivered safely and installed correctly. Our team respects your property, working efficiently and leaving your space clean and tidy once the installation is complete.
Jump Into a Smooth Buying Process
Finding a trustworthy manufacturer is the first step in buying an outdoor kennel. Choosing Dakota ensures you have a hassle-free buying process. We are ready to provide you with all the necessary information and answer any questions. Contact us today to talk to a representative about our commercial dog kennels and runs. Contact us today to learn more about our commitment to creating quality kennels.