Your Guide to Outdoor Tool Storage for a More Organized Outdoor Space
by Dakota Storage Buildings, on May 03, 2023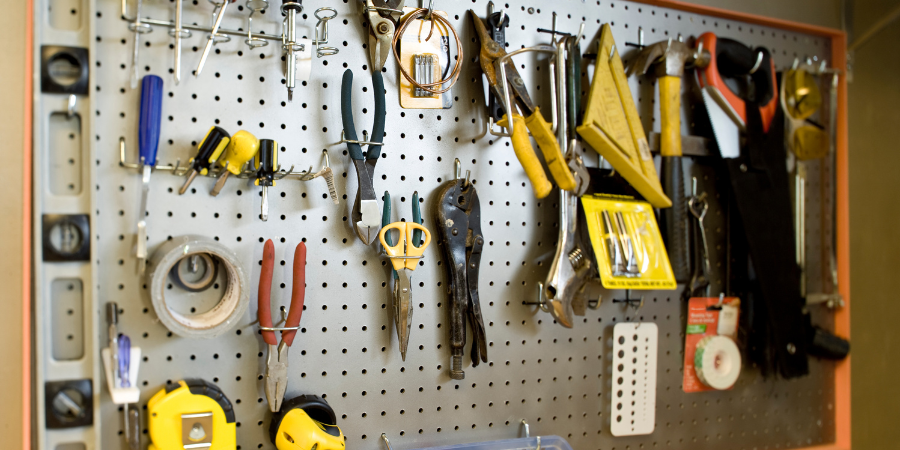 Your tools are a crucial factor in keeping your home and yard maintained. However, keeping these tools organized should be a priority. Gardening should be a calm, peaceful hobby; home improvement projects can be fun. When cluttered, your tools can eliminate any sense of peace or excitement and become a stressful hunt for the right tool. Quick access to all your tools will make gardening or home maintenance easier. You can sort your tools in numerous ways to know exactly where they are located. This guide covers everything you need to know about outdoor tool storage to help you in the home organization process.
Outdoor Tool Storage
A garage may seem like a convenient solution for outdoor and garden tool storage, but it takes away space for your vehicles and clutters another section of your home. However, tools must be kept in a place that will keep them sheltered from weather elements. Backyard storage or garden sheds are the best ways to keep your tools safe and organized. These units are durable through any kind of weather and can be a customized space to hold all your tools and outdoor equipment. A shed is a more functional space that allows you to create an organized system for your tools while keeping them safe from damage.
Once you have chosen a backyard shed for your outdoor tools, you can begin customizing the shed to fit your needs. Features like shelving and workbenches can be easily added to your order and arrive built into the structure. Shelving helps you utilize precious wall space to store more tools, seeds, or other gardening materials. A workbench gives you added space to tend to your plants, keep seedlings safe from outside elements, and work on small repair projects.
When your shed is installed in your backyard, you can begin further customization to create a space that truly works for you. Adding elements like bins, crates, and pegboard adds another layer of organization. You can store hand tools, gloves, seeds, and other equipment with these elements. Pegboards keep your handheld tools visible for quick access. Plus, you can label the outside of the bins and crates to know exactly what is inside.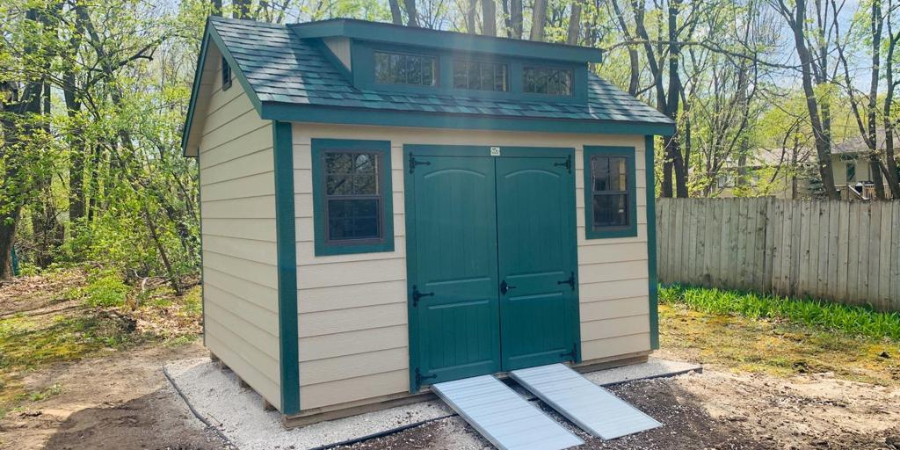 Ways to Organize Your Tools
If you plan to purchase an outdoor shed but may use it as a multipurpose space, having a gardening station where all your tools are kept in one spot is crucial. This may be a great reason to get a workbench, or another furniture organization, in your shed. This already distinct space, and the area around it, can be your gardening station while you store stuff elsewhere in the shed.
Tool organizers and buckets are another way to organize your shed. Buckets can hold hoses, soil, and fertilizer to minimize the mess on the shed floor. Tool organizers come in all shapes and sizes, so you can find one that fits your collection. Large units with drawers and shelves or small portable cases for tiny tools like nails, washers, and screws. No matter what you need, you can easily purchase tool organizers from common relators like Amazon or Home Depot.
Creative Storage Hacks Using Household Items
Though professional storage solutions can be handy, there are other solutions. You do not have to create a separate budget to organize your shed. Instead, you can develop DIY storage solutions with items already in your home. Here are some of our favorite creative outdoor tool storage hacks.
Sometimes a tool is no longer needed. It has served its purpose well, but moving on to a new option may be time. If that is the case with your rake, keep the old one and hang it on the shed wall. You can then hand any handheld tools from one of the rake's teeth. Similarly, installing hooks to the back of your shed door or walls can create another opportunity to hang equipment.
For large tools like rakes and shovels, it can take a lot of work to store them. The long handles make it easy for the tools to topple over when propped up on a wall. Rakes and shovels need support to stand upright. One solution is to cut PVC pipes and attach them to the walls. Then, you can slide the handle through and store the tool upright. The PVC pipe keeps the tools secure, so you do not have to worry about them falling over. Another option is using sand in a bucket to keep the tools upright. The sand weighs down the bucket so it will not blow away if a strong wind blows.
We already briefly touched on the benefits of adding shelving, but it is truly one of the best ways you keep your shed organized. The number of items that can be safely stored seems to be never-ending regarding shelving. If you have kids who like to help you in the garden, you likely have a set of small toy tools that also need a home. Shelves are a great way to organize those tools while keeping them out of reach of little hands. When it is time for you to work in the garden together, you can quickly grab them and hand them off to your best helper.
Protect Your Tools from Damage
Tools can be easily damaged and need proper care to last for years. When exposed to water or moisture, it can damage the tools causing them to rust. You can protect your tools by washing them in soapy water and adding a linseed oil layer. This will be a protective coating so rust cannot form on the tools. If you already have rusty tools, remove the damage by rubbing them with vegetable oil. Try to do this as soon as you notice any rust forming. Removing and then coating the tool with linseed oil will be easier to protect it from further damage. When tools are not adequately cared for or protected, it can create severe damage. Your tools can begin to rust and crack to such an extent that they become unusable. When properly caring for your tools, they can last for years, saving you money and another trip to the store.
Storage Made Easy
There's no doubt that a backyard shed is one of the best solutions for home organization. These structures give you a designated space to store all your tools and outdoor equipment, so it does not take up the space in your home. However, a cluttered shed can increase stress and make finding the necessary tools difficult. Keeping your shed organized can be fun and eliminate the stress of hunting down the right tool. If you decide to purchase an outdoor shed, organize it creatively. There are so many tips and tricks for tool organization that you can find a system that works best for you. Pegboards, shelves, bins, and buckets are all great places to begin. No matter how you organize your shed, the clutter-free space will make your tasks much more enjoyable.
Maximize Your Space With More Organization Ideas
If you want a new way to organize your tools, start with an outdoor shed. These structures are made of high-quality materials and will last for years. Finding a shed unique to your needs and style can be an exciting experience. Once it is installed in your backyard, the fun will begin. How you create a space that meets your needs and holds your tools is entirely up to you. Use your imagination to develop new and innovative ideas to keep your outdoor tool storage organized. Plus, download our free guide, 6 Storage Ideas for Home Organization, for new ideas on organizing your home!