Space Saving Ideas & Organizational Tips For Your Shed & Garage
by Dakota Storage Buildings, on June 07, 2017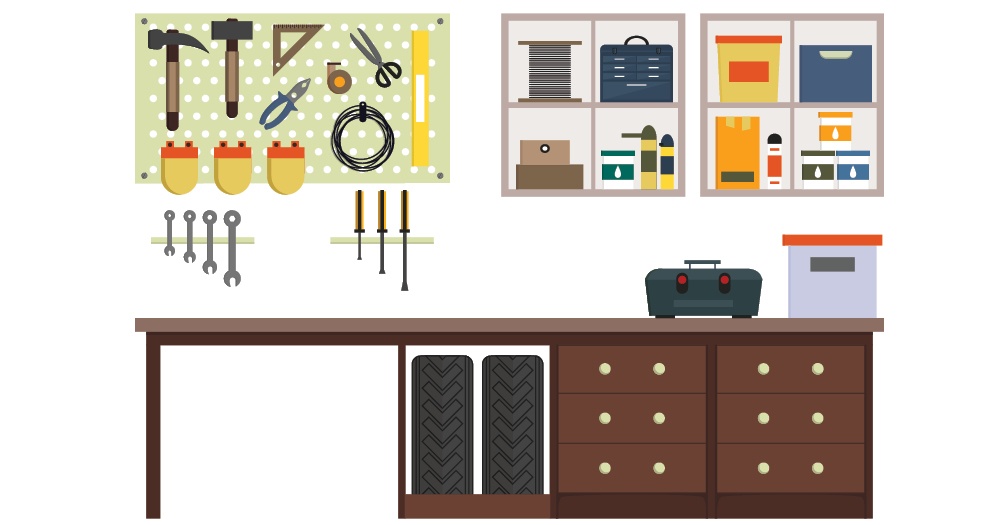 This post was updated on April 20, 2020.
Garages and sheds are perfect for utility and storage—but they're also quick to collect clutter.
The problem often lies in figuring out the best ways to organize the space inside the storage buildings to maximize efficiency and convenience.
The next time you're in the mood to tackle the task of reorganizing your garage or backyard shed, keep these helpful organization and storage tips nearby.
Ways to organize the bigger stuff
From large coolers to heavy-duty storage bins, here are some ways to keep it all together, off the floor, and neatly organized.
Overhead Storage
Utilize wasted space with overhead storage. Store items up high that you use seasonally or infrequently—such as camping gear, coolers, plastic storage bins with seasonal decor—so that valuable square footage is freed up. You can buy at DIY kit or get custom, built-in loft storage.
Buy a DIY kit. The one shown below can be found at SafeRacks.com

. This overhead storage unit is sturdy enough to hold heavy and cumbersome items like items like bikes, skis, and kayaks in addition to storage bins and boxes.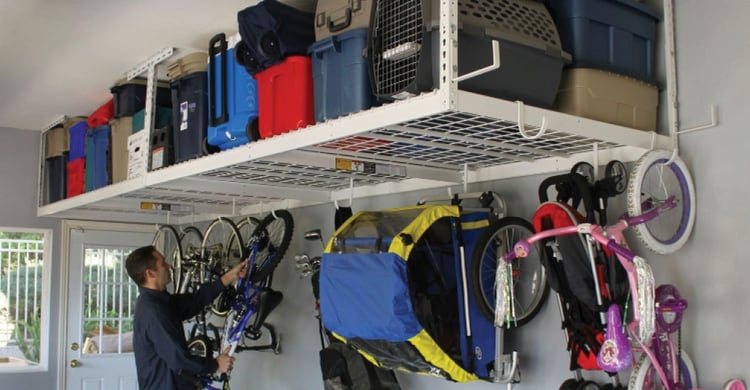 Get custom, built-in loft storage —like our High Barn which can have 2-8' deep lofts added.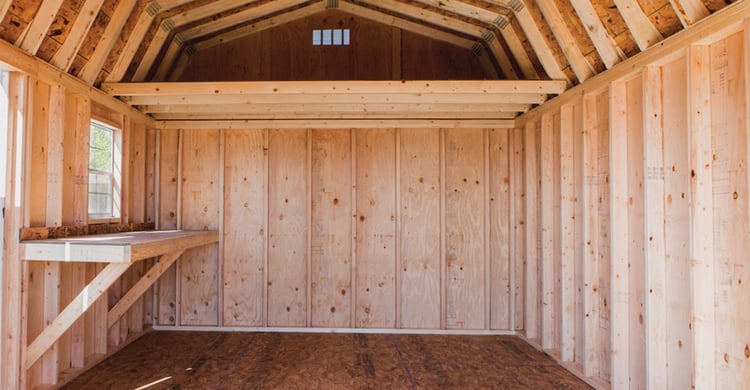 Wall Storage
Traditional wall shelving still serves as a reliable go-to. You can hang DIY garage shelving systems, build your own shelves, or get custom, built-in shelves.
Hang DIY garage shelving systems—like those from RhinoShelf.com (shown below)—or browse your local home improvement store.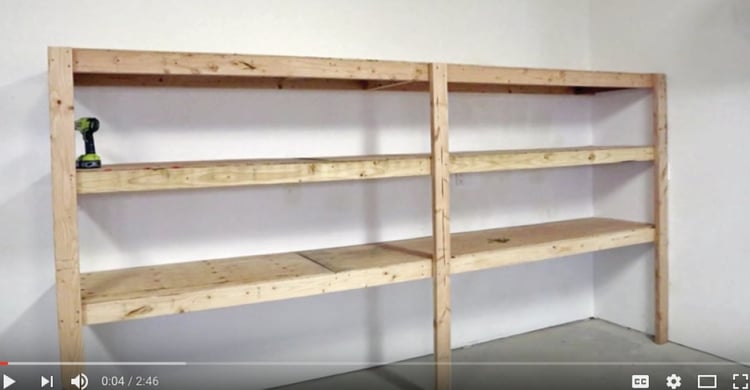 Buy a shed with built-in shelves. 2-4' deep shelves can be added to any of our storage buildings.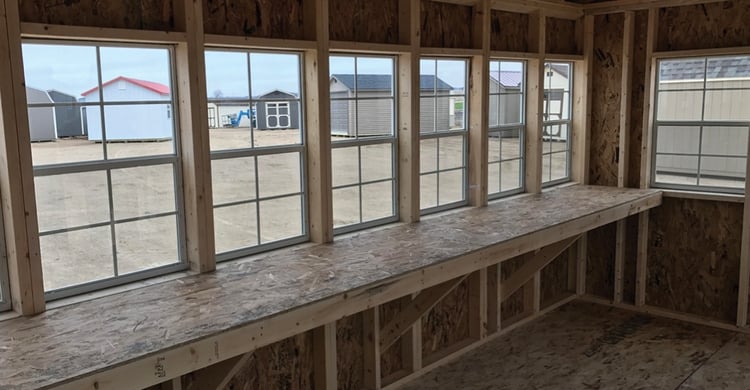 In all of these cases, keep in mind the height of the of the shelves. If you plan to use your garage to park your vehicle, the storage units must be accurately measured.
Also, consider the size, number of shelves, color, product material, price—and depending on the items you're storing—you may want to consider a unit that has ventilated shelves to prevent standing water and mildew.
Workbench
If you're using your garage for work or maintenance space, get a workbench. You can buy one, build one yourself, or have a custom workbench built into your garage or shed. Keep your saws, saw horses, tools, shop vac, tabletop clamps, and more on or under your workbench.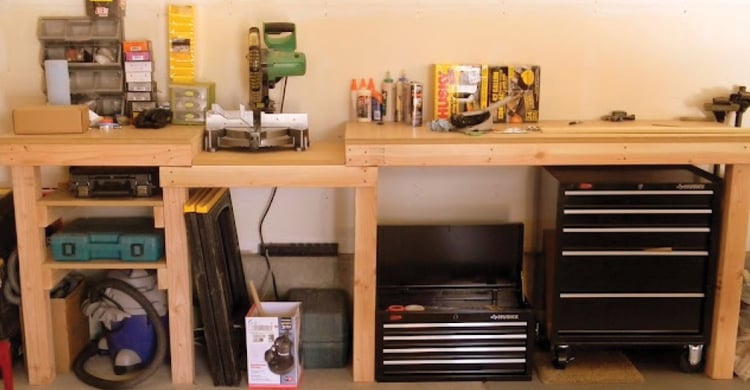 Ways to organize the small stuff
Small things have a way of getting lost and misplaced. Here are a few ways to keep everything organized and easy-to-find.
The VersaCaddy™ Organizer Kit
The VersaCaddy is a complete and versatile storage system specifically designed to utilize the vertical space between 16" on center studs—maximizing the storage space inside sheds and garages. Each component is made of durable materials that can withstand heat, cold, and corrosion.If you're looking for an easy-to-assemble storage solution, this is it!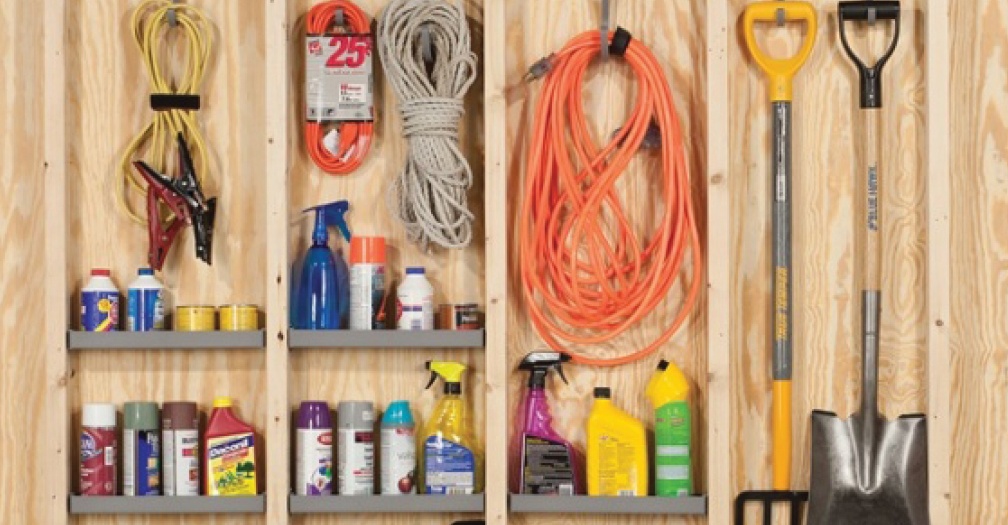 Wall Hooks
Hanging hooks is a simple solution for keeping items easily accessible without creating clutter. There are types of hooks that allow you to hang anything with a handle—brooms, shovels, rakes, etc. There are also longer types that allow you to easily store cables, extensions cords, and hoses without tangling. You can even arrange hooks to allow you to hang ladders horizontally across a wall. Think outside the box and arrange items in a way that works for you.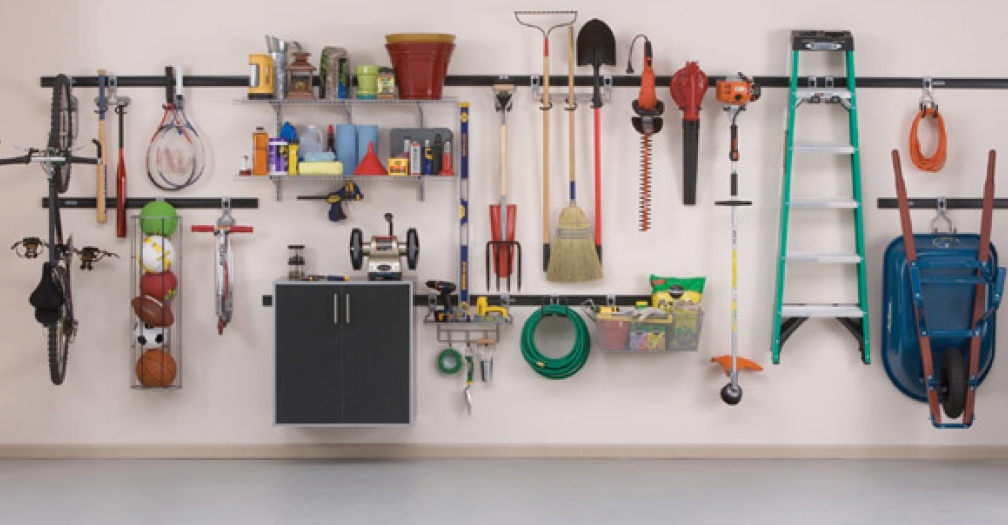 Pegboard Organizer
Setting up a pegboard wall gives you unlimited organization ability—you can hang almost anything: tools, chairs, paint brushes, hand brooms, dust pans, and so much more.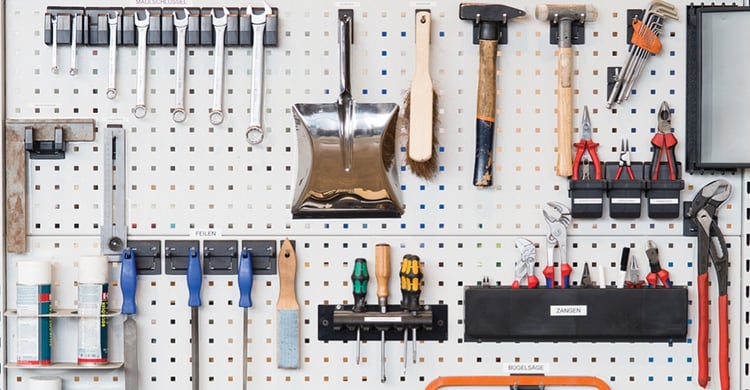 Hacks: Magnetic Strips, Toilet Paper Holders, Small Magnetic Containers & Clutter Baskets


Magnetic strips - Inexpensive knife holders and magnetic wall strips are excellent for keeping lightweight metal tools and objects in sight, organized, and easily accessible. Plus they can make life a lot easier when working on projects. Nails, screws, bolts, drill bits, and other odds and ends always seem to go missing. Put an end to it by installing a magnet strip along a tool bench, incorporating it into your pegboard wall, or adding one to your shelving unit.


Paper towel holder

- This may sound silly, but a paper towel holder can have multiple uses. For instance, it can be great for

storing string, rope, twine, and cords.


Small magnetic containers

- These

magnetic containers with transparent lids are perfect for storing seeds, short nails, and other small items that can be easily lost or misplaced.


Clutter baskets

- Things do not always get put away when they should. We all rush around and throw stuff in the wrong place at the end of a long day. So plan for this and assign a clutter area. It can be a box, basket, or other type of storage bin. The point is that when you do have time to do a quick clean up, you can go through the bin and put things back in their proper place. If something is not where it belongs when you are looking for it, you know to look in the clutter basket.
Garages and sheds have a tendency to get cluttered, so instead of organizing your storage shed for the hundredth time, use the shed organization tips above to plan out a strategy that will help you keep the shed looking nice all the time.
After you've implemented these storage hacks, and you find that they're still not enough, you might need to consider buying a bigger shed or a smaller, secondary shed to provide the extra space you need. To get a feel for available shed options — both bigger and smaller — visit one of our shed display lots near you or browse our shed inventory online. As you explore the idea of buying another shed, be sure to consider these important things to choose the right shed for your needs.
Further reading: