4 Most Popular Backyard Shed Styles
by Dakota Storage Buildings, on May 03, 2022

Need more storage space? There are a variety of backyard shed styles available.
Maybe you can relate to this scenario: you have accumulated a lot of stuff over the years, but you've run out of storage space. And you don't want your friends and family thinking you're a hoarder.
You know you need a backyard shed since you've already thrown out what you don't want, and your storage problem is only going to get worse if you don't take action.
Before you make a purchase, you should know which shed style works best for you. After all, you don't want your shed to look like an eyesore. Visually, it should fit with the rest of your property. With that in mind, let's briefly review four of the most popular backyard shed styles on the market and discuss why they're great for storage.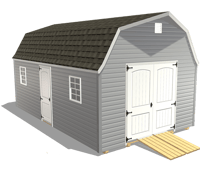 High Barn
As its name suggests, this style has a high, symmetrical roof. A high barn gives you maximum headroom for moving stuff in and out. It also makes it easier to store taller items, like space-consuming holiday decorations.
Even if you don't need to store anything tall, this barn is fantastic for adding extra storage space. Its high roof makes it ideal for putting in a loft.
Low Barn
Despite its name, a low barn style has a surprising amount of headroom. So even if you have tall items, this may still work for you.
This style is perfect if you want your shed to have that rustic-barn look, but you're limited by height restrictions. It also tends to be less expensive than high-barn-style sheds. In fact, it's the least costly of any of the other four styles we'll discuss in this post.
Why a Low/High Barn Style is Great for Storing
The doors of barn-style sheds are often wider and larger than those found in gable styles (we'll discuss these later). While you'll still likely be able to fit most of your equipment in a gable-style shed, bulkier furniture items will be easier to store in a barn-style shed.
A barn-style shed can double as both a storage shed and a man cave/she shed. If your style is more rustic, this may be a better look for you when you want to kick back with your friends. A barn-style shed is also nice if you have a hobby (such as woodworking) that typically requires more storage space.
Quaker Gable
This style has an asymmetrical roofline, meaning you'll have to be strategic about which side of the shed you store taller items. This is a classic look that can really add some beauty to your backyard. It also provides plenty of headroom for when you're moving stuff in or out of the shed.
Its unique look often makes it more expensive than choosing a ranch-gable-style shed, which has a symmetrical roof. That said, if you love how this style fits with the rest of your property, it may be worth the extra cost.
Ranch Gable
This style looks good with just about any house style. That's probably why it's one of the most common backyard shed styles. And if you prefer your shed roof to be symmetrical, this is the gable style for you!
The ranch-gable style is an all-purpose style shed, which works great for storing normal-sized items. So, if you need a place to store extra books, folding chairs or your old John Denver records, consider going with this style.
Why a Gable-Style Shed is Great for Storage
A gable-style shed works well if you're not storing a lot of stretch-to-the-ceiling items. This means that if you need more room to store your board games or painting supplies, a gable-style shed will work splendidly.
Like barn-style sheds, a gable-style shed can serve as both a storage shed and a man cave/she shed. So, if you aren't a fan of the barn look, this might be your best bet. Its size is perfect for most hobbyists to tinker inside.
A Note on Weather and Sheds
It's no secret that weather in the North can get nasty. Fortunately, a gable-style shed's pitched roof keeps it safe during heavy snowstorms, maintaining the shed's durability throughout the winter.
While gable-style sheds are typically seen as the best style to handle snow, that's not the case with our sheds. Each shed at Dakota Storage Buildings has weatherproof roofing. So, no matter what style of shed you buy from us, you can be sure it will hold up.
Pick Your Style
Now that you have an idea of what each style can do for you, it's time to choose. Before you think about building it yourself, you should know your limitations. We don't recommend building your own shed if you don't have the following:
The proper tools
Time
Building skills or experience
At Dakota Storage Buildings, we have the tools, time, and experience. Plus, we sell all four of the most popular shed styles. And each style is built with personalization in mind. This makes it great for installing shelves, racks, and hooks, depending on your storage needs.
Conclusion
You need a backyard shed that's going to alleviate your storage problems while maintaining a good look for your property. We have a tool that can help you with that.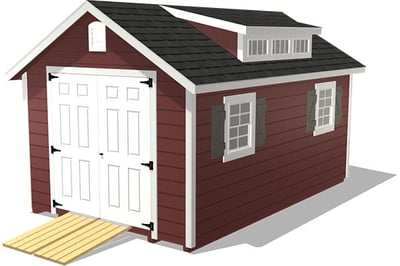 Our Backyard Shed lets you customize the style, size, and color of your shed. In addition, this configurator tool lets you determine the position of the doors and windows on your shed. Once you finish customizing it, we'll build it and deliver your shed right where you want it in your yard.