6 Benefits of a Detached Workshop Garage
by Dakota Storage Buildings, on April 26, 2022

Adding a custom garage or workshop garage to your property is the perfect space for projects or hobbies — and offers multiple advantages for homeowners.
Projects and hobbies can undoubtedly add enjoyment to our lives. For many people, these extracurricular pursuits are a bright spot to look forward to after a long day (or week) at the office. What makes hobbies even more enjoyable is having a dedicated space to work in, such as a custom garage or workshop.
Whether you need space for home improvement and maintenance projects such as building and repair work or specialty hobbies like motorcycle work, classic car maintenance, woodworking, gardening, or creative endeavors — a detached workshop garage with studio space provides multiple benefits.
You can easily customize a workshop to fit your specific hobby needs. But before we get to that, let's look at the 6 benefits of a detached workshop garage.
1. Custom Garages Offer Better Organization
Who hasn't endured the frustration of searching all over the house for the screwdriver or tape your spouse used and forgot to put back in its place? Instead, imagine having all of the tools you need, perfectly organized — all in one place. And away from the house where it's not quite as tempting for kids to get into your quality toolset or worse, potentially dangerous items like saws and drills.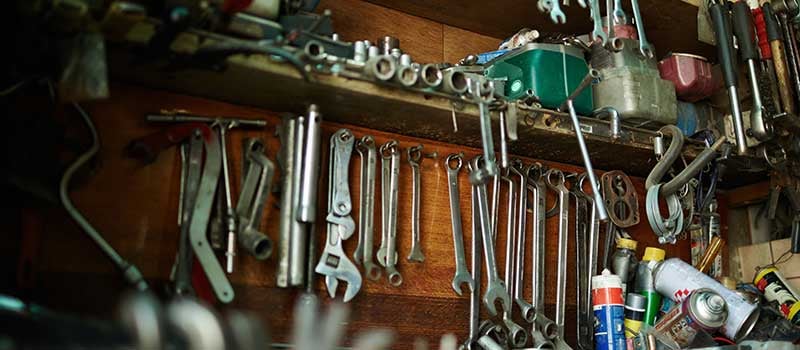 Here are a few more ideas of items that may stay better organized (and kept safe) in a custom workshop:
Toolkits and power tools
Nuts, bolts, screws, wires, nails, and connectors
Paint and paintbrushes
Outdoor and gardening equipment
Woodworking tools, wood, and wood scraps
Spare car parts or small engine repair needs
Guitars, drums, and musical equipment
Puzzles and model-building kits
Art and craft supplies
The possibilities are nearly endless!
2. A Detached Workshop Creates A Special Getaway
Surviving a global pandemic has given families increased together time, with more people working from home or needing to quarantine. And while more time at home may be a good thing for some people, it has also created a need for sanctuary. It's understandable to want a quiet space all to yourself.
A detached garage offers this, plus the convenience of being right on your property (no need to drive anywhere to get away for a bit). Whether or not you have children or chaos in your house, this space can feel like a home away from home — an oasis, set up just the way you want it. Working on a special project may be exactly what you need. Research has shown that hobbies are important for stress relief and add enjoyment to your life.
3. A Custom Garage Can Be Great for Social Gatherings
Socialize with the neighbors. Play cards with friends. Having a detached garage makes gathering a breeze. (Literally. Imagine opening the door or windows on a nice evening and taking in the fresh air!) It's also much more convenient to have people over without disturbing the rest of your family or having to worry about cleaning the entire house.
Even if larger gatherings aren't your thing, you might invite a friend or two to join you in your hobby or work on your project together. Keep a TV in your workshop to watch the game, if you like. Adulting doesn't mean you don't get to have fun with your friends anymore. (Garage band anyone?)
4. Garage Workshops Mean Less Clean Up
Even with a masterfully organized garage space, one of the best features of a dedicated hobby workshop is that you don't have to clean up every time you take a break from working on your project. (No need to set everything aside on the kitchen table at dinnertime, nor move your unfinished project off the coffee table, safely out of the way of pets or kids.)
When you return to your custom garage to indulge in your hobby, everything will be just as you left it. As a bonus, avoiding the need to set up and clean up each time means more time to work on your project. Having a dedicated, out-of-the-way space for your hobby also cuts down the clutter in your living spaces and can help keep your house more presentable for drop-in guests (a different angle on benefit #3).
5. Avoid the Downside of Attached Garages
Attached garages are convenient for carrying groceries in when it rains, but for hobbies? Not so much. For one thing, attached garages usually have most of the available space taken up by cars. With a detached workshop, you'll have plenty of space to work on projects, without needing to back your vehicles out first.
Another advantage of a detached custom garage is that you don't have to worry about the noise you're making, potentially disturbing a sleeping child (or anyone else in the house) whose room might be adjacent or above the attached garage. And speaking of consideration for your family: detached garages offer the benefit of being safer in the case of break-ins and fire hazards and healthier due to reduced exposure to carbon monoxide, chemicals, and other harmful fumes.
6. Who Couldn't Use More Space?
We saved the most obvious, but arguably the best, reason for last: Space. No matter what project or hobby you're into, most homeowners agree they could use more storage space. Adding a custom workshop to your property offers all of the benefits we listed above, plus — you can add a loft and built-in shelves to maximize your space in a convenient, easy-to-access, dry place (much better than climbing up to a hot attic or risking storage damage in a musty basement).
And since many homeowners love the bonus of an attractive custom garage with extra multi-purpose space, adding a workshop on your property can improve curb appeal and resale value.
Let The Fun Begin
Once you've decided that building a detached garage workshop is the right step for you, the next step is to start dreaming and customizing for your specific hobby needs.