6 Tips for Rescue Dog Adoption
by Dakota Storage Buildings, on September 16, 2019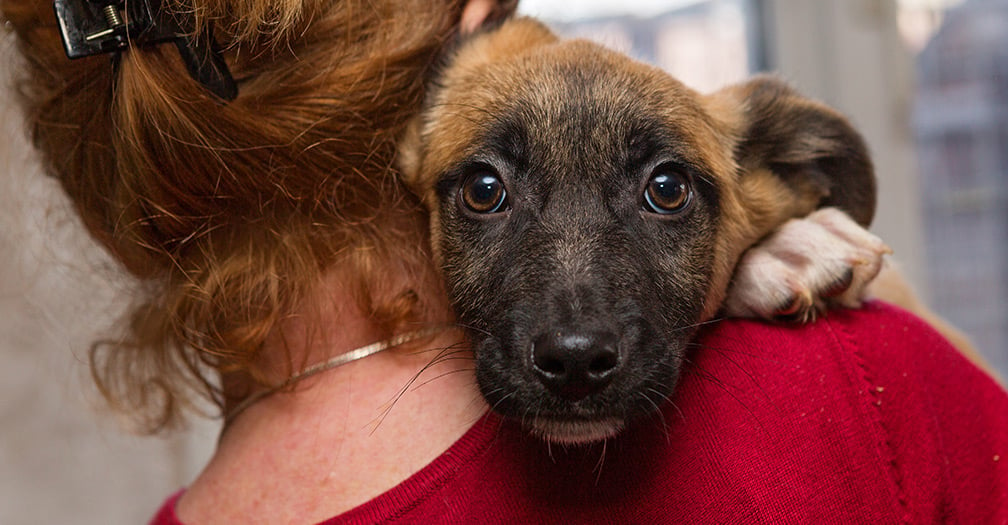 If you're considering adopting a rescue dog, keep the dog's situation in mind and implement these six rescue dog adoption tips.
There's a lot of great information online that any new or soon-to-be dog owner can access quickly and easily. However, in this article, we'll cover five specific tips that will help you transition a shelter dog into a family dog.
Tip 1: Don't expect too much too quickly.
Most rescue dogs are anxious and suffering from abandonment. The dog you adopt may have been left by someone he loved, lost and unable to find his way home, or abused. These situations combined with time spent in a shelter or adoption center, have likely created emotional trauma. It will take him a while to feel safe and secure. It's likely that the behavior you see at the animal shelter — cowering, anxious barking, aloofness — was developed over time, but rest assured that these behavior issues can be altered in the right home with the right owners.
Bear in mind, since you don't know what your dog experienced in his past, things or words that you think should be familiar or safe may not be that way for him. For instance, he could have come from a home where objects like leashes, hands, rolled up newspapers, chairs, feet, or sticks were used to inflict pain or punishment. Words like "come here" and "lie down" can result in reactions or actions other than what you expect. Shelter dogs are often a product of a never-ending series of scrambled communications and unrealistic expectations that will require understanding and patience on your part.
If your dog is shy initially, it may be how he acclimates or behaves until he knows he's safe. It could be his natural disposition, but don't assume that. Shelter dogs tend to want to hide when they first get in a new environment. Let shy animals get used to your home on their own terms. This means not following them around as they explore.
Keep mind that animals can revert to old behavior when scared. Even if they were housebroken in the shelter, they might have accidents in your home until they're adjusted.
As your new pet adjusts to his new surroundings and his stress levels fluctuate, keep in mind that it will pass. MyMove.com has a helpful guide full of tips for moving and caring for pets experiencing anxiety throughout the process.
Tip 2: Create a routine that's healthy and beneficial for your dog.
A great way to help your adopted dog get comfortable in his new home is to create a routine.
To establish the best routine, when you pick up your dog from the shelter, be sure to ask what he's fed and at what times he eats. Replicate that schedule for at least the first few days to avoid gastric distress. If you wish to switch to a different brand, do so over time and with a prescribed regimen in place.
Same with walks. If possible, take him for a walk around the same time each day and through the same route. Knowing what to expect will help lessen your rescue dog's anxiety.
Determine where your dog will be spending most of his time during the day if unattended. Because he will be under a lot of stress with the change of environment and may forget any house training, a kitchen or bathroom works best because the floor is designed for easy clean-up. To make sure the dog is safe while you're away, tape loose electrical cords to baseboards, remove household chemicals, move plants to higher shelving, relocate paper products, set up a crate that's the right size and easily accessible, and install baby gates.
It will take time for your dog to learn to trust you and to understand the rules of the house. If he whines when left alone or barks incessantly to get attention, don't give in to his bad behavior. This may seem harsh, but early on, it's necessary to establish good behavior and expectations. Instead, focus on his good behavior. When he's behaving well, affirm his actions by giving him a treat, a chew toy, or an extra-long belly rub.
Just when it seems as if your dog is starting to become acclimated, you may see a temporary backslide. While some dogs adapt fairly quickly to a new home, others may take many months before they start to feel like a member of the family. Creating and sticking to routines is key in helping your dog transition and adapt.
Tip 3: Enroll in a training class.
Once your dog has had some time to settle in, sign up for a training class that uses humane techniques. Taking your dog to class once a week will teach him how to respond appropriately to commands and directives. Training should be fun for you and your dog. It's a great way to socialize your pup, speed up the bonding process between the two of you, and help you communicate with him effectively.
Apply what you and your dog learn in class to home by creating a list of words and commands that your pup understands. This will prevent confusion for everyone.
Tip 4: Keep asking questions.
Owning a dog comes with a lot of responsibilities, but it doesn't mean you can't get help or ask questions when you're not sure what to do.
Many animal shelters encourage families to call when they need help. During the first few weeks, the staff's experience with your dog may come in handy. They may know more than you about your dog simply because he's been with them longer. Plus, their ongoing experience with various breeds gives them additional insight into animal behavior, commonalities, and unusual actions. So, don't hesitate to call the shelter. Chances are good that the staff can guide you and give you valuable advice.
Tip 5: Keep good records.
Your adopted rescue dog has likely been neutered, has an ID chip or dog tag, and some medical records even though they may be sparse. Be sure to update his ID information immediately and find a trustworthy vet who can add to his health records, recommended yearly vaccinations, and offer ongoing health support.
Tip 6: Accept if it's not a good fit.
What do you do after a few months if it becomes obvious that your adopted dog isn't a good fit for your family?
Before you do anything, ask yourself if you've done all you could to make it work. Did you take the dog to the vet to check for medical problems that could be influencing his behavior? Did you take your job of training and socializing the dog seriously? If you can honestly answer "Yes" to these questions, you can start thinking about other options.
What to Do If Your Newly Adopted Dog Isn't a Good Fit by PetGuide.com offers helpful and clear next steps if you find yourself in this situation.

Housing for Outdoor Rescue Dogs
If your dog will not be living inside your house with you — and that's ok — it's important to find the best outdoor doghouse options.
We recommend outdoor dog kennels with an insulated room, fenced-in outdoor space, and enough room for movement — being cooped up is no fun for anyone. Dogs require fresh air and room to stretch.
Having a sufficient kennel is important, but it's equally crucial to have one that's easy to maintain. No one wants a maintenance headache. Look for kennels that are made with high-quality, easy-to-clean materials that are chew and stain-resistant. Our outdoor dog kennels include an insulated room, run with poly decking for easy clean-up, and insulated fiberglass door.
Your dog needs your love and a safe home, so make sure your dog's kennel is the right size and has all the proper features. If you're interested in an outdoor dog kennel, download our Guide to Evaluating the Best-fit Dog Kennel for Your Dog. In this guide you will walk through the most critical factors to consider as you search for the right dog house.
If you need assistance choosing a kennel that's best for your dog, or if you're ready to purchase, call our helpful sales team at 888.832.6889 or send an email to sales@dakotastorage.com.
It's never too early to start shopping for the right home for your adopted rescue dog!
To learn about dog adoption, adopted dog behavior, dogs and homeowners insurance, pet safety, and more read Guide for New Pet Owners.