A Backyard Storage Shed Can Solve These 4 Problems
by Dakota Storage Buildings, on October 21, 2020

If you're looking for ways to solve a space challenge or storage problem, start here.
If your attic's full, every closet is bursting, you've got so many books you thought about opening your own library, or you have so much stuff in your current shed that you dread going in for the Christmas decorations every year… you have a dilemma for sure.
"Ok," you think to yourself, "relocating all that stuff would be great. But where would I put it all?"
Or maybe you want workshop space, a place to spread out and work on a project or dive knee-deep into a hobby that requires a dedicated area.
"Well, I can set up shop on the back porch," you think. "But, what happens when it gets too cold or the weather is unfavorable?"
A backyard shed just might be the ticket. Let's look at these solutions that a shed can provide for your too-much-stuff and need-for-space situation.
1. Studio
If you're a musician looking for a place to store and display your instruments plus play and record, a studio is what you need. No room in the house? Too loud in the basement? No problem. To avoid picking up background TV noise or dinner conversations in your recordings, try using a backyard shed as studio and recording space. Set it far away from the house, install drywall and insulation, run electricity, and soundproof. When you order your shed from Dakota Storage Buildings, you can add on LP ProStruct Roof Sheathing, which reflects sunlight better than a traditional roof, helping to keep your studio temperature controlled.
2. Office Space
That home office in the spare bedroom seemed like a great idea at first. But the distractions just don't seem to end. There are pets, kids, grandkids, the TV from the other room, and a fridge full of food just around the corner (mid-morning snacks boost brain power, right?). If this is the case for you, it might be time to move that desk out of the house — you'd be able to focus a lot better. Drywalling, running electricity, and installing cable/internet can make a shed the perfect office space: quiet and all yours. And speaking of space, if you think you don't have much room in your backyard to fit a shed, you can select sizes as small as 10'x12', which is more than enough room for your desk and computer.

3. Man Cave/She Shed
Do you need a place to work on projects, but there's no room in the basement or extra space in the house? Hobbies, projects, relaxation, and unwinding is easy when you have the space for it. With drywall and a power source, you can make a backyard shed into a man cave or she shed. And the best part is you can keep the outside looking like an unassuming shed. No one has to know it's the best spot in town for football watch parties or where prime scrapbooking happens with a select group of friends. Men, when you go with a shed from Dakota Storage Buildings, you can even select a shed that's intended to be a man cave.

4. Storage
This one was saved for last because maybe you just need a shed to be a shed. With a shed, you don't have to worry about tracking in dirt when you put away the shovel used to dig up your rutabagas. It's a space that can keep all the gas cans for the mower (and the mower itself). It can hold all the splintery wood you swear you'll make into a deck one day. It's where plastic storage bins filled with trinkets and holiday decor can live. Storage sheds are perfect for storing containers, sports equipment, lawn & garden tools, and functioning as work/hobby space. Add several windows, a transom window, or skylights for natural lighting or run power for electric lights. And there you go — storage and space problems solved.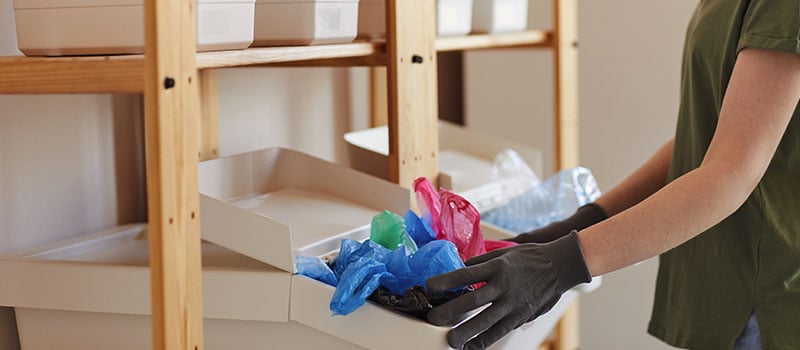 Practical Solutions for Space Problems
We all can feel like our houses or current storage spaces are so full of stuff and so cramped that we don't even have room to go up a pant size. Thankfully, there's a solution — the backyard storage shed.
Dakota Storage Buildings can give you that extra room you need. Browse our entire collection of Specialty Sheds, including our cabin shed and modern backyard shed, to find the one that meets your needs. The best part is, you can use our online tool to personalize any building in our Shed Collection. If you'd prefer to talk to a real live person, you can call us or start chatting with us online through our chat feature. Either way, we're happy to help you make the right decision for your needs and budget.