A Shed Organizer: A Perfect Pairing to Our Storage Sheds
by Dakota Storage Buildings, on July 12, 2023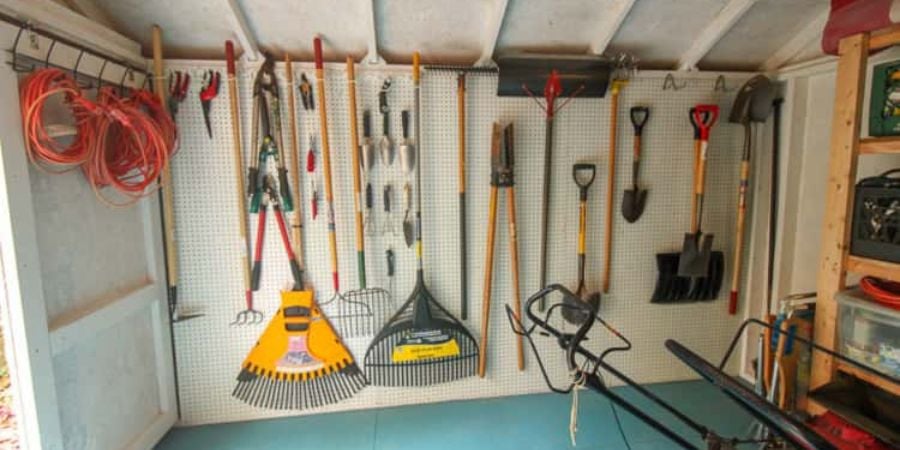 Who doesn't appreciate an organized, clutter-free space? Maintaining order in our storage areas is often easier said than done. Still, there is a simple way to revolutionize how you manage your storage space, adding simplicity and efficiency to your daily routines. A shed organizer can transform your storage shed into a tidy and efficient space. There are various benefits of integrating a storage organizer into your custom shed — from maximizing your reach to enhancing the overall functionality of your shed. If you've ever felt overwhelmed by a cluttered shed or struggled to find a much-needed tool buried under a pile of miscellaneous items, let's see how a simple storage solution can bring a world of difference to your everyday storage practices.
A Tidy Space Enhances Your Life
The difference an organized shed can make is substantial. If your custom shed is a disarray of tools, equipment, and other belongings, locating a device or item can be an ordeal. Plus, tools or equipment lying around can become potential hazards, causing you to trip and fall. Meanwhile, an organized, tidy shed makes locating what you are looking for extremely easy. A tidy space, including your shed, can make a world of difference to your daily routine and be a safer place for you and your family.
A messy space is stressful. Searching for items in a disordered space can become frustrating and time-consuming. However, an orderly space helps you find an item easily instead of wasting energy on hunting for the item. The less time you spend looking for things means you can focus your time and energy on other tasks.
A well-organized space can hold more items than a cluttered one and is visually appealing. When items are haphazardly placed, they take up more space. However, with the right organization strategy, you can maximize every inch of your shed, enabling it to hold more than you thought possible.
Storage Organizers
A clutter-free storage shed can be your reality with a specific feature: storage organizers. But what are these handy tools that help you obtain an order? Storage organizers are specially designed devices that provide a systemized way to store, manage, and retrieve items in your shed. They come in various forms, including shelves, racks, bins, pegboards, tool holders, and cabinets, all with one goal — to streamline how you store items and utilize space efficiently.
Unlike a bare shelf or a corner of your custom shed where items are kept haphazardly, storage organizers provide a structured layout for your belongings. They offer individual compartments, hooks, or sections for different items. They provide an easy way to ensure every tool or equipment has a specific place. This eliminates the chaos and makes it easier to find what you need when you need it.
There are many different options that you can find for storage space organizers. Currently our storage options are workbench and shelving that you can add to your custom shed. Many home improvement stores offer shed organizers in store that you can pair with our custom sheds to maintain perfect organization!
Revolutionize Your Space With Storage Organizers
Storage organizers offer numerous benefits beyond the obvious advantage of having a tidy space. Let's dive into how these organization tools can revolutionize your storage space.
Space Maximization
A well-organized shed is more than just pleasing to the eye; it maximizes the available space. Storage organizers can utilize the vertical space in your shed that would otherwise go unused. Features such as shelving and work benches help free up valuable floor space, allowing for more room to move around and space for larger items.
Improved Efficiency and Productivity
When everything has a place, and everything is in its place, you do not waste valuable time searching for tools or equipment. By organizing your items in a shed organizer, you streamline the hunt for the item and boost productivity.
Increased Longevity of Tools
Properly stored tools last longer. When tools are left on the ground, they're exposed to moisture, leading to rust and damage. Organizers keep your tools off the ground and in a designated spot, extending their life and effectiveness.
Enhanced Safety
A cluttered shed can be a safety hazard. Items left lying around can cause harmful accidents. Using storage organizers to keep your stuff neatly stowed away makes you less likely to have accidents caused by misplaced tools or equipment.
Versatility and Adaptability
One of the great things about storage organizers is their versatility. They come in various shapes, sizes, and designs; many are adjustable. As your storage needs change over time, your storage solution can adapt.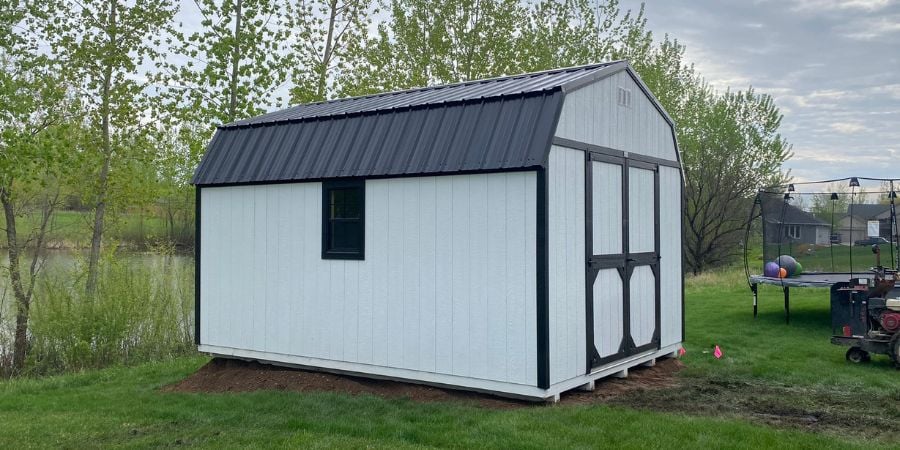 Adding a Storage Organizer to Your Shed
Adding a storage organizer during the initial setup of your shed is one of the best decisions you can make. However, if you own a shed, there is still time to add one. Shed organizers allow you to design the internal layout of your custom shed around your storage needs from the get-go. Once you know what items you will be storing, you can choose the storage organizer that best accommodates those items. Based on your storage needs and the space within your shed, you can work on planning out your organization system. Items like pegboards, shelves, and hooks can be a great addition to the storage organizer. Finding creative ways to meet your unique needs is one of the most fun aspects of organizing your shed.
Your shed is also an extension of your home. Keeping it organized and tidy will help you know where everything is and eliminate the stress that comes with clutter. Adding a storage organizer to your new shed can revolutionize storing items, leading to an efficient, safe, and pleasant environment.
Configure the Shed You Want
Configuring a shed to suit your specific storage needs requires careful planning and consideration. Whether you plan to use the custom shed to store gardening tools, work tools, seasonal decorations, sports equipment, or a combination of these, you will want to create a space to help you store your items efficiently and conveniently. When you customize your shed, you must understand your storage needs, choose the right size shed, design an efficient layout, and personalize the space to your liking. Create a custom shed online with our 3D shed configurator feature makes it easy to do everything and build a structure to help declutter your life. Configure your perfect shed today!