Affordable Sheds Plus Storage Shed Financing
by Dakota Storage Buildings, on August 06, 2019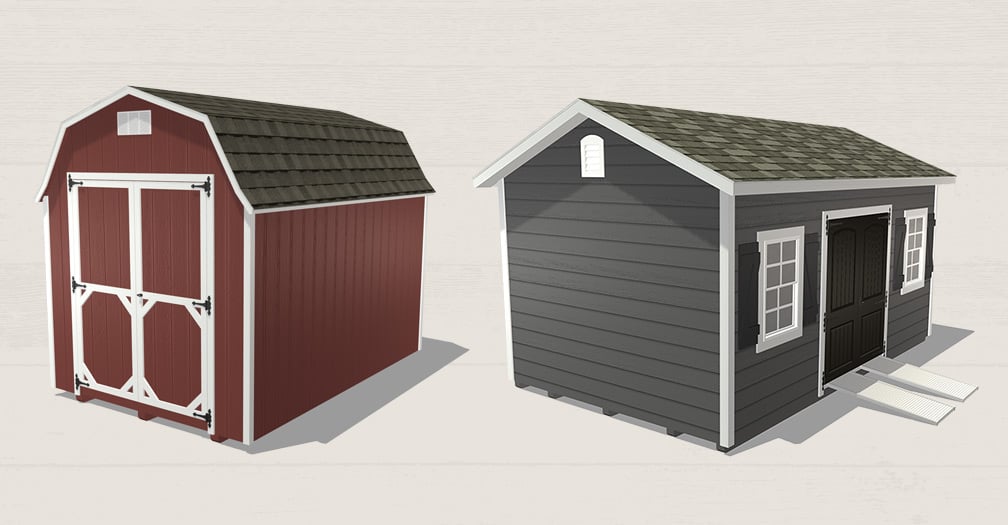 This post was updated in January 2020.
Affordable sheds and storage shed financing — finally, something for every budget!
We want everyone to have the opportunity to organize their lives and protect their possessions. That's why we look for ways to keep our sheds and garages affordable for a range of budgets.
Keeping Our Storage Buildings Affordable
For those who have a tight shed budget, watch cash flow carefully, or prefer paying a monthly payment instead of one lump sum, we offer:
Basic, semi-customizable utility sheds
Prebuilt stock sheds and clearance sheds
Factory-direct pricing (forget the middle man!)
Payment options including 0% financing
Clearance Buildings
If you're looking for a sturdy and dependable storage building for an "as is" discount, look no further. Browse our list — and if one catches your eye — order and save up to 10%. Find specs for each clearance shed on this page, then visit the corresponding display lot listed for each. Display lot buildings are open for you to explore 24/7.
Basic Backyard Shed
If you want a good shed—one that's dependable and on the lower end of the price spectrum—you don't have to compromise on quality as much as you think. Sure, a good shed is made with sturdy materials, but it doesn't need the highest quality to do its job. Our Basic Backyard Shed is perfect for the budget-conscious storage seekers.
Factory Direct Pricing
We love being able to offer competitive pricing to our customers, that's why we sell our garages and sheds directly to you without the added costs associated with middlemen. If we sold our products to retailers or distributors, they would mark up costs to increase their profit margin which would, in turn, increase your cost.
Payment Options
When you purchase a shed or garage through us, you can choose the payment option that works for you. You can buy outright, rent to own, or finance.
Buy Outright: To own your building immediately and not increase your debt, this is the way to go. There are many advantages to buying a Dakota Storage Building outright. The freedom to own and modify your building in whatever manner you choose is just one.
Rent to Own: Rent to Own offers an affordable monthly payment plan. If you want to buy your building during the rental period, simply pay the remaining balance. (Note: Rent to Own is not available in Minnesota—but it is in South Dakota.)
Finance: If you're not able to buy a storage building outright, no problem! Financing allows you to start enjoying your new storage building immediately without large upfront fees. If your credit is approved, you can take advantage of several financing opportunities and low monthly payment plans.
Finance A Storage Building Instead of Buying A Cheap Shed
When making an investment in an outdoor storage building, it's best to select one that's both in your budget and worth the money you're spending. Choosing a good shed that will last for years is better than choosing a cheap shed that will either fail at protecting your items or begin falling apart in a couple of years.
Financing a storage building allows you to get what you need immediately, overcome immediate budget limitations, and set up affordable fixed monthly payments. And in some cases, like with us, you can apply for a 0% financing loan which means you won't be paying any interest on top of the shed's cost.
Finance Your Dakota Storage Building
If you're not able to buy a storage building outright, no problem! In addition to our no-middle-man, factory-direct prices, we also offer financing.
Enjoy 0% interest for 12 months or financing opportunities for up to 120 months. Through Foundation Finance Company's (FFC) easy-to-understand loan installment structure and flexible terms, anyone can afford a Dakota Storage building.
Benefits of financing include:
Steps of the finance approval process:
Apply for credit.

Go to

FFC's website

to fill out a loan application form. Make sure to fill out all the requested information and disclose all income accurately.


Review and agree to loan terms.

After your form is received, a representative from Dakota Storage Buildings will contact you to review the terms of your loan.


Choose a monthly payment method.

Once your building has been delivered or completed and you've signed a work completion form, a representative from Dakota Storage Buildings will call you to arrange your first payment date. After that, you'll receive a monthly bill that you can pay online, by phone, or through the mail.

With your FFC loan, you can expect:
✓ NO APPLICATION FEE
✓ LOW MONTHLY PAYMENTS
✓ FAIR TERMS
✓ EASY PROCESS
Did you know, you can also finance our chicken coops and outdoor dog kennels, too? Sure can!
To learn more about our financing opportunities for sheds, garages, coops, and kennels or if you have any questions, please email us at sales@dakotastorage.com or call us at 888.832.6889.