Create a Beautiful Backyard with Cheap & Easy DIY Decor Ideas
by Dakota Storage Buildings, on August 23, 2017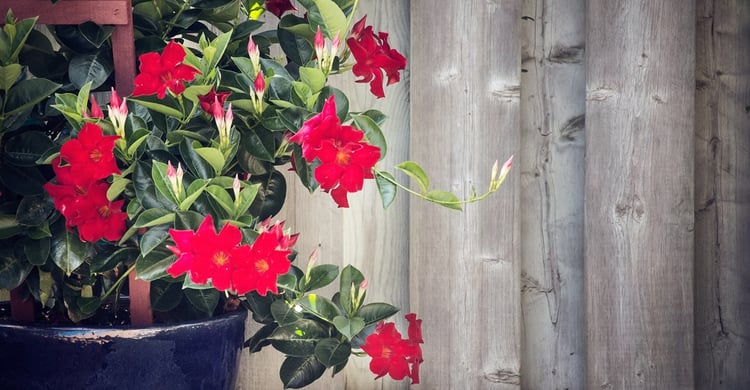 Discover cheap and easy
DIY backyard decor ideas.

Giving your backyard a mini makeover can be easy—and it doesn't have to cost much money. Browse the ideas in this post, make a list of your favorites, then map out your execution plan.

Many of these backyard decor ideas are DIY, and most can be made using things you already have around the house. If you backyard decor budget is tight, don't worry. These ideas are easy and affordable.
First backyard decor idea—add more color.
Backyards can feel drab and boring. Sometimes all they need is a simple touch to make them look beautiful. You can start to breathe life into your yard by looking for ways to add color.
Flowers are an easy way to add color to any backyard. Perennials are hardy plants that come in a variety of bold hues. Better Homes & Gardens suggests these 26 perennial varieties perfect for any backyard, and HGTV offers 17 annual flowers for year-round color including tips on when to plant them.
Once you've chosen your flowers, think about where you will place them. Do you need a pop of color near your door, in the middle of the yard, around some trees? Once you have an idea, consider planting your flowers directly in your yard, in non-traditional planters like old milk cans, chicken feeders, and galvanized mop buckets, colanders, and anything else you can think up, or in brightly colored pots. If you choose to pot your plants, think about integrating various sizes to add more interest and detail to your backyard.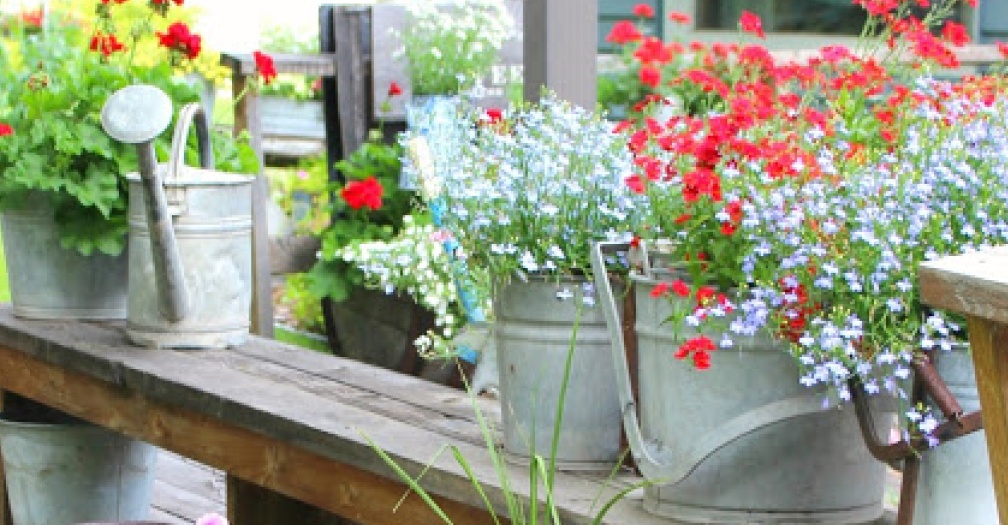 This idea and photo were found at organizedclutter.net.
Second backyard decor idea—create an ambiance.
String lights are an easy, affordable way to turn your porch into an enchanting oasis. Let them drape from the ceiling or a railing, or hang them from a wall.
There are differences, however, between commercial-grade and standard outdoor string lights. Both boast a large variety of uses, bulb shapes and colors, and strand lengths; however, generally speaking, commercial-grade string lights are more expensive than standard ones because they have a heavy duty wire and are weatherproof.
If you don't want to purchase string lights, try using white Christmas lights. If you don't mind digging out your Christmas decorations, this option will save you some money. Wrap your white lights tightly around the trunks of your backyard trees or drape them on the branches.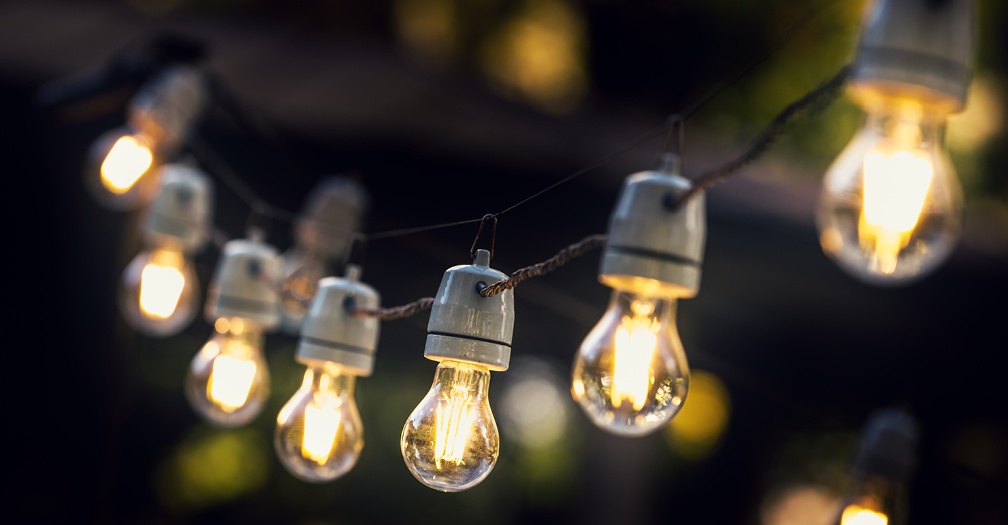 Third backyard decor idea—update your furniture.
Make over the furniture you have by adding a fresh coat of bright paint. DIY furniture makeovers are cheap, but they take some effort.
If you need more backyard furniture, think about creative ways to repurpose cinder blocks or wood pallets. For instance, you can make a colorful DIY bench with cinder blocks, lumber, and concrete adhesive, or you can transform wood pallets into a sofa. In either case, add colorful cushions for comfy and stylish outdoor seating.
Another option is to find cheap patio or backyard furniture on Craigslist. A fresh coat of spray paint and a plain wood picnic table can go a long way in brightening up your yard.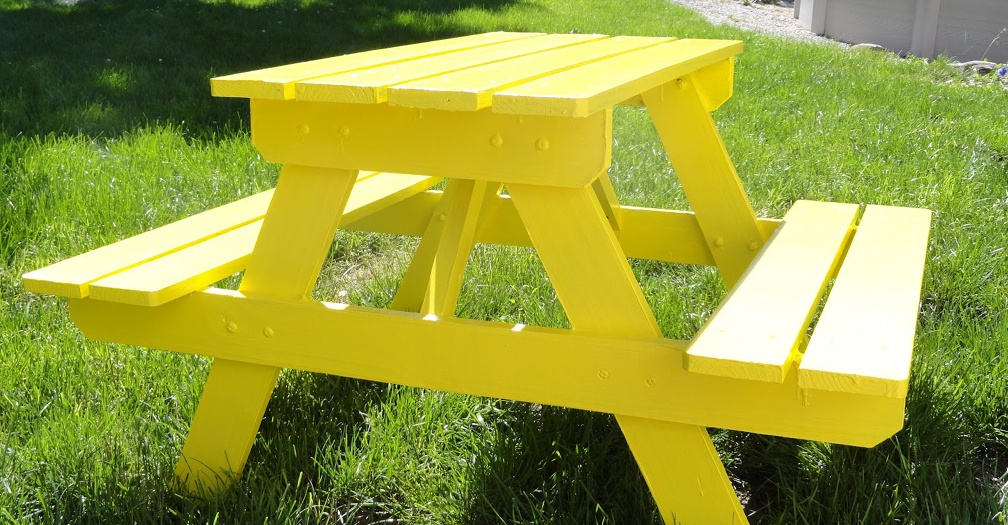 This painted picnic table was refinished by Kaitlin Flately. Her blog shows how to do this DIY project.
Last backyard decor idea—consider buying a backyard shed.
While a backyard shed may not be considered decor exactly, it can certainly add an interesting element to the scene. Sheds can be both functional and beautiful.
Buying a shed certainly takes more money than what's required for the above backyard decor ideas, but if you need one for your backyard, consider how it will look.
Other than its aesthetic appeal, knowing a little more about each style will help you decide which backyard shed is right for you.
Our ranch style storage building is beautiful and practical. With its 5/12 pitch roofline, this building blends into any residential neighborhood. The high walls provide ample wall space to hang tools, mount shelves, or store supplies.
Our porch sheds offer easy storage and added convenience. This option is perfect for shade, protection from the elements, drying off, or stashing dirty boots. Use the porch to store easily accessible and weather-resistant items like a plastic shoe caddy, trash cans, umbrellas, brooms, shovels, and plants, herbs, and more.
Our garage buildings are versatile and durable. They offer the highest caliber of functionality and accessibility. Our garages come equipped with advanced-grade flooring, high-end roofing, and Clopay Premium Series garage doors.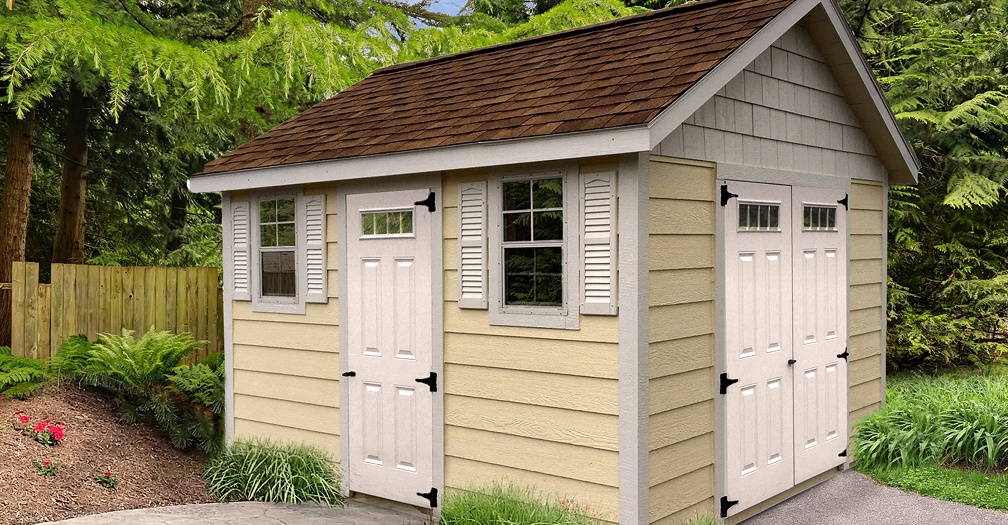 This is a Backyard Garden Shed with LP lap siding.
--

More on this topic: