Create A Home Gym In Your Backyard
by Dakota Storage Buildings, on July 06, 2016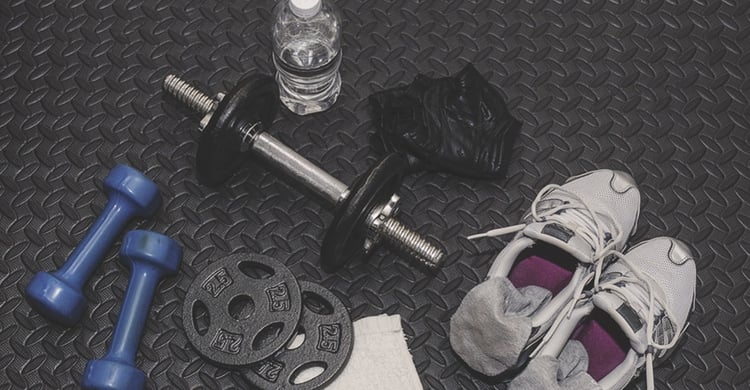 Transform a shed into a convenient at-home gym, complete with your preferred exercise equipment.
Who doesn't want to be healthy? It may take hard work and determination, but we all know it's for the best. Along with a proper diet, exercise is crucial.
Shantelle Meaney, a professional kinesiologist and fitness expert who was interviewed in the article, Get Buff Not Broke: How To Build A Budget-Friendly Home Gym, says some people just need to get out of the house, or they simply can't motivate themselves to exercise regularly.
Maybe you've experienced that dilemma, so you've tried group classes, running outdoors, or investing in a gym membership. If your attempts have been unsuccessful, perhaps it's time to consider creating a home gym. A dedicated fitness space doesn't have to cost much money, plus it has the added value of being convenient and accessible. The best part is that it could be located in your own backyard (we'll explain more about that later).
Below are some ideas and suggestions for starting a small, reasonable home gym. And if it proves to be beneficial to you, go ahead and buy that expensive workout equipment if you'd like.
Room
It's hard to workout when you're distracted by work, household responsibilities, and children. Ideally, you'd have a dedicated room with a door that you can close so your workout is private and uninterrupted. While a corner in your basement could serve this purpose, it would be even better to have a dedicated space outside of your house yet close-by.
If you have a storage shed or building that you're not using or one that could be easily repurposed, consider using that space as your workout room. If you don't already own one, consider our Ranch style building. It offers sufficient space, privacy, and easily blends into any residential neighborhood. It may be a significant investment, but because of its versatility and durability, you can choose to use it in many ways throughout its long lifespan.
Equipment
Start with inexpensive but adaptable workout essentials such as three sets of dumbbells (ex. 5, 10 and 15 pounds or a quality adjustable set), stability ball, and resistance bands for strength training. Make space for an exercise mat optimal for sit ups, push ups, yoga, and pilates. For cardio, consider jumping jacks, jumping rope, aerobic steppers, hula-hooping, etc. To take your workout to the next level, set up a stereo system for energizing music or a TV for watching exercise DVDs.
Flooring
Proper flooring is cheap and worthwhile. It protects the floor and your equipment from wear and tear. Consider something like interlocking high-density foam mat squares. This particular kind is sold in packs of 6, covering 24 square feet.
Insulation
If you plan to use your home gym all year round, consider ways to warm and cool the area. If you buy a building from us, you can choose to have insulation added to the roof and walls. Our spray foam insulation is 2-3 inches thick and creates a watertight membrane of protection against the heat and cold. Why suffer when you can exercise in comfort regardless of the season?
Get Started
If you're ready to create your an at-home gym in your backyard, you now some great ideas to work with—you just need to get started. If you don't already own a shed or you'd like one specifically for a home gym, consider buying one from us. While we recommend our Ranch style building, feel free to browse all of our backyard building options or click the button below to choose a building style. Once you've made a selection, make it uniquely yours by choosing custom colors, features, and add-ons.
Check out our At Home Gym Pinterest board for creative and cost-effective ideas!
Note: Discover how small structures are regulated by the Minnesota State Building Code. The Minnesota State Building Code is the standard of construction that applies statewide for the construction of buildings (MS § 326B.121).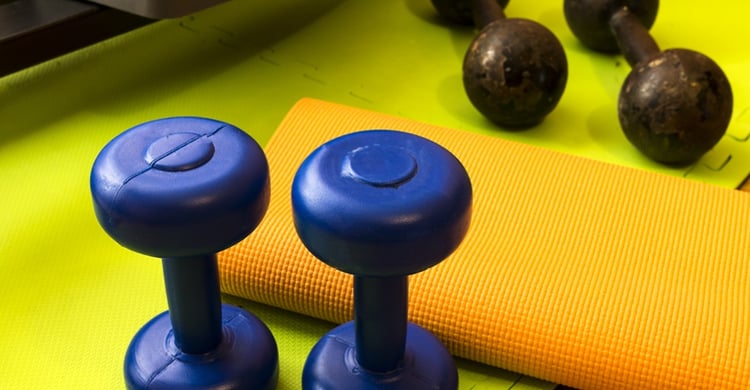 "I bought a 10x16 shed last summer. I use it exclusively as a "gym." It's got just the right amount of space to fit everything I need. The only thing I added was plywood on the floor to prevent damage to the existing floor. I have free weights, trap bar, kettlebells, inversion table, TRX, power rack, bench, jump rope, mace bell, bands, etc. I have a heater for the winter and a fan for the summer, but I rarely use them. And the skylight keeps it bright during the days. Anyway, I thought I would let you know it works great as a gym." - Tom H.
It's our mission to make high-quality buildings that exceed your expectations. Learn more by visiting us on Facebook, Twitter, Instagram or Pinterest. Or you can do it the old-fashioned way by exploring our buildings in person at a South Dakota or Minnesota display location near you.