What Makes Dakota Storage Buildings a High-quality Custom Shed Builder
by Dakota Storage Buildings, on February 13, 2023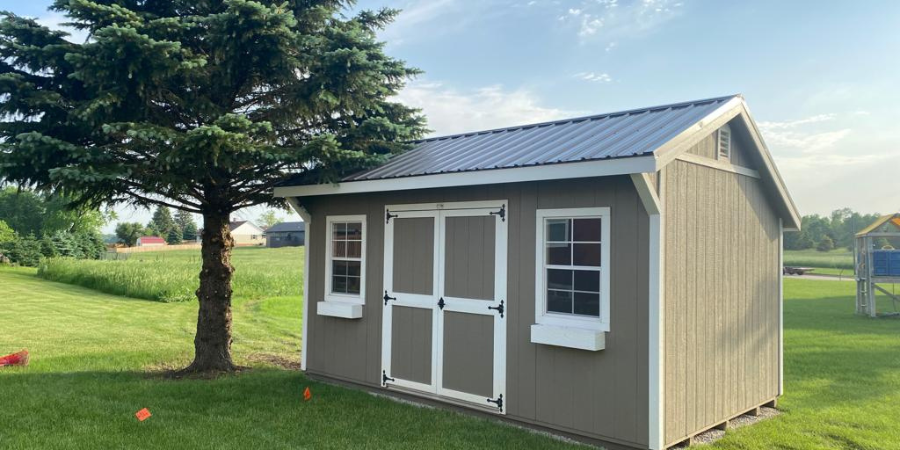 If you have decided to purchase a new storage shed, congratulations! This decision can eliminate stress from clutter or give you an oasis right in your backyard. It can be easy to determine that you need extra space, but choosing the right provider may prove to be a difficult choice. We are confident that Dakota Storage Buildings can meet your needs and provide you with the highest quality custom shed. And that's not just our bias talking. From the start, we have paved our path by prioritizing the customer as our number one priority. Our whole business revolves around you. Keep reading to learn more about how we make decisions based on our customers.
Why Dakota?
At Dakota Storage Buildings, we take pride in our work. From start to finish, we want you to feel like a valued part of our family and trust that your shed is made of the highest quality materials. We created a list of promises to help remind our team that the customer is our priority. The Dakota Difference exists to ensure that you receive an exceptional buying experience. What exactly does that mean? Keep reading to learn more about the Dakota Difference.
The Dakota Difference
We are custom shed builders who believe that a storage building is an exciting purchase, not just a boring addition to your backyard. From the very beginning, we want to be there to answer your questions and be a valuable resource throughout the whole process. With our storage buildings, you can rest easy knowing that your shed will last for years.
Quality Assurance
If you are spending a large sum on an outdoor shed, the last thing you want is to find it was built poorly or with inadequate materials. The most frustrating scenario would be to purchase a shed just for it to be damaged or fall apart a few years later.
We take quality seriously and only work with the best materials out there. We do not sell anything that we would not recommend to our own children. We genuinely care about each structure we build, ensuring that it meets the highest standards and utilizes the best materials. After it is built, our inspectors conduct thorough examinations of the shed to ensure everything was noticed. From the wall studs to the roof, every component must meet specific standards established in our checklist. Any building you choose will come with a Quality Assurance Certificate.
Top-to-Bottom Warranties
Every once in a while, a deficiency can fly under the radar and not be noticed until after it has been installed on your property. We know that manufacturer-related problems are not your fault. We provide warranties to ensure that you are covered and do not have to worry about making it right. Our team will worry for you and work to make it right.
15-Day Guarantee
Our standard series shed has a 15-day money-back guarantee – no strings attached. We want you to be confident about your purchase. If you have the slightest feeling that it is not the right fit for your needs, give us a call within 15 days, and we will give you a full refund. We are not satisfied until you are.
Post-Purchase
After the sale is final and you are using your new storage building, we are still available to answer questions and help in any way we can. Our relationship with you continues once we leave your property after the installation. Instead, we want to continue to be a resource post-purchase.
Why We Use Trusted Brands
The materials we choose to use in our sheds directly reflect on us. It can impact our reputation and credibility. Our products should make us proud, and defective materials not only let you down, it also needs to meet our standards. When we work with quality materials, it increases our productivity, making our job easier. On top of that, quality materials make maintenance easier for you. High-quality materials do not require as much maintenance and can even increase the lifespan of a building. Here are some of the amazing manufacturers we choose to partner with:
By Your Side Every Step of the Way
We have respect for you and your family. Your time, money, and feedback is important to us, and we understand that you trust us with high responsibility. Your plans and expectations should be exceeded with quality materials and extraordinary customer service. Our team is already ready to come alongside you however we can.
If you want to work with trusted custom shed builders that put your needs first, consider Dakota Storage Buildings. We only work with the highest quality materials, guaranteeing your custom shed will last for years to come. Configure your shed today!