Garage Options: Detached Garage, Attached Garage, and Drive-Through Garage
by Dakota Storage Buildings, on July 08, 2020

Comparing the advantages can help you decide which is best for you.
The benefits of adding a garage to your property are easy to imagine. Whether you're a hobbyist, recreationalist, renovator, gearhead, gardener — or just need more room — the possibilities are virtually endless. Not only do you get additional square space, but a garage boosts your property value.
When considering the advantages of detached garages versus attached garages — or the unique drive-through garage option — you'll find that all three varieties have benefits and commonalities.
Advantages of an Attached Garage vs. Detached Garage
Some similar benefits of both include:
Protection from the elements for vehicles, plus boats, ATV, motorcycles, and other recreational vehicles
Storage for lawn equipment, tools, toys, bikes, household overflow, and more
Room for a deep freezer, workbench, or craft/hobby area
Space for a man cave, garage band, or she shed
Similarities aside, there are some distinguishing features to consider when weighing the pros and cons of an attached garage or detached garage. One major advantage of an attached garage is the convenience of direct entry to the home. However, this feature isn't without drawbacks since the attached garage also makes your home more susceptible to intruder entry, fire, harmful fumes, and noise.
To help you visualize the benefits and deficits of attached garages and detached garages, we've compiled a side-by-side list for comparison.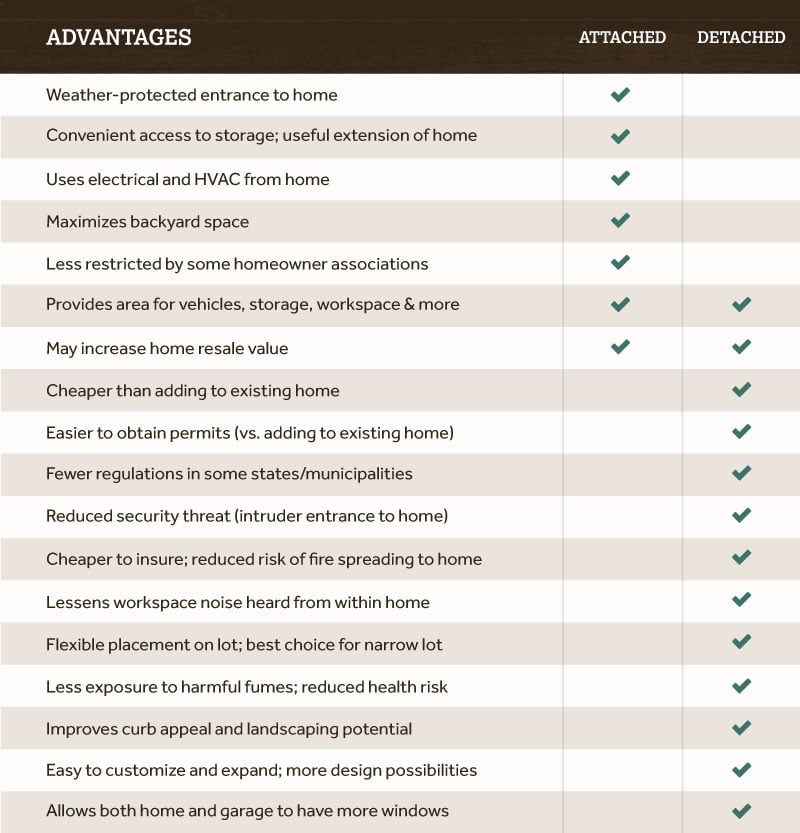 As you can see, there are advantages whichever way you go. Plus, either style can be converted into a drive-through garage, which is essentially adding a second garage door to the back of the structure. We'll take a closer look at the drive-through option in a minute, but first, let's look at a few questions that will help you determine which style is best for you.
These questions will help you decide which garage option is best for you.
1.

What is your lot shape and size?

The shape and size of your lot may make it a no-brainer to choose between an attached or detached garage. If you have a narrow lot that won't easily accommodate an attached garage, but have plenty of space in the backyard, a detached garage will probably be the best way to go. Just be sure that there's room to access the garage if you're planning to use it for vehicle storage.
2. What will best suit your needs?
A detached garage can be the perfect solution if you're looking for additional storage and work/hobby space. There are many advantages to going this route, including less noise overflow into the home, safety benefits, and easier customization to meet your unique needs.
3. Are there any regulations or limitations to consider?
Before you get too attached to the idea of adding an attached garage, you'll want to see if there are any municipal or homeowner association guidelines. Typically, there are fewer restrictions placed on detached garages, and it's easier to obtain permits to add these structures.
4. What is your budget?
In most cases, adding a detached garage will be the more economical route. An attached garage can be a major home addition project. Getting a price quote for both options may be the deciding factor, especially if you're on a tight budget.
5. Which option will look best with your existing home?
Assuming you have the room for an attached garage, adding this will dramatically change the look of your home and affect your curb appeal. You'll probably want to have an architect create a rendering so you can envision this change. You might also want to consider how this facelift will fit in the context of your neighborhood. A detached garage usually offers more flexibility, especially if you're placing it in the backyard where it's not as readily visible.
Advantages of a Drive-Through Garage
No, we're not suggesting you add a side window so you can ask neighbors, "Would you like fries with that?" But a drive-through garage is a convenient design that's becoming more popular. You might begin to understand then appeal when you imagine adding a backside garage door that serves as "exit" to your garage.
This feature makes it easy to access lawn equipment and can even allow you to by-pass the hassle of backing out of your garage if you'd rather drive through. Do keep in mind that you might lose some potential wall storage space with this option, but the benefits of a drive-through garage might well be worth it.
Here are a few backside garage door perks.
Versatility - Open up both doors for a covered patio effect. You can create the ultimate, all-weather entertaining spot, or enjoy the shady outdoor getaway yourself — no SPF required.
Better light and ventilation - If you're using your garage for a studio or workspace, you can open up both doors for added light and airflow, while still enjoying shelter from the elements. This is the perfect solution for DIY painting projects where ventilation is a must!
Easy access - With a second overhead door, there's no more need to back out cars to access trash cans, bikes, lawnmowers, 4-wheelers, etc. And never struggle with your trailered boat again — simply drive on through.

Customizing Your Detached Garage
If you think that a detached garage might be the way to go, Dakota Storage Buildings has you covered (literally). We manufacture high-quality detached garage structures that you can customize to meet your needs and style preference – you can even add a backside garage door to create a drive-through garage.
Using our online configuration tool is a great place to start exploring the options for your detached garage. Start with a pre-configured package or customize your own design. Choose your size, style, roofing, siding, colors, and more. Add doors and move windows with the click of a mouse. You can create a detached garage that's exactly the way you want it.
No matter which style of garage you ultimately decide to go with, our configuration tool can help you on the journey of discovering the garage of your dreams.