Getting the Right Grain Dryer Shed For Your Farm
by Dakota Storage Buildings, on April 12, 2017

Attention grain and forage crop farmers!
If you're just getting your drying system set up, you're installing a new or updated system, or you simply need a dyer shed upgrade, here are a few things to consider as you shop for the right building.
While a dryer shed functions as a control room for the grain dryers, they can serve several other practical needs like shade from the hot summer sun, warmth from cold winter winds, and dry shelter on rainy days—this is especially helpful when babysitting the dryer is on your to-do list and the weather is not agreeable. Dryer sheds also make practical offices. It's helpful to have a place where buyers and truckers can check in upon arrival or departure.
Dyer shed examples
AgTalk.com has great information and helpful forums. The particular forum—grain dryer shed ideas—had a few great contributor photos. Here are just a couple.
These first three images were shared by NEILFarmer from Illinois. These photos show how he adapted a shed to fit his needs.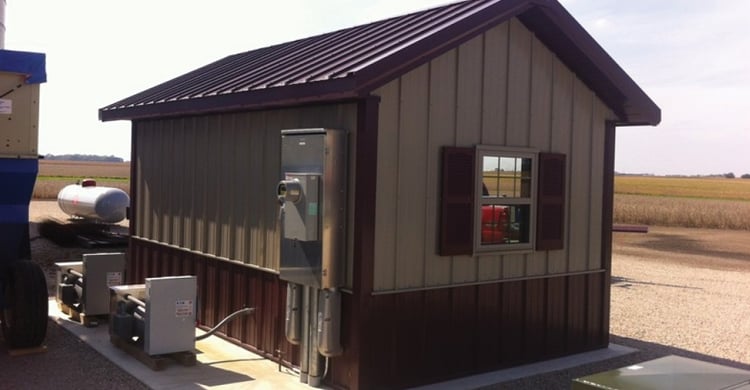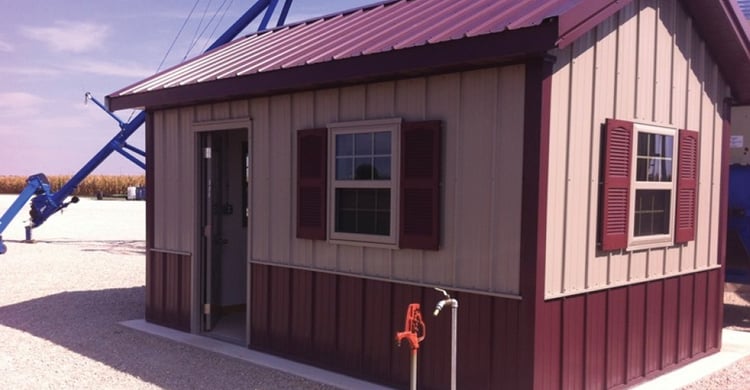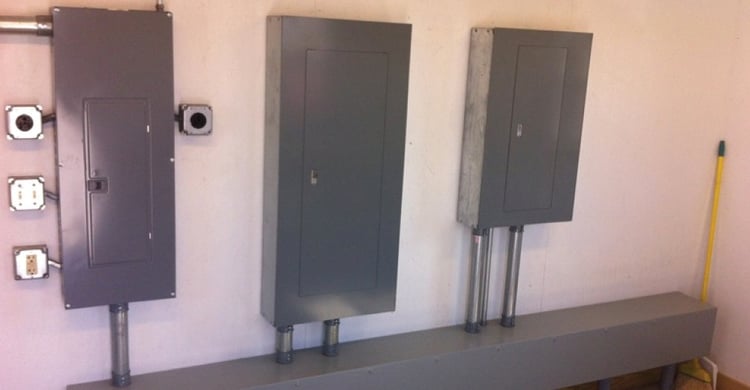 The below image was shared by JChamb from Iowa. This shows well the proximity of his dryer shed to his silos. You can also see that he added a small overhead garage door and a ramp to his building.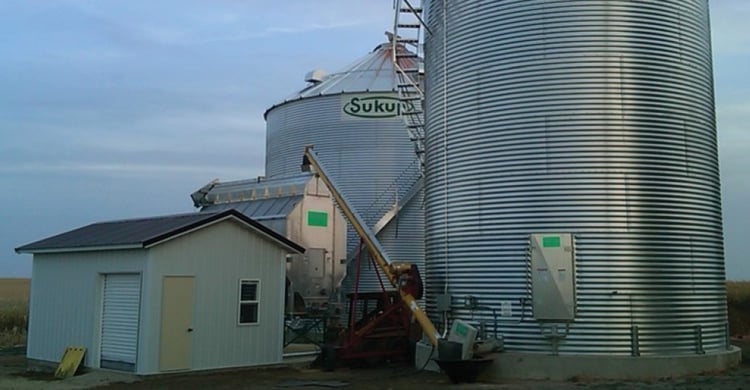 In other buildings like these you may find fans and electric heaters for temperature control, electrical outlets, ceiling lights, electrical panels, Variable Frequency Drive (VFD), dryer controllers, and tools of the trade. Additionally, some have found it useful to add a workbench, work counter, or desk and storage cabinets or shelves.
Just a friendly reminder—as you make preparations for your dryer shed and set up high-voltage equipment, keep the possibility and dangers of arc-flash in mind.
Our dryer shed recommendation
Your job doesn't slow down, neither can your operation. Keep your control center clean, organized, and protected with the right shed. For this job, we recommend our 10'x16' (or smaller) Ranch shed with metal siding and roof (see color options).
Our metal sheds have Tuff Rib Steel Siding which is durable, long-lasting, and economical. Down to the flooring, pressure treated 4×4 runners, and roof vents, these sheds are built to provide many years of use. Click here to see a diagram of our metal sheds.
These add-ons will make your dryer shed even better.
Spray Foam Insulation - Our polyurethane foam insulation dries up to 30 times larger when dry and works to fill every crack and crevice, creating a watertight membrane of protection against the heat and cold.


LP ProStruct® Floor with SmartFinish® - This flooring elevates the overall quality of sheds with a durable overlay for a clean and professional appearance. With no knots or voids, it's a welcome change to traditional plywood flooring.


Built-in shelves - Our 4 ft. built-in shelf is not only great for storage but can also double as a convenient office desk.


Additional windows - One front window is great, but adding a second window at the side of your building and a third at the rear could be helpful when keeping an eye on your dryer system and elevators.


Clopay Premium Series Overhead Garage Door - These garage doors boast 1 ⅜" Intellicore insulation that improves strength, security, appearance, and operation. They operate smoothly and quietly and offer safety features to prevent accidental injuries.
Need your shed built on-site?
Depending on how your farm is laid out, it may be a challenge getting your shed where you want it. If that's the case, we offer an on-site construction option.
When you choose our on-site building option, the specifications of your building stay the same. The only change is that we prefabricate the building in our factory and then transport it in sections to your property in order to complete on-site.
To learn more about our Ranch shed visit our website, or to explore our storage buildings in person choose from our South Dakota or Minnesota display locations.
Have questions about shed buying process? Get your questions answered!
Download The Ultimate Storage Building Buying Guide.