How to Store Clothing & Bedroom Furniture in Your Shed
by Dakota Storage Buildings, on January 07, 2021

From Blankets to Mattresses to Dressers, Learn How to Store Fabrics and Furniture in Your shed.
The current state of the room may be that of a "catch-all" junk room. Or maybe a grown child has flown the coop, but you haven't gotten around to transforming the room into usable space. Or perhaps with a newborn on the way, you need a nursery. Whatever the case, it's time to make room for a room — one that meets a need and serves a practical purpose.
Before you begin conquering the bedroom, take a moment to make a plan. Where will everything go once it's packed up: bins, furniture, lamps, mirrors? Making that decision now will eliminate stress and frustration when it comes time to relocate the dresser, bedframe, and piles of stuff.
Do you have available space in your attic, basement, or garage? If so, now is the time to rearrange what's already there to accommodate incoming items.
However, if these aren't options for you, perhaps you could use your backyard shed. Using a shed can eliminate the pitfall of moving stuff from one room to another, creating potential pileup down the road.
Once you know where everything will be stored, take some time to prep that area before you start working on the bedroom.
Prep Your Shed for Storage
If you're planning to use your backyard storage shed, here are some things to keep in mind.
While your shed may not be climate-controlled, it does provide a ventilated space in which you can store items, keeping clutter out of your home. Your shed likely has very few windows or none at all, limiting direct, harsh sunlight, preserving your storage items better and longer.
While you can pile storage bins on top of each other in your shed, we suggest setting up a storage system that could include floating shelves, repurposed bookshelves, or free-standing shelves. Free-standing metal, wire, or plastic utility shelving is the best option for storing tubs and bins because they're built tough and have ventilated shelves that prevent mold and mildew.
Before putting anything inside your storage space, lay down thick plastic sheeting on the floor to block potential moisture. For extra measure, you can use wooden pallets to keep the bins that are not being stored on shelves from having direct contact with the floor.
Once you've mapped out where the bins and furniture pieces will be stored and the area is prepped to your satisfaction, you can commence "operation reclaim room."
Start Reclaiming Your Room
We suggest starting small. For instance, begin with a closet or dresser. Pulling out one item at a time, decide if it should go into the toss, donate, sell, or store pile.
If the items in the "store" pile are destined for your shed or another non-climate controlled location, consider these tips to prevent storage problems and damaged items.
#1. Clothing & Fabric Storage
Have you ever unpacked stored clothing to find yellow stains on it, shotty elastic, repulsive musty-smells, pest-chewed holes, or mouse excrement? If so, you know how frustrating and disappointing that can be. You can avoid these problems and prevent a terrible mothball smell.
One of the most important clothes storage rules is to make sure they're thoroughly cleaned and dried before storing, whether that means washing or dry cleaning. If they're not completely dry through, any remaining moisture can cause clothes to get musty or even mildew while in storage.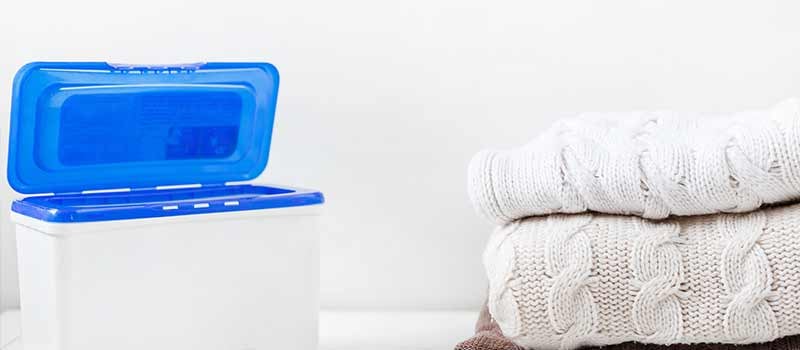 Do not store your clothes in cardboard boxes. The boxes themselves attract pests who eat the cardboard, plus the acidity within the cardboard can discolor clothes. Further, you cannot tightly seal cardboard boxes, and they don't offer any protection against water damage. Instead of cardboard, use airtight, see-through plastic storage bins. These meet all the criteria for safe storage of your clothes and are easy to find in a large variety of shapes and sizes.
Note: Even when using clear bins, be sure to put a label on them (e.g., Men's Medium, Queen Bed Linens, Tim's Memorabilia). It will help you find what you're looking for faster.
While clothing, bed sheets, blankets, and fabrics can be safely stored in airtight containers, for extra protection, you could vacuum seal them individually or in like groups (sweaters, t-shirts, jeans, etc.) before placing them in the bin.
While it was the best practice of an older generation, it's unnecessary to use mothballs, cedar chips, or even natural alternatives to preserve textiles. These smells are potent and can easily be absorbed by the clothing, giving them a pungent odor for days after unpacking and washing.
If you decide to use clear plastic bins for your clothing and fabric, be sure to position the containers so that they're not exposed to direct sunlight to avoid fading. If that's not possible, cover them with an old sheet or tarp.
#2. Mattress Storage
Mattress storage bags are available at many hardware stores as well as most self-service moving companies like UHAUL. Like clothing and fabrics, be sure to thoroughly clean and dry the mattress before putting it inside the storage bag.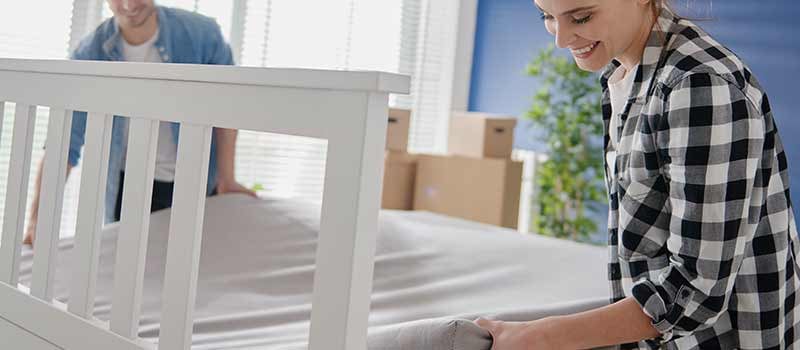 If you have the space to store the mattress flat, manufacturers recommend doing so to keep it in good shape. It may be more convenient to store your mattress standing, but when it's stored upright, the coils and springs can shift and cause the mattress fabric to sag. Also – just a reminder — never store items on top of the mattress.
#3. Furniture Storage
Like everything else, clean furniture thoroughly before storing it. Vacuum soft surfaces and dust hard surfaces to remove dirt and dust. Once everything has been cleaned, disassemble what you can, including desks, bookshelves, and chairs. Put all screws, bolts, and small pieces in a labeled baggie to store alongside the furniture piece. Once these items are secured, use old sheets, blankets, drop cloths, tarps, or plastic wrap to cover the furniture, protecting it from dust, moisture, and scratches while in storage.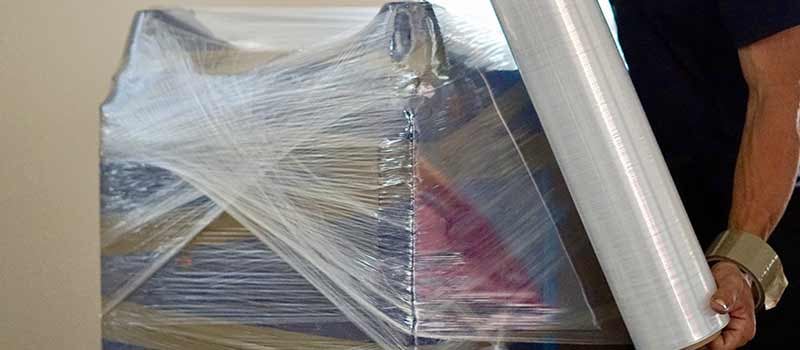 As you move things into your shed, don't overdo it, meaning: a surefire way to break something valuable is by shoving too much too close in a small space. Take a moment to organize your shed in a way that makes the most sense to you. For instance, place items in a way that allows you to easily access what you might need sooner than later. It's often best to put bins on your shelving first, then fill in the empty space with furniture, starting with the largest pieces and working your way to the smallest.
#4. Light Fixtures & Lamps
Depending on the size of your lamps or light futures, you may want to disassemble them in order to package each piece securely. However, if they're on the smaller side, you may only need to remove the shade to fit both in an airtight storage bin. Be sure to tie up cords and cushion your lamp with foam, bubble wrap, or packing peanuts to prevent it from moving around inside the bin. Even if your storage bin is see-through, be sure to label it so that anyone who may move the bin later knows that it contains fragile contents.
#5. Mirrors & Glass Frames
For mirrors and framed artwork, place painter's tape on the glass's surface in a star pattern to absorb shocks and prevent cracking, then cushion the corners of the mirror or frame with foam, then wrap the entire item in bubble wrap secured with packing tape.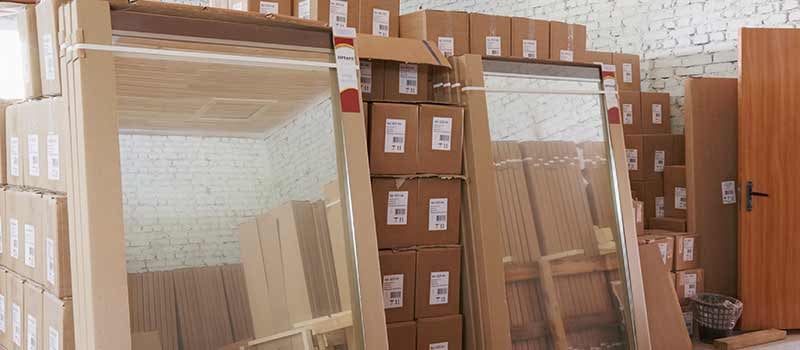 Smaller mirrors and frames can be wrapped and stored in plastic storage bins. Just like for lamps, be sure to mark the container as "fragile."
Room Items That Shouldn't Be Stored in Your Shed
Sheds are not ideal for storing musical instruments that you wish to keep in good shape or working condition. For wooden instruments, in particular, too much humidity can weaken glue joints and soften the wood, making the instrument susceptible to permanent deformation. The neck becomes prone to bending, leading to decreased neck projection, raised strings, and depression in the fingerboard. It's crucial to store instruments in a controlled environment that does not change drastically or according to the weather.
Even if in a waterproof and fire-resistant safe, do not store important documents like social security cards, passports, birth and marriage certificates, and other difficult-to-replace papers in your shed. Keep these documents in your home or safety deposit box.
For more insight into what not to store in your shed, read the post, What NOT to Store in an Outdoor Shed.
Buying a New Shed
If you don't already have a shed, but you know that you'll need to reclaim a room within the year, now is the perfect time to shop around for one. Look for one that will meet your storage space needs and budget. Many quality manufacturers offer financing, no-credit-check loans, and/or rent-to-own options.
Be sure to explore our Shed Collection. The sheds in our collection are semi-customizable, which means you can choose the size, roofline style, and siding material and color. Here are a few options that could work for you as you think about storing household items in a backyard shed.
Basic Backyard Shed:

Our Basic Backyard Shed solves age-old storage problems at a price that's easy on the wallet. It's basic, but it's solid.




Classic Backyard Shed:

This shed is the quintessential storage solution with a sharp appearance and plenty of storage space.




Backyard Shed XL:

This shed is bigger than the average shed, including our Classic Backyard Shed. It has a built-in loft and an internal storage kit that fits into the vertical space between studs.
If you're interested in a pre-built stock shed, be sure to browse our online inventory.
As you create a plan to reclaim a bedroom in your home, remember to take it one step at a time, making the task manageable, not overwhelming. If you need extra storage for the clothing bins, bedroom furniture, and more, we're confident that you'll find the right Dakota Storage Buildings shed for your needs.
We build premium storage sheds to help keep your life organized and your possessions safe.