Module Dog Kennels vs. Multi-dog Kennel Sheds: Which is Best for Your Needs?
by Dakota Storage Buildings, on March 07, 2023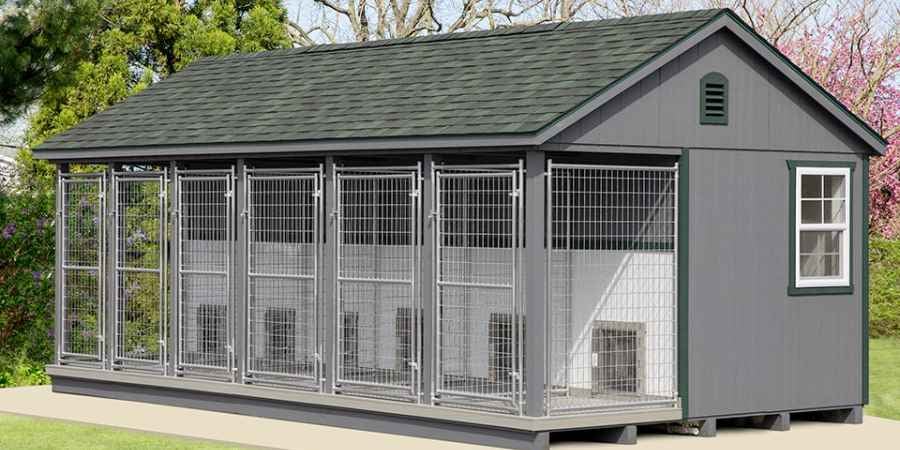 Having an excellent housing option for dogs and other pets is essential for many businesses. Vets, groomers, breeders, trainers, and other pet-friendly professionals likely want commercial-grade dog kennels that are large enough to accommodate multiple dogs. When customers entrust you with their canine, you must ensure they are happy and comfortable while in your care. A kennel can make or break a dog's experience and offers many benefits. Choosing the best commercial grade dog kennels and runs for your needs is crucial as it demonstrates your level of care. Both multi-run and modular dog kennels are popular options. If you are debating between the two, you have come to the right place! Let's look at their differences and uses to help you determine which is the best fit for you!
Don't Let Your Dogs Be Uncomfortable
If your dogs are uncomfortable, they will grow to dread kennel time. However, when you take the time to invest in commercial-grade dog kennels with all the necessary features, they can become an oasis. A clean kennel is the first step to a comfortable stay. To promote happiness within the kennel, you must ensure that the floors are easy to clean and stay on top of upkeep. Durable floors are crucial to withstand any canine abuse while maintaining a cozy environment.
Your dogs want to feel free to move and stretch their legs in a kennel. Restricted kennels can make your dog feel trapped or like being in a kennel is a punishment. In reality, kennel time can be a reward and a great way to improve behavior. Another important feature is the temperature. Since kennels are outdoors, their temperature will fluctuate along with the weather. Ensuring that proper insulation is installed will help maintain a consistent temperature regardless of outside conditions. If you live in an area that experiences extreme heat or cold, adding a reliable heating or cooling system will guarantee your dogs' comfort in any season.
Modular Dog Kennels
Modular dog kennels are an alternative option to traditional kennels and run. They are made from fencing panels and can be easily assembled. Typically measuring around 4 or 5 feet wide and 4 or 6 feet high, you can attach the kennels to make one large structure. You will often find these in a yard or the back of a veterinarian's office. When you board your smaller pups, they will likely stay in a modular kennel. Due to their easy setup, and the ability ot fit multiple dogs in one small area, modular kennels can be a popular choice. Another reason why some professionals lean towards this option is that it is movable and reconfigurable. Based on your needs, you can reshape the kennels to hold any sized pet and move the whole structure to a new area. A modular kennel will likely be cheaper than the two options, but these kennels do not prioritize a dog's comfort. While these may be a good short-term solution or ideal for families who only need to put their dogs in a kennel when they have company over, it may not be the best choice for businesses.
Multi-run Dog Kennels
The traditional dog kennel has made a name for itself. Its sleek exterior and large interior give you space for multiple canines. Many multi-run dog sheds can be completely customizable, making them a great choice for professionals. These structures are like mini houses designed to fit a dog's needs. Some have designated feeding rooms and large runs to keep the dogs active. Regarding comfort, it is easy to ensure a multi-run dog kennel serves as an oasis. With insulation and weather-resistant materials, you can be assured that your dog will be safe and happy in this home.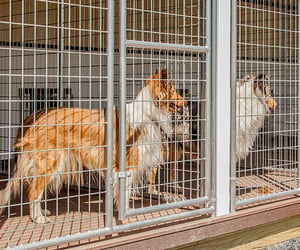 You can easily ensure your dog is comfortable by adequately maintaining the floors. Investing in commercial dog kennels and runs is the best choice if you want to make a statement and show that a dog's happiness is your top priority. These permanent structures provide a sense of durability, comfort, and protection that modular dog kennels lack.
Comfort Above All
You want the dogs in your care to be happy and healthy. Providing commercial-grade dog kennels that meet those standards is essential. While a cheap option may be appealing, factoring in the long-term durability and comfort is key. Multi-run dog kennels provide extra security and a sense of luxury. When your kennel conditions do not show optimal care, you will send home unhappy dogs and may even lose clients. Having a dog kennel that meets all your needs and goes above and beyond to ensure the highest level of comfort is one of the best decisions you can make.
Help Your Business Grow
Commercial dog kennels and runs not just serve the dogs well, but it will also serve you well. Having a beautifully designed kennel makes a statement to your clients that you will treat their dogs with love and care. With multi-run kennels, you can even choose color combinations that match your business' brand and customize the kennel to fit your unique needs. Want to learn more about your kennel options? Dakota Storage Buildings offers the highest quality dog kennels with your dog's comfort and happiness in mind.