Our Modern Backyard Shed, A Chic Storage Solution
by Dakota Storage Buildings, on June 20, 2019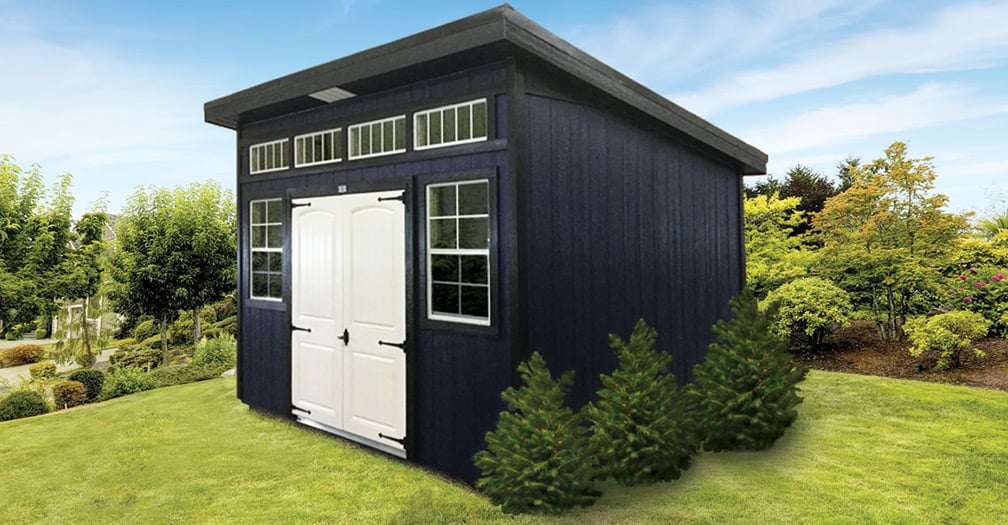 Our modern-style shed is perfect for age-old storage problems.
We create premium storage buildings to keep life organized and possessions safe. That's why both the exterior and interior of all of our sheds are made with the best materials, constructed with highest-quality craftsmanship, and either built on your property or delivered with caution and care.
When we created our Modern Backyard Shed package, we listened to our customer's input and considered the storage needs of potential buyers. Taking that information and pairing it with our expertise and quality materials has produced a shed package that we're excited about sharing with others.
We believe this shed has a unique look that allows it to not only solve traditional storage problems in style but has the potential to create extra living space—think office, she shed or, if placed closer to your home, extended outdoor patio area. Inside and outside, this shed is sharp and polished.
What Our Modern Backyard Shed Includes and Why It's a Chic Storage Solution
With sleek edges, a distinctive roofline, and attractive transom window, this shed style could easily work to your advantage.
Place this shed near your home to extend your outdoor living area. Use your creativity to incorporate it into your backyard patio space. Store your grill along with extra patio furniture, or use it as an outdoor room to shade guests on hot summer days. If you choose to go the extra mile, you could run electricity to the shed. With a power source, you could plug in a fridge and run fans in the summer and heater in early days of autumn.
If you're looking for a modern shed that looks impressive but still functions as a storage solution, this option is the best. Keep your lawn mower, snow blower, sports equipment, plastic storage bins, seasonal decor, and more safe and dry. Its durable components and low-maintenance siding mean there's little upkeep required. We don't even have to mention how great it will look in your yard. :)
Discover all the essential elements that make our Modern Backyard Shed a distinctive and effective storage solution for your backyard.
Windows: This package comes with two traditional windows, perfect for letting in natural light


Transom Window: This row-style window rests on the horizontal beam above a door frame and allows sunshine to steam inside.


Double Fiberglass Door: Double doors make maneuvering wheeled equipment and carrying bulky items in and out easier and safer.


LP ProStruct Flooring with SmartFinish: This flooring resists termite damage, decay, warping, splitting, and cracking. Its clean and durable overlay creates a beautiful appearance and makes it easy to sweep.
LP ProStruct Roof & Wall Sheathing with SilverTech: This sheathing provides a durable barrier that helps to regulate temperature and a highly-reflective, professional-grade surface that helps to brighten the interior for enhanced visibility.


LP SmartSide Lap Siding or LP SmartSide Panel Siding: Choose the color you want for either wood lap or wood panel siding. Both are attractive and easy to maintain.


Color Contrast Trim: Select a color for the shed siding then a contrasting color for the trim. We have a range of colors from which to choose.
Learn more about these features and discover others on our Features page.
Our Modern Backyard shed has a Skillion roofline and is available in these sizes: 10x12, 10x14, 10x16, 10x20, 12x16, and 12x20. Siding options include LP SmartSide Lap Siding and LP Panel Siding and roofing options include CertainTeed® NorthGate® Shingles or Tuff-Rib Steel Paneling.
Use our online configurator to customize this package to your needs. Choose the size, siding type, siding color, and more.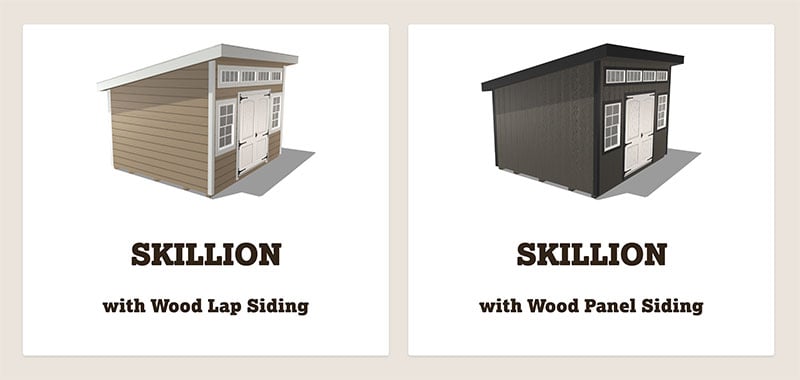 Customize Your Modern Backyard Shed
Ready to make your backyard impressive with this untraditional shed or spruce up your patio living space by adding an extra "room" to the layout? What are you waiting for—customize your Modern Backyard Shed today!
Test out our online configurator, or download our Shed Collection catalog that showcases not only this package but our entire Shed Collection.
It's our mission at Dakota Storage Buildings to make affordable, premium storage sheds and garages that solve storage problems and meet organizational needs.