Perfect Garage Styles For Storing Classic Cars And Antique Tractors
by Dakota Storage Buildings, on March 28, 2017

Collecting and refurbishing classic cars and antique tractors is an exciting hobby.
Although it takes more financial resources to get into collecting and restoration hobbies, it may not be as expensive as some may think. Many classic cars and antique tractors are a great investment and can appreciate in value over time much like other investments.
Very few people buy classic or vintage cars to stash them away in a vault. Most people want to display them, show them to their friends, and enjoy them.
For some, the passion to collect is a way to recapture their youth ("I've wanted that car since I was a kid!") The difference is that now they can afford it. Others enthusiasts just love the craftsmanship and joy of owning and driving vintage cars.
The same goes for tractors. The love of antique tractors often comes from nostalgic Americans who remember when farming ruled the country and tractors ruled the farms. Antique tractor collecting is big business, and there are dozens of auctions conducted every year, most in the Midwest and Great Plains states.
Perfect garage styles for storing classic cars and antique tractors.
High Barn Storage Building
Our High Barn garage is a versatile storage solution that offers the highest caliber of functionality and accessibility. The barn-style roofline offers the ability to add a 2-8 ft. loft for out-of-the-way storage. This garage provides not only storage for your car or tractor but also sufficient space for tools and extra room for maintenance work and detailing. For your hobby, we suggest our 16x40' High Barn style garage.
Ranch Style Storage Building
With its classic triangle roofline, this garage will look at home in any neighborhood or next to any house style. While this high-quality building will masterfully protect your investments from harsh conditions that cause annoying, inconvenient, and costly problems, it will also give you the space you need to work—whether that means routine maintenance or preparing for a car show or tractor auction. Check out our 16x40' Ranch style garage—it will give you the space you need.
Features of our High Barn and Ranch buildings:
1 Clopay Premium Series overhead garage door
Advanced-grade flooring that resists warping when wet
16" on center trusses for ultimate support and resistance against high wind
4×4" pressure treated skids to prevent rot and for increased life span
1 window to allow in fresh air and natural sunlight
Add-on suggestions for both High Barn and Ranch buildings:
2 overhead garage doors for drive-through convenience
Ramps at each entrance for easy access
2-4' built-in workbench
Double fiberglass door with arched 11 lite windows for maximum natural light
UniCaddy garage organizer kit designed to utilize the vertical space between 16" on center studs
Spray foam insulation to create a watertight membrane of protection against the heat and cold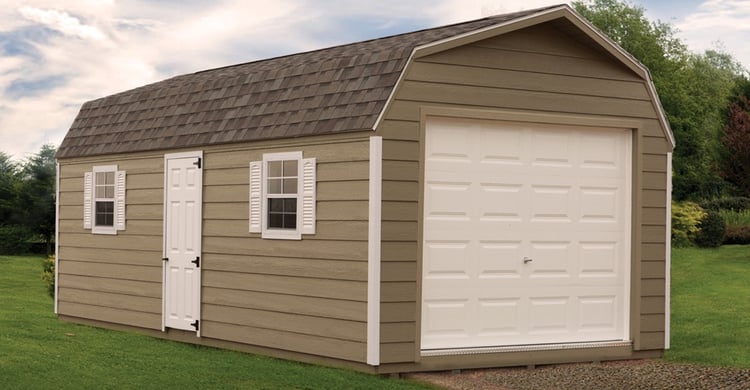 Shown above: High Barn garage with vinyl siding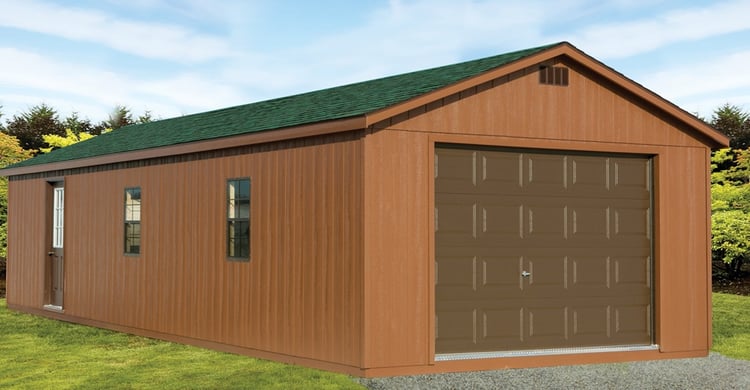 Shown above: Ranch garage with painted siding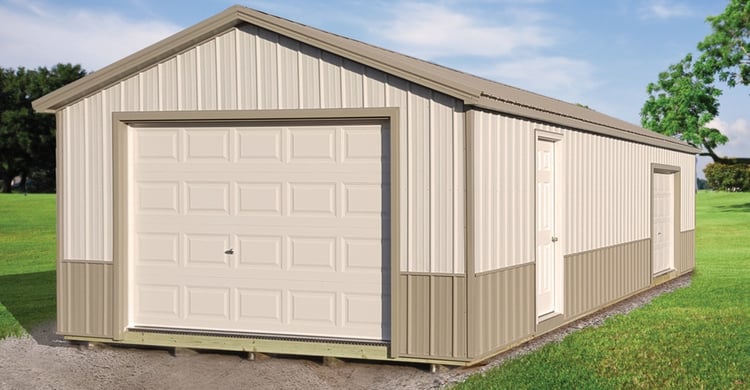 Shown above: Ranch garage with metal siding
Helpful care and maintenance resources
With your hobby car(s) or tractor(s) safely stored, it's time to research tips and advice for care and maintenance. Here are a few helpful articles, infographics, and videos that we found. In the comment section below this post, please share other resources (books, articles, websites, etc.) that you've found to be beneficial.
Tips for classic cars:
Advice for antique tractors:
With garage suggestions in mind and resources at your fingertips, are you chopping at the bit to shop for your own storage building? If so, design your own! Customize your garage to personal taste and needs.
Explore our Antique & Classic Cars + Storage Ideas Pinterest board.
Download The Ultimate Storage Building Buying Guide.