Ready for a Custom Shed? Start with a Solid Shed Foundation
by Dakota Storage Buildings, on October 17, 2022

Purchasing or building a garage can be a daunting task. Leave the logistics and difficult aspects of building to us! Here at Dakota Storage Buildings, we make garage buying simple and easy. Building a garage and having a new place for your storage needs is easier than you think. Keep reading this garage buying post in order to learn more!
On-Site Building
With space limitations, the option to build an on-site garage can be a lifesaver! Because some properties do not have sufficient space for the delivery of a pre-built storage building, all of our buildings can be built on-site instead of delivered. When you choose the on-site building option, all specifications of the building stay the same. We prefabricate the building in our shop and then transport the sections to be assembled on your property. The paint color of your choice is included in the price of the building; apply it yourself or hire a company to handle it for you.
While our sheds come with pressure-treated wood skids and floor joists, some still prefer to have their shed or garage built on a concrete foundation. We'll assemble your new shed or garage on whatever foundation you choose. However, it's important to note that before delivery can be done, the site must be properly prepared.
There are two main reasons for having a shed or garage built on-site: having a property with access limitations and wanting a cement foundation.
Property Limitations: The size and shape of some properties do not allow for the delivery of a pre-built storage building. If your yard has a narrow entrance, or the site area is not easily accessible, no problem! We'll figure out a way to build your shed wherever you want it.
Cement Foundation: Another reason for choosing to have a shed or garage built on-site is if you are opting for a cement foundation. Cement flooring can be preferable to wood flooring if you are planning to store and work on vehicles or heavy equipment.
Remember, you will need to have your cement foundation in place before building can begin so that our team can incorporate your existing base into the assembly of your shed or garage.
Delivery Options
All of our sheds can be delivered to your property. Here is a summary of how that works and some tips for site preparation.
Delivery: We partner with Dakota Shed Haulers to provide a safe and efficient shed delivery experience. Delivery is free within 100 miles of our shop (47809 155th St. Milbank, SD 57252) or 20 miles from one of

our display areas

. Beyond that there is a $4 per mile charge (escort fees may apply for 14′ and 16′ wide buildings).
When we arrive at a customer's home, we unload the shed and use a mule tractor to move it into place. Before leaving, we make sure everything is lined up properly to the satisfaction of the customer.
Dreaming of a delivery? We can make that dream a reality! Don't hesitate to reach out and give us a call about our delivery process. We can't wait to help you reach your garage or storage goals!
On-Site Preparation
Some properties do not have sufficient space for the delivery of a pre-built storage building. In this case, our builders will deliver the shed of your choice anywhere on your property.
While our sheds come with pressure treated wood skids and floor joists, some still prefer to have their shed built on a concrete foundation. We can place your new shed or garage on whatever foundation you choose.
Before delivery can be done, the site must be prepared.
First, secure the proper building permit. Next, prepare to build a solid foundation for your new shed or garage.
Whether you're laying your shed's foundation or hiring someone to do it for you, you may want to print out these instructions to ensure the site is properly prepared and leveled. Your site must be perfectly level. An unlevel foundation will cause the frame of the shed to twist which can cause complications over time.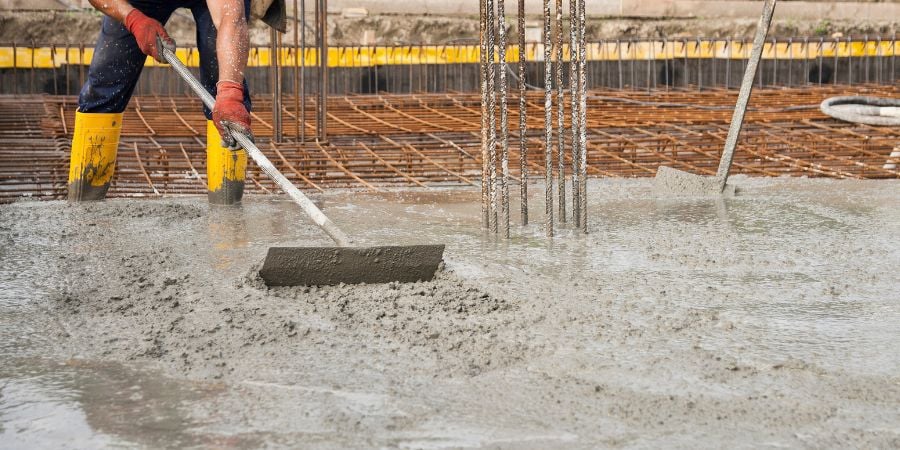 Here's an overview of how a foundation should be laid:
Choose the perfect spot, measure the space, and remove vegetation. Make sure the foundation's perimeter is slightly larger than the shed itself and that the depth extends past the frost line.
Construct a temporary frame. We suggest using 2 ft. x 4 ft. lumber to build the frame.
Fasten the frame to wooden or steel stakes from the outside to ensure easy removal of the frame after it is filled.
Fill the frame with at least 3-4 inches of your base material.
Slide a straight board back and forth over the top of the temporary frame to level the base material within the frame.
While this step is not essential, using a compactor to finish your new foundation will make delivery easier and minimize the settling of the shed over time.
Remove the temporary frame after the base material is compacted.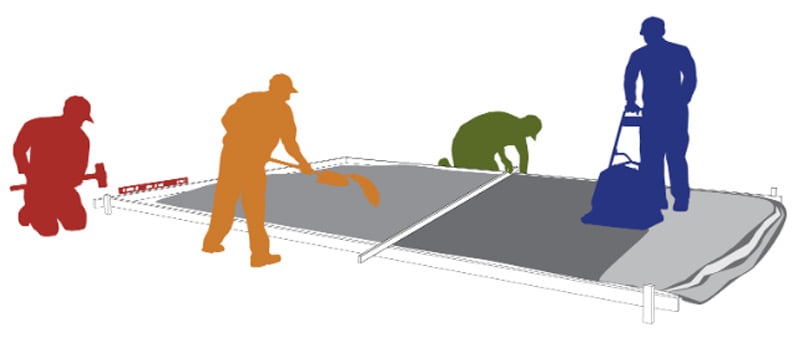 Buying a Shed vs Building a Shed
Here are a few reasons why we believe that buying a storage shed is often a better option than building your own storage shed. We will talk about what is needed to build your own shed, and why you may want to reconsider taking on such a large DIY project.
Before you even begin building a storage shed on your own, you will need to look into building permits. Different areas have different regulations, but you cannot start building until you are sure of the regulations and obtain proper permits. Otherwise, you could be facing significant fines.
You will need high quality plans before you begin building to ensure a safe structure. There are cheap shed plans available across the internet; however, you do not want to risk putting in the time, effort, and money to build a shed that won't hold up over time or turn out to be unsafe. You will also need to consider what materials you would like to use and weigh your options. The look, feel, quality, and cost of the materials are all something to take into consideration.
Once you begin building, everything will need to be done meticulously. It is a time consuming process and one in which you shouldn't cut corners! We understand the appeal of wanting to build your own shed; however, here are the most common downsides…
Permits and plans can be costly and time consuming.
Supplies and materials add up quickly and require a lot of research.
It is a labor intensive project.
Doing things correctly requires a large time commitment.
You might not end up liking your finished product.
Essentially, it is a risk to build your own shed. You don't know what you will end up with in the long run, you don't know how much money it will end up costing, and you don't know how long it will last. A good way to compare prefab sheds vs custom sheds is our article describes the difference and benefits to both.
When you choose to buy a shed, you know that you are getting a high-quality product that meets safety standards, looks wonderful, and will hold up well over time. You can pick out exactly what you want in a shed and you will know the set cost from the beginning of the project. Best of all, you won't have to spend any time or effort building it!
We have a great team of professionals that handle the details so that you can choose the shed that works best for you. Leave it up to us, then use all of that spare time to enjoy your new shed! To start the simple process of choosing your shed, browse our many colors and options or download our Storage Building Buying Guide.
Not sure where to start, or not quite sure which storage shed or garage works best for you? We can help! Just click this link to access our Shed Buying Workbook. We go over all aspects of the different types of sheds and garages we offer, which will help you narrow down the perfect model for you. Here at Dakota Storage Buildings, we can't wait to serve you!