Shed Shopping: 4 Important Features To Consider
by Dakota Storage Buildings, on February 11, 2016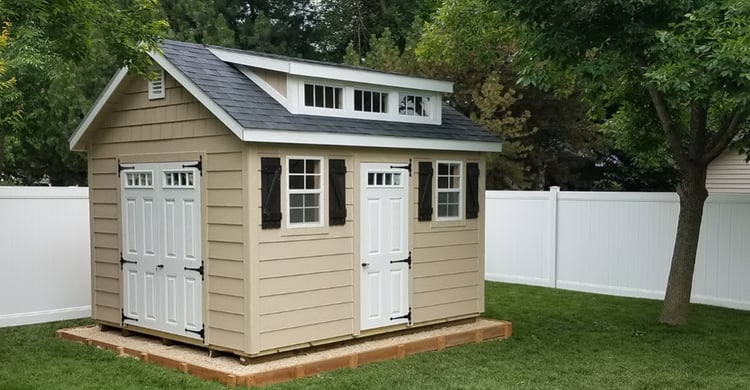 If you're looking to expand your outside storage space, consider one of our customizable sheds during your shed shopping journey.
Start your shed shopping with us—we have top-of-the-line sheds with high-quality features that won't cost you a bundle.
Because we know you care about your investments, all of our sheds come with these 4 important and valuable features.
1. Roofing
Choose either our top-of-the-line offerings: CertainTeed shingles or Long Creek Steel's steel roofing.
CertainTeed's NorthGate SBS modified asphalt shingle is unmatched by other standard asphalt shingles. The rubberizing aspect of SBS allows greater flexibility so the shingles resist cracking even in extreme cold-weather, allowing for year-round application. SBS also offers superior granule adhesion which is one of the key components in protecting the shingle against the elements.
Long Creek Steel's high-quality steel roofing is engineered to provide superior protection and has a wide variety of paneling and color options.
2. Flooring
Not many people think about the important role that flooring plays within a shed. The fact is, without a sturdy floor, it's nearly impossible for storage buildings to withstand the elements while maintaining their structural integrity. On top of that, shed floors must take a fair amount of abuse whether it's from storing weighty ATVs, rolling wheelbarrows in and out, or housing wet equipment.
That's why we use LP ProStruct® Flooring with SmartFinish®. It offers a beautiful, knot-free, and professional appearance, but it can also take all the abuse that's thrown at it. Unlike traditional plywood shed floors, this flooring incorporates LP's Treated Wood Strand Technology and their SmartGuard® technology to resist fungal decay, termite damage, warping, splitting, and cracking.
3. Siding
We offer four siding options: wood panel, wood lap, vinyl lap, and steel.
A couple available options include LP® SmartSide® Panel Siding and LP® SmartSide® Lap Siding.
LP® SmartSide® Panel siding offers all the warmth and beauty of traditional wood siding, along with the advantages of our treated wood technology. These siding panels are more durable, dimensionally stable and consistent than traditional wood materials. And LP® SmartSide® Lap siding, made of specially engineered wood, is resilient, long-lasting, and able to withstand major weather events as well as pest invasion.
4. Skids & Joints
Pressure treated wood skids and floor joists are standard features on all of our buildings. These pressure treated elements are are protected against moisture, rotting, and in some cases, insects.
We also have great add-ons. Below are four additional features that will add both beauty and utility to your shed or garage.
Porches. Our 4 foot and 6 foot porches can complete the overall aesthetic of any of our outside storage buildings. Porches provide the perfect space to dry off or stow dirty boots.


Flower Boxes. Flower boxes add character and personality to your storage building. To make your flower box functional, use it to grow useful herbs or chrysanthemums (known for repelling roaches, ants, Japanese beetles, ticks, silverfish, and fleas).


Shelves and Lofts. We can add shelves and lofts to your building for increased storage space. It's an easy way to get the extra storage space you need without ordering a bigger building size. If you're looking for a built-in workbench, our shelves are ideal.


Insulation. We use high-quality spray foam to insulate an outdoor storage building. Its 2-3 inch thickness creates a watertight membrane of protection against the heat and cold and it's expansive nature works to fill every crack and crevice.
One last important thing
While we do sell quality materials and high-quality features, we also have a knowledgeable and experienced staff who demonstrates superior customer service. Avoid unnecessary frustration when you're shed shopping by considering the reputation of the company and how well they know and understand their products.
Now that you know four key shed features and some handy add-ons, are you ready to build your shed? Start with our 3D online configurator.
If you want to learn more before getting a quote, take a moment to review our shed buying checklist.
Keep reading! There's more to learn.