Shed vs. Garage: What's the Difference & Which Is Best For You?
by Dakota Storage Buildings, on October 28, 2021

Knowing the similarities and differences between sheds and garages will help you decide.
Sheds are lawn & garden items, right? And garages? They're for cars, trucks, and motorcycles. Seems cut and dry. But is it?
If you want to store a small car, golf cart, ATV, or motorcycle and have a workspace with some extra storage room, is the only option a garage? It's a common assumption that a garage will always be the solution to larger storage, stuff, and space problems, but believe it or not, they're not. So what's an alternative? Sheds.
By looking at the differences and similarities between sheds and garages, you may find that you could be satisfied with either a garage or shed as your solution. It's not as clear-cut as you may think. Let's look at the primary difference between sheds and garages and how you can decide which is best for you.
Shed vs. Garage: What Are the Primary Differences?
While garages are commonly seen as multi-use and sheds as solo-use, this isn't always accurate. Depending on the size, the doors, and flooring, it's possible that a shed could be multi-use and capable of housing a vehicle. Let's dive into these primary differences for context.
Size
Generally speaking, if an outdoor storage structure can accommodate the entry and storage of one or more vehicles, it's considered a garage even if it's not used as such. However, you can use a shed for single vehicle storage. Sheds do come in large enough sizes to fit small vehicles comfortably. A 12x24 shed offers plenty of room to pull a car in, open the doors, and easily get out, making it a more cost-efficient option than a traditional garage.
Door
One key identifier of a garage is a large door, usually an overhead sectional, rollup, or canopy door that makes it easy for vehicles to move in and out. Every garage has one, but most sheds don't. This could disqualify a shed from functioning even in part as a garage. However, when you buy a custom shed from a shed manufacturer, you can choose to add two double doors that provide a wide enough entry for ATVs, motorcycles, snowmobiles, etc., or add on an overhead door. You can even add two overhead doors, one at each opposing end, to make it a drive-through shed. Bear in mind, depending on the type of overhead door and the height of the shed, the door could take up valuable overhead space when open, causing a tighter fit. In this case, a rollup door might be best. In each case, make sure you have an access ramp leading up to the shed's entryway for ease of use.
Floor
Most garages are built on foundations made of cement or stone. This type of foundation is the most enduring option and can accommodate the greatest amount of weight but is not naturally resistant to stains. While sheds can be built on a cement foundation, an alternative that's just as durable is built-in flooring. This is usually a shed upgrade, but you can buy a custom shed that has treated plywood sub-flooring that's strong enough to hold the weight of a vehicle and capable of repelling water and resisting stains (bonus!).
Primary Differences Recap
Forget what you thought about garages and sheds, and keep an open mind as you decide which would be best for you. While size, entryway, and flooring can be limiting factors, they don't have to be. For single-vehicle storage, workspace, and storage area, a shed or garage are equally viable options. However, if you're looking for a multiple stall building with extra space, the best option is a garage.
Shed vs. Garage: Which is Best For You?
Making an expensive purchase can be intimidating, especially if you're not entirely sure which option would be best for your needs, budget, and property layout. As you research and shop around, consider both garages and sheds because either could potentially meet your needs.
As you shop, asking the right questions will narrow down your choices. Beyond shed and garage specs, ask about the manufacturing company. You may find an incredible price, but if the company can't accommodate your need for a payment plan or delivery timeframe, for instance, that could be a deal-breaker or at least worth noting.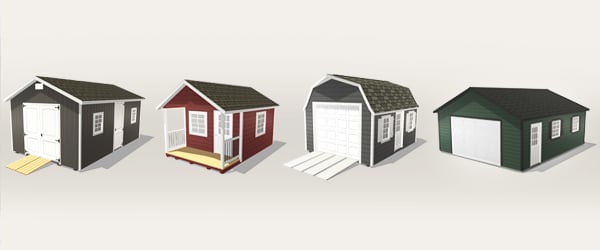 Our Garage Collection
If you're leaning toward a garage as your solution, finding the best one for your needs and budget is important. Because selecting the right garage can make all the difference, we've designed a garage buying guide to help you think through critical details, including where to obtain a building permit, how to figure out the right size, garage placement tips, popular garage features, and the best purchasing options.
We know that buying a garage can be overwhelming. It's a costly investment that comes with many decisions. That's why we put together our Garage Collection, consisting of semi-customizable garages. This allows you to start with a baseline of key garage features so that you don't have to start from scratch, saving you time and keeping decisions simple.
Our Shed Collection
If a shed seems to fit the bill better than a garage, there are a few things you should know before making a purchase, including size options, flooring types, building styles, and price ranges — but there are many more factors to add to the consideration checklist. Download our Shed Buying Workbook for more insights.
While garages and sheds are different in some ways, they have the same purpose: to solve storage, stuff, and space problems. Our Shed Collection has a variety of sheds that you buy as-is or customize. If you want to store smaller vehicles like motorcycles or ATVs, we suggest starting with any of our shed packages then adding an overhead garage door. You can also choose to upgrade the flooring to accommodate a heavier vehicle if that's what you need.
Conclusion
As we looked at sheds vs. garages, the line seems too close to call in some scenarios. It's as though you could buy a garage shed or shed garage, meaning, to a degree, they can function interchangeably. No matter your preference, we're happy to answer any questions you may have. We're here to solve your storage, stuff, and space problems — let's work together to find a solution that works for you.
More reading:
More articles on garages, sheds, and use-case scenarios.
Our mission at Dakota Storage Buildings is to make premium sheds and garages that solve stuff and space problems.